External hard drives, SSDs and memory cards are going cheap on Amazon today
Some of the best prices we've seen on flash memory for months.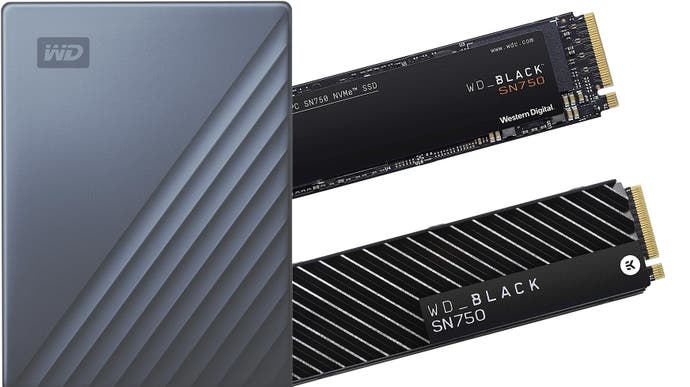 Amazon UK has a bunch of tech deals worth knowing about today, including some of the best prices we've seen on SanDisk memory cards and WD hard drives and SSDs. This makes it a great time to upgrade the storage available on your Nintendo Switch, Xbox One, PS4 or PC. We also spotted a good RAM deal, so be sure to check that out towards the bottom of the post if you're upgrading or building a gaming PC.
Before we get into the highlights, we know some readers want to just browse for themselves! Therefore, here are some quick links to the deals we've spotted today:
Right, now onto the highlights!
SanDisk memory card and storage deals

Let's cover the SanDisk deals first, which include a number of great prices on Micro SD cards. You can pick up a 512GB Micro SD card for £70, which works out to just 14p per gigabyte - an insanely good price for a high capacity card like this that offers a ton of storage for your Switch, drone or smartphone. If you prefer, you can pick up a smaller 400GB card for £48 (12p per gig) or a super-fast SanDisk Extreme 256GB card for £45 (18p per gig).
As well as memory cards, you can also find SSDs here. The 1TB SSD Plus is £82 (8p per gigabyte), while the 2TB Extreme Portable SSD costs £250 (12.5p per gigabyte). The latter is a great choice for game storage on a PC, Xbox One or PS4. (Although no currently available portable SSD is fast enough for running PS5 or Xbox Series X games, you should also be able to use it to play last-gen titles on these systems.)
For the rest of the SanDisk deals, check out the full deals page.
WD external hard drive and SSD deals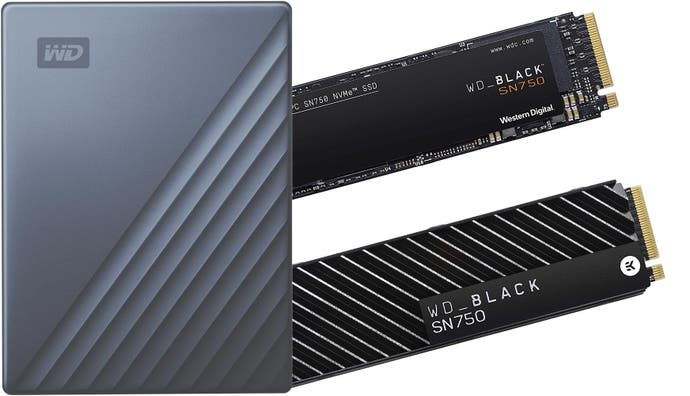 There are a ton of external hard drives in all shapes and sizes available, but we think the most exciting is the WD Elements 8TB external hard drive. This drive is a 3.5-inch model, meaning it requires external power, but it offers an incredible amount of storage for £130 that works out to less than 2p per gigabyte! For game or media storage on PC, Mac or console, this is a great shout.
There are also some faster options in the WD sale. The WD Blue 3D NAND SSD offers a whopping 4TB of fast storage for £360, while the WD Black SN750 is a 1TB NVMe drive with even faster speeds for £130.
See the rest of the WD deals on the full page here.
Corsair Vengeance RAM deals

While we were writing up this post, we also spotted a deal on Corsair's Vengeance DDR4 RAM. Right now you can scoop up a 16GB dual-channel kit for just £59.99; it normally costs around £10 more. This is a 3200MHz kit with C16 latencies, which represents the current price-to-performance sweet spot. If you're building a new PC or still rocking 2400MHz or 2666MHz DDR4, we'd definitely recommend opting for 3200MHz RAM or higher as otherwise you'll be leaving a lot of performance on the table in CPU-limited games. It's possible to see further gains from higher frequency RAM, but prices generally go up too.
Wrapping up
That's all we have for now! Let us know if you find any other highlights from the SanDisk or WD sales, as we'd love to update this post with anything we've missed. In related news, we often posts deals first on our Twitter account, @dealsfoundry, so follow that if you want early notifications for any deals as we find 'em!