Upgrade your PC with discounted Crucial RAM on Amazon today
£105 for 32GB of dual-channel 3200MHz DDR4 is a great deal.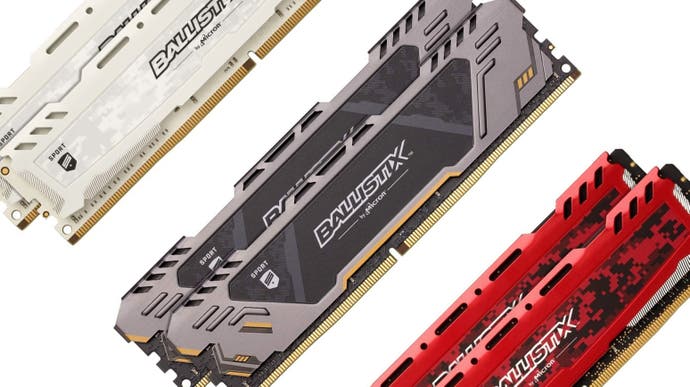 Need a RAM upgrade? Amazon has discounted a range of DDR4 memory from Crucial to mark the start of a new week, offering up to 45 per cent off single sticks and kits from the company's popular Ballistix Sport and RGB-enabled Ballistix Tactical Tracer lines. Crucial memory already offers some of the best value around, so these discounts make it an excellent time to upgrade your system with more memory, faster memory or both! Here are the best deals from the Monday sale - plus a quick buyer's guide to RAM upgrades.
First, here are the highlights we've spotted:
8GB: If you're buying RAM for a new budget gaming PC, you can pick up 8GB of 2666MHz dual-channel memory for £30 - about £8 less than the usual price. If you plan to upgrade to 16GB of RAM in the near future, it might be worth getting a single 8GB 3200MHz stick for £26 (despite the performance penalty; see our RAM guide below). An RGB 8GB stick is also available for £36, down from £41.
16GB: This is the current RAM sweet spot for mid-range to high-end gaming and content creation rigs. There are no dual channel kits available at this capacity, so your best bet is just picking up two of these 8GB 3200MHz kits for £26 each, which works out to be £52, 30 per cent below the normal price. If you want RGB, then you can get a 32GB dual-channel kit of Tactical Tracer 3200MHz for £69, down from £103. Finally, a single 16GB 3200MHz stick is also available for £55, but again we only recommend this if you aim to upgrade to a second 16GB module soon afterwards.
32GB: For high-end systems, two 16GB sticks give you the capacity to handle a wider range of content creation tasks. The best 32GB deal we've spotted is for a 2x16GB 3000MHz kit of Ballistix Sport LT at £105, a steep reduction from the usual price of £150.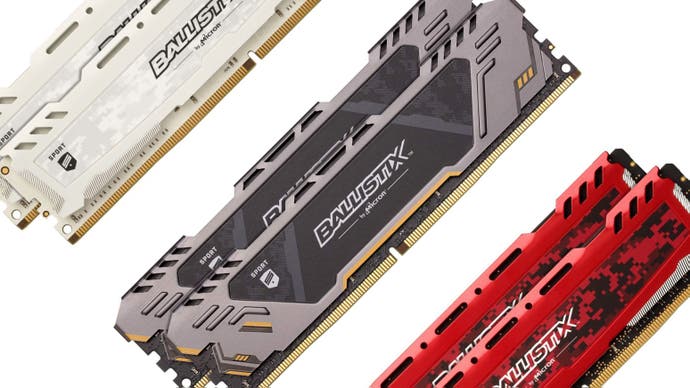 Laptop RAM is also included in today's sale:
Of course, you can check out the whole sale to see everything that's available and choose the RAM upgrade that's right for you. If you need a hand, here's our brief buyer's guide to RAM:
Size: We currently recommend 8GB of RAM at a minimum for gaming, with 16GB being a more comfortable capacity for mid-range machines. For video rendering and other content creation tasks, 32GB of RAM makes sense. Running out of memory provides a stiff performance penalty, so having a little more than you need is pretty sensible - but if your heaviest task is only using half of your RAM's capacity, then an upgrade won't be necessary.
Mode: No matter how much RAM you have, it's very important to run your RAM in dual- or quad-channel mode, meaning two or four sticks in the appropriate slots in your motherboard. For two sticks of RAM in a four-slot motherboard, you'll normally want to use slots one and three; consult your motherboard manual or look for a guide near the RAM slots themselves if you're not sure. If you have only a single stick of RAM, you'll face a small but significant performance penalty that's best avoided. If you do have just one stick in your current system, we'd recommend adding another of the same type (manufacturer, model, capacity, speed) to make sure they work together optimally, or just picking up two new sticks entirely.
Speed: As well as capacity, the increased performance of modern CPUs and the prevalence of high refresh rate displays has made RAM speed more important. AMD Ryzen processors are most sensitive to RAM speeds, but Intel systems will also see a small speed-up from picking a higher frequency kit. 2400MHz was the standard for a long time, but now 3000MHz is widely affordable and the slowest memory you should really consider. Beyond this, 3200MHz, 3400MHz and 3600MHz modules all tend to be reasonably priced, with higher frequencies offering still faster speeds but offering less value for money.
So how much of a difference does high frequency RAM make? According to our testing of recent processors like the Intel Core i9 9900K and AMD Ryzen 9 3900X, you should expect a five to eight per cent frame-rate improvement in some CPU-bound games when moving from 3000MHz to 3600MHz RAM (we tested Ashes of the Singularity, Far Cry 5 and Crysis 3, with the more modern games taking better advantage of faster RAM). If you're upgrading from 2400MHz, you'll see an even more significant improvement to game frame-rates.
I hope this article was helpful! If you have any questions about RAM or you'd like advice about whether your machine would benefit for a RAM upgrade, feel free to ask in the comments or reach out on Twitter - I'm @wsjudd.