Grab a discounted 256GB SanDisk Micro SD card for £29 on Amazon
That works out to 11p per gigabyte, a good value.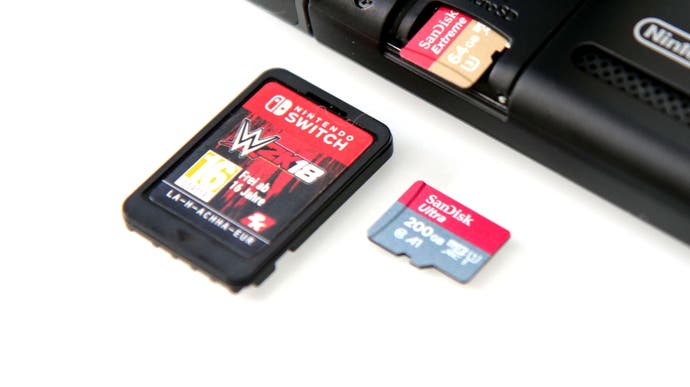 SanDisk Micro SD cards have been reduced on Amazon today, with a 200GB card available for £22 and a 256GB card costing £29. That works out to 11p per gigabyte for either card, one of the lowest prices we've ever seen on these SanDisk Ultra models and competitive with Black Friday prices which maxed out at around 10p per gigabyte.
Both sizes are in the current capacity/price sweet spot, giving you a huge amount of storage for games, apps, videos and photos, without the early adopter premium of even the cheapest 512GB and 1TB cards. These SanDisk Ultra cards are also reasonably fast Class 10 models, with read and write speeds that meet the U1 and A1 standards. That means they're suitable for expanding your storage in HD action cameras, smartphones, tablets and the Nintendo Switch.

For the Switch, you should be able to install about 20 AAA games on the 200GB card and a 256GB one. By comparison, the Switch's 25.9GB of usable internal storage will be just about full after installing Pokemon Sword (10GB) and Zelda Breath of the Wild (13GB).
For recording 4K HDR video footage in high-end action cams, drones, mirrorless cameras and DSLRs, we suggest faster UHS Speed Class 3 cards such as this 128GB SanDisk Extreme Pro model which has also been reduced today. Other reputable high-performance brands here include Samsung and Lexar.
If you're not fussed by brand names and just want the biggest card for the least money (without dealing with actually dodgy cards that don't live up to their listed specifications), then we can go slightly better. We've identified a few better value options in Best Micro SD cards for Switch round-up, which was updated this morning.
The Switch is an interesting case because Micro SD cards are an essential upgrade, but the actual model you choose doesn't matter too much as long as it fulfils a basic level of performance.
In our testing, bottlenecks elsewhere in the system meant that we saw extremely similar loading times in Zelda Breath of the Wild between an entry-level SanDisk Ultra card and much more expensive SanDisk Extreme card. No matter which card we used, loading from Micro SD is faster than loading from a cartridge, but internal memory offers the fastest loading times. Therefore, choosing the largest capacity card at the best price makes the most sense here.
I hope this post was useful. Feel free to post your own Micro SD card finds in the comments below, ask questions and follow @dealsfoundry to be alerted whenever we find a deal on a product we recommend. We'll see you next time!