AMD Radeon RX 570 benchmarks: a capable 1080p workhorse
Slower than 580 but the second-tier Polaris still impresses.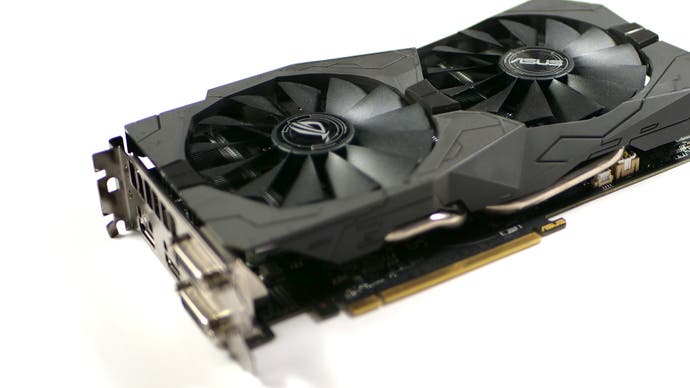 The AMD Radeon RX 570 is a strong graphics card for anyone building their own mid-range PC gaming rig aimed at 1080p gaming. This cut-down version of the RX 580 can often deliver similar levels of gaming performance to the three gigabyte version of GTX 1060, itself the single most popular graphics card on the market today according to statistics from Steam. Remarkably, the RX 570 is often cheaper than the GTX 1060 3GB too, making it a clever choice for those willing to go against the Nvidia majority.
Intriguingly, it's even possible to overclock some RX 570 units to get RX 580 levels of performance for a lower price. However, the RX 570 can still be competitive right out of the box, and that's what we'll show in this article. To give you a better idea of this card's real-world performance, we'll show you how it compares in gaming benchmarks with four of the best video cards at this price point including the Radeon RX 580, the GeForce GTX 1050 Ti and both variants of the incredibly popular GTX 1060.
Which GPUs are worth buying? We've made our picks for the best graphics cards available, updated with the latest graphics cards as they're released. As well as an overall performance champ, we name the best value graphics card and best cheap graphics card to guide your next upgrade.
Note that all of the Nvidia cards listed here are standard reference models, so third-party versions with factory overclocks will offer slightly higher performance. However, there are no reference models for the RX 570 or RX 580, so we should let you know that we're using factory-overclocked cards in our results, specifically the Asus Strix RX 570 and the Sapphire Nitro RX 580. These are among the faster options available, so other RX 570 and RX 580 cards might offer slightly worse performance if they operate at slower frequencies. However, the difference should only be around five to seven per cent at most.
Our tests include nine games in total, with both classic and modern titles represented. We also have one further test, letting you see how the RX 570 compares to the newer Vega 56 and Vega 64 cards, so if you're dead-set on an AMD purchase, you can get an idea of whether it's worth splashing out for AMD's top-tier graphics hardware.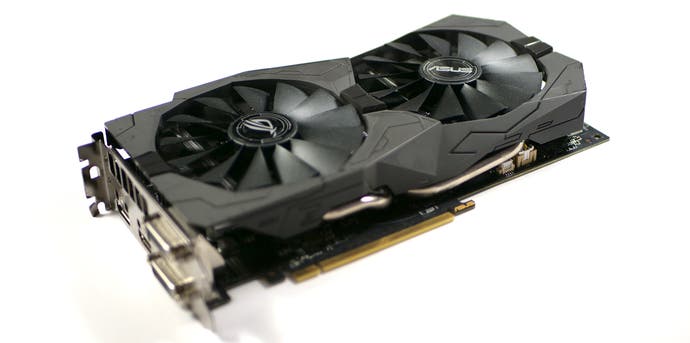 | | GPU cores | Boost clock | TFLOPS | Memory | Memory Bandwidth |
| --- | --- | --- | --- | --- | --- |
| GTX 1050 Ti | 768 | 1392MHz | 2.1 | 4GB | 112GB/s |
| GTX 1060 | 1152/1280 | 1708MHz | 3.9/4.4 | 3GB/6GB | 192GB/s |
| RX 570 | 2048 | 1244MHz | 5.1 | 4GB/8GB | 224GB/s |
| RX 580 | 2304 | 1340MHz | 6.2 | 4GB/8GB | 256GB/s |
Each benchmark includes a YouTube video surrounded by a custom benchmark widget when viewing this page, as long as you're not on the mobile version of the site. Start the video to see how each card performs throughout the benchmark in real-time. You can select or deselect cards from the comparison using the controls to the right of the video, and use the reset button to make sure the live telemetry is being played out over an appropriate scale. Being able to choose from different data points means that you won't need to be distracted by cards or resolutions you're not considering.
Further below the video, you'll find a graph of the results, including the average frame-rates plus the important worst one per cent and worst five per cent results. These are useful indicators of how low the frame-rate may go in demanding scenes. And here's a neat trick: click on the bar chart to swap between frame-rate numbers and relative (percentage-based) values - which might be a little more meaningful.
If you want to read more about how system works and why it was developed, you can read our fearless leader's explanation of the new Digital Foundry benchmarking widget works right here.
Without further ado, let's have a look at the results!
Assassin's Creed Unity
First up, we have Assassin's Creed Unity from the heady days of 2014. This benchmark is set on the bustling streets and surprisingly accessible rooftops of Revolution-era Paris, allowing it to provide a pretty good challenge for modern cards at its ultra high settings with FXAA enabled. The RX 570 does well enough here, averaging above 50 but below 60 frames per second. That's about five frames per second behind the 3GB GTX 1060 card and eight behind the 6GB GTX 1070. Moving up to the RX 580 provides more than 60 frames per second on average. Meanwhile, the GTX 1050 Ti is some distance behind.
AC Unity: Ultra High, FXAA
Ashes of the Singularity
Strategy game Ashes of the Singularity from 2016 has a handy integrated benchmark with more lasers than the average Star Wars battle scene, so that's our next stop. The RX 570 and its AMD brethren tend to do better with DirectX 12 games like this one, and indeed we can see that the RX 570 is neck-and-neck with the more expensive GTX 1060 6GB here at both 1080p and 1440p - an impressive result.
Ashes of the Singularity DX12: Extreme, No AA
Battlefield 1
Battlefield 1 from 2016 is another game that skews towards AMD with the DX12 renderer in effect, and the RX 570 does well here. It records results that are just a frame behind the GTX 1060 6GB at 1080p, and just two frames behind at 1440p. Given the price differential, that's a pretty awesome result for Team Red. The game doesn't come with an official integrated benchmark, but the tank-based level that comes early on in the single-player campaign is a relatively repeatable game sequence that we can test. It's worth noting that unfortunately there are some frame-time spikes in this demo, based on randomised explosions throughout the level, so it's best to focus on the frame rates for this test.
Battlefield 1: Ultra, TAA
Crysis 3
It's hard to believe that it's been over five years since the release of the latest Crysis title, 2013's Crysis 3. This venerable title remains a worthy foe even for modern graphics hardware, particularly at the low end of the market, and that's reflected in these results. The RX 570 manages almost 70 frames per second, which is a little less than both the RX 580 and the GTX 1060 models. These record frame-rates of between five and ten frames per second better, respectively. However, the RX 570 doesn't dip as low as the GTX 1060 in response to close-range explosions in the latter half of the demo.
Crysis 3: very high, SMAA T2X
The Division
The Division is another DirectX 12 benchmark, which historically tends to tip the balance towards AMD hardware. The benchmark is a pleasant one, showing off the snowy streets of New York City in the wake of an unnatural disaster. As we suspected, the RX 570 records a strong result here: an effective tie with the GTX 1060 6GB here at a smooth 60 frames per second at 1080p. The AMD card also comfortably outperforms the 3GB version of the GTX 1060. Interestingly, there's just an 11 to 12 per cent performance differential here between the RX 570 and its more expensive counterpart.
The Division DX12: Ultra, TAA
Far Cry Primal
The prehistoric offshoot of Far Cry Primal divides the graphics tech that debuted in Far Cry 4 and Far Cry 5, making it a good way to test the series as a whole. Nvidia cards tend to do better in this DirectX 11 title than AMD ones, and indeed we see the RX 570 falling behind its Team Green competition at 1080p. However, the AMD card seems to find a new gear when shifted up to 1440p resolution, closing the gap considerably and almost equalling the 3GB model of the GTX 1060. This is likely the result of the AMD drivers requiring more CPU horsepower, which is in relatively shorter supply at 1080p.
Far Cry Primal: Ultra, SMAA
Ghost Recon Wildlands
Ghost Recon Wildlands is perhaps the most challenging game in our benchmark suite when ramped up to ultra settings, so it's no surprise that the RX 570 doesn't even manage to reach a 'cinematic' 30 frames per second at 1440p. Even at 1080p, the card only hits 33 frames per second, nearly identical to the inexpensive GTX 1060 3GB. However, this game can still become playable if you adopt the more reasonable medium or high presets, which offer a relatively minor visual sacrifice in exchange for an incredible boost to frame-rates.
Ghost Recon Wildlands: Ultra, TAA
Rise of the Tomb Raider
Rise of the Tomb Raider from 2016 showcases everyone's favourite action heroine in a three-part benchmark: a snowy mountain scene with Lara herself, a tomb interior with plenty of water effects and a scenic forest. We're using the very high preset here, albeit with high textures to prevent cards with small amounts of RAM from devolving into stuttery messes. The RX 570 delivers a nice average frame-rate of 70fps at 1080p and almost equals the GTX 1060 3GB at 1440p, showing the strength of AMD's low-end offerings.
Rise of the Tomb Raider: Very High, SMAA
The Witcher 3
The Witcher 3 from CD Projekt RED is our final benchmark title, showing off the begger--filled streets of Novigrad at 1080p and 1440p. The RX 570 again provides more than 60 frames per second on ultra settings, but still sits five per cent behind the GTX 1060 3GB at 1080p and about four per cent behind at 1440p. Still, this is a more than playable experience at 1080p, and graphical sacrifices can get you to a good level at 1440p as well.
The Witcher 3: Ultra, POST-AA, No Hairworks
Generational comparison
Finally, we'll see how the RX 570 and RX 580 compare to their (admittedly more expensive) AMD stablemates, including the older R9 Fury X plus the latest and greatest Radeon 7. We'll be using Assassin's Creed Unity here, both at 1080p and 1440p - a stern workout both in terms of compute and for VRAM utilisation. As you can see, the RX 570 sits at the bottom of the pile, although it's worth remembering that the previous-gen and next-gen cards are all high-end models, and the RX 570 is more of a mid-range part despite its relative youth.
Assassin's Creed Unity: Ultra High, FXAA