Destiny alert: this week's Nightfall and Heroic strikes are locked behind The Dark Below DLC
Tiger strike playlist engram rewards shift to new Roc strike playlist, too.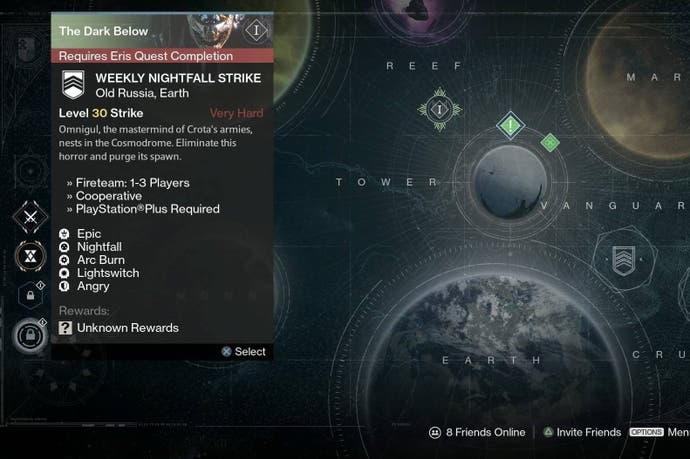 Right now, two of the key activities available in Bungie's first-person shooter Destiny are locked behind DLC The Dark Below.
The Weekly Nightfall activity and the Weekly Heroic activity, both seen by Destiny players as key to character progression because their completion rewards hard-to-get items, are currently only available to those who have bought the game's first DLC expansion.
Each week Bungie chooses a different strike to set as the Weekly Nightfall (very hard) and the Weekly Heroic (hard). This has been the case since the game's launch in September.
However, today, now that The Dark Below is live, Bungie has set the expansion's new strike, The Will of Crota, as the Weekly Nightfall and the Weekly Heroic. You might expect this, given The Dark Below has just launched, but the knock-on effect is that those who have not bought The Dark Below are left out in the cold.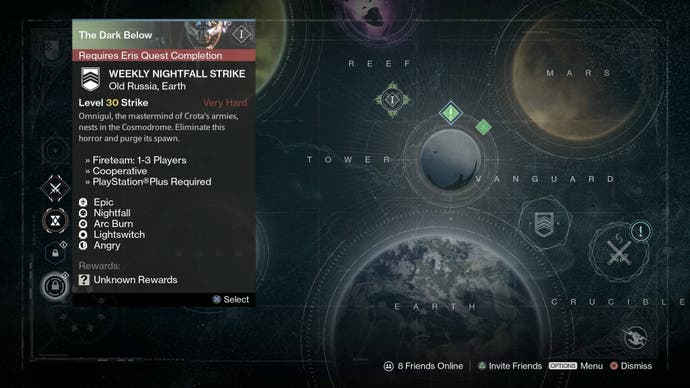 This is important because the Weekly Nightfall and the Weekly Heroic are the only activities in the game that guarantee Strange Coins as rewards. Strange Coins are used to buy powerful items from vendor Xur, who only appears in the game's Tower social hub once a week.
So, effectively, those without The Dark Below will struggle to obtain as many Strange Coins as they're used to getting in time for Xur's arrival this week.
The move has drawn criticism from many within the Destiny player-base, with some calling on Bungie to make a vanilla strike available as part of an alternative Weekly Nightfall and Weekly Heroic for those who have not bought The Dark Below.
Meanwhile, it's expected that next week Bungie will select a vanilla strike for the Weekly Nightfall and Weekly Heroic, making both activities available to all once again. But at some point in the future the DLC strike will rotate back into the mix, locking out those who haven't bought The Dark Below once again.
Bungie community chief David "Deej" Dague said as much on Twitter:
There's an additional issue, however. In another move that indicates Bungie is pushing Destiny players to buying The Dark Below, Cryptarch Engrams are no longer listed as a reward for the level 24 Tiger strike playlist.
Now, Cryptarch Engrams as rewards are listed under the new level 26 Vanguard Roc strike Playlist - added to the game by The Dark Below.