Creative Assembly announces Total War collectible card game - but it's China-only for now
Plus, Arena resurrected as a China-exclusive.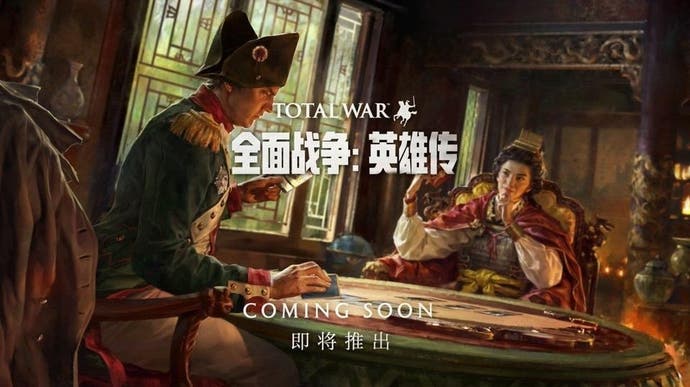 Creative Assembly has made a glut of announcements focused on the Chinese market.
First up is Total War: Elysium, a collectible card game (CCG) for PC and mobile. We don't know much about the game, although official art shows Napoleon playing a card game against Sun Ren, so I expect you'll be able to pick from a selection of famous generals throughout history.
Creative Assembly said Total War: Elysium launches in China first with the help of NetEase, "but we hope to bring it to players worldwide before too long."
"Total War: Elysium is a new title and a new genre for us, and we want to give it the best possible chance for success. China gives us a huge audience of CCG fans to learn from so we can eventually bring the game to the rest of the world in better shape than ever."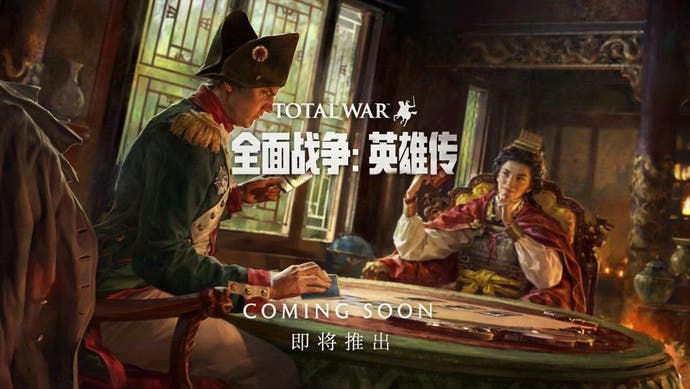 Meanwhile, Creative Assembly has resurrected the previously-cancelled Total War: Arena for the Chinese market, also with the help of NetEase. And Creative Assembly teased the free-to-play MOBA-style spin-off may be brought back to life on these shores.
"While we shut down the game in the west last year, we still see loads of potential there and luckily NetEase wholeheartedly agrees," CA said.
"Arena will make its return as a China-exclusive, but we'd love to bring it back to the rest of the world some day."
Both Elysium and Arena launch in China as part of a deal between Creative Assembly and NetEase for the publishing rights to Total War's historical catalogue up to and including Total War: Three Kingdoms, which enjoyed enormous success in China. You can't officially publish games in China without a local publishing partner, so CA signed on the dotted line with NetEase.
The developer stressed this deal doesn't change anything for western players, nor does it affect its roadmap of new releases.
"It just means that more people around the world will be able to play more of our games," Creative Assembly said in a FAQ on the deal with NetEase. "That's a good thing for our studio, and in turn, a good thing for Total War players.
"We've always developed Total War games in line with local age rating and legal requirements based on the country they are sold in. We'll be working with NetEase to make sure our games can be released in China, but that won't affect the content of our games in other countries.
"We keep full control of our studio, our titles, our road map, and the support we give our community. We'll work closely with NetEase to deliver on player needs in China specifically, but if you live anywhere else you won't even notice. Business as usual."
It's busy times for Creative Assembly. It's working on nine projects including a "major new IP" - an unannounced tactical team-based shooter.