Call of Duty: Black Ops 4 players are exploiting a glitch to get super speed
UPDATE: Treyarch threatens to ban those who keep using the super speed exploit.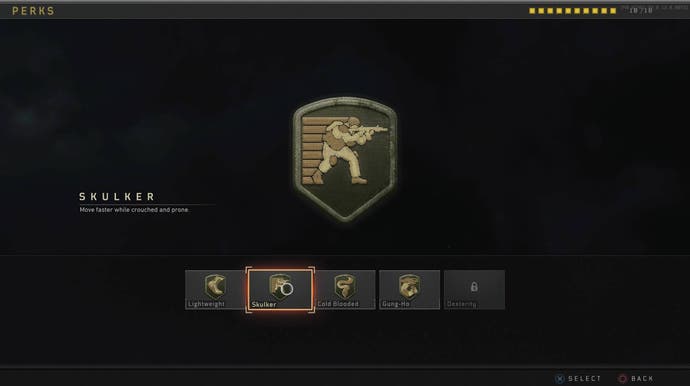 UPDATE 27th October 2018: Treyarch has threatened to ban those who continue to use the super speed exploit in Call of Duty: Black Ops 4 multiplayer.
As we reported below, players have discovered a glitch that allows them to equip multiple copies of the same perk in multiplayer. Players have used this to stack the Skulker perk, giving them super speed while crouched.
In a new post on the Black Ops 4 subreddit, Treyarch said it had cleared the create-a-class entries of those players it had tracked as using the exploit "as a warning", and threatened to ban repeat offenders after this point. As expected, the exploit will be snuffed out in an upcoming update.
Treyarch has an enforcement policy for Black Ops 4 that deals with those who abuse exploits. The first offense for glitching sparks a temporary suspension from playing online and a reset for their stats, emblems and paintjobs. First offenders also have their online splitscreen pulled and leaderboard entries wiped.
It's a harder line for "extreme or repeat offenses". These players get a permanent suspension from playing online and have all their stats, emblems and paintjobs reset. They'll also be blocked permanently from appearing in leaderboards.
"Play nice out there!" Treyarch said.
ORIGINAL STORY 26th October 2018: Call of Duty: Black Ops 4 multiplayer players are exploiting a recently-discovered glitch that lets them speed around the map while crouched.
This glitch lets players equip the Skulker perk multiple times. The Skulker perk lets you move faster while crouched and prone. Under normal circumstances, the perk can be equipped just once. But this glitch lets you equip it three times - and it appears the speed boost stacks.
There are already a number of videos on YouTube explaining how to activate this glitch. It involves joining a friend's lobby, setting up a class with no perks, and having the host switch to custom game lobby and back to normal lobby while you hover over and then select the Skulker perk for each perk slot.
Once you've done this, you can head into a multiplayer map, crouch and speed around the map.
Players have already run up against those exploiting this glitch in online competitive play, recorded footage and flagged it on the Black Ops 4 subreddit.
It's not the case that multiplayer is overrun with players exploiting this glitch right now, but, clearly, it's affecting a number of multiplayer games. Over on the Black Ops 4 subreddit, players are calling on developer Treyarch to patch the exploit out, which I'm sure is a case of when, not if.
Thankfully, this isn't something that's possible in Blackout, the battle royale mode, as this doesn't use the traditional multiplayer's Perk 10 system.