Pimped game controllers with bullets and diamonds - who makes these things?
Bertie meets Kustom Kontrollerz.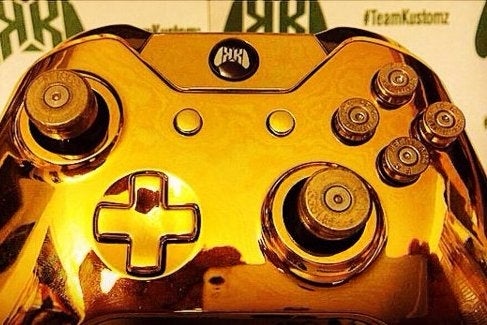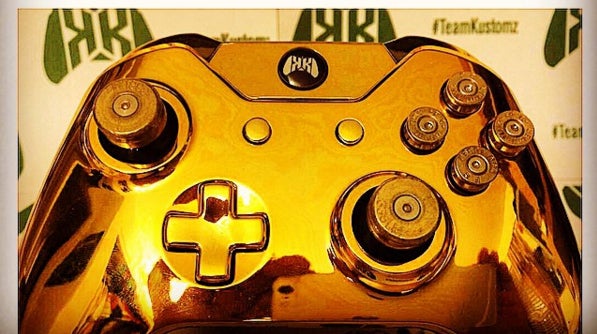 Look at that picture. Those are bullets. Those are actual bullet casings for buttons and thumbsticks. Bullets!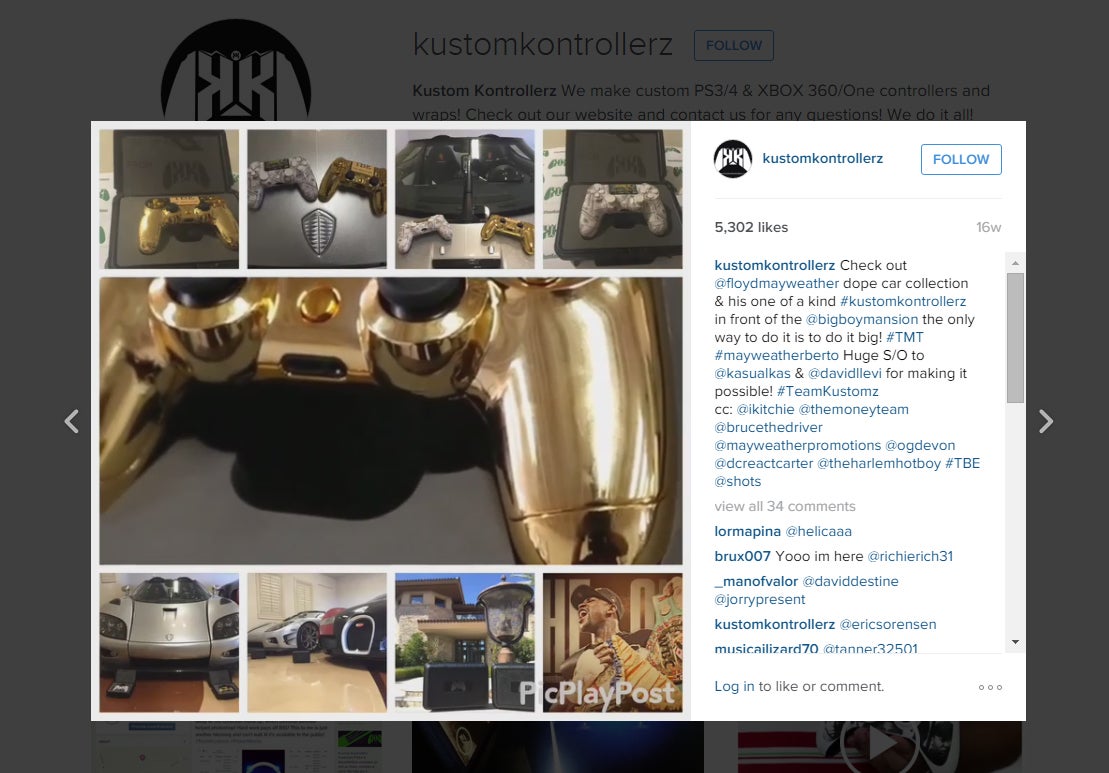 And look at those controllers, which aren't as cool but they belong to Floyd Mayweather, the superstar boxer. That's his house in the pictures and those are his cars.
Kustom Kontrollerz made them, a name that fits its product perfectly. But the company itself is just one guy, the guy speaking to me on the phone: Johnny Marcos from Orange County, California.
How much do you think those controllers cost? It's not real gold, it's a plastic shell with gold chrome paint, but Marcos makes everything himself in his garage, so they're bespoke and handmade and come with a custom case, and there are about two days of labour involved. What do you reckon?
Typically they're $180-$200 but that bullet creation, that's more, because those bullets had to be properly shaped and cut. Costs between $250-$300. Yet it went free to rapper Chevy Woods for his birthday. Why? Exposure: photos with celebrities endorsing the Kustom Kontrollerz brand.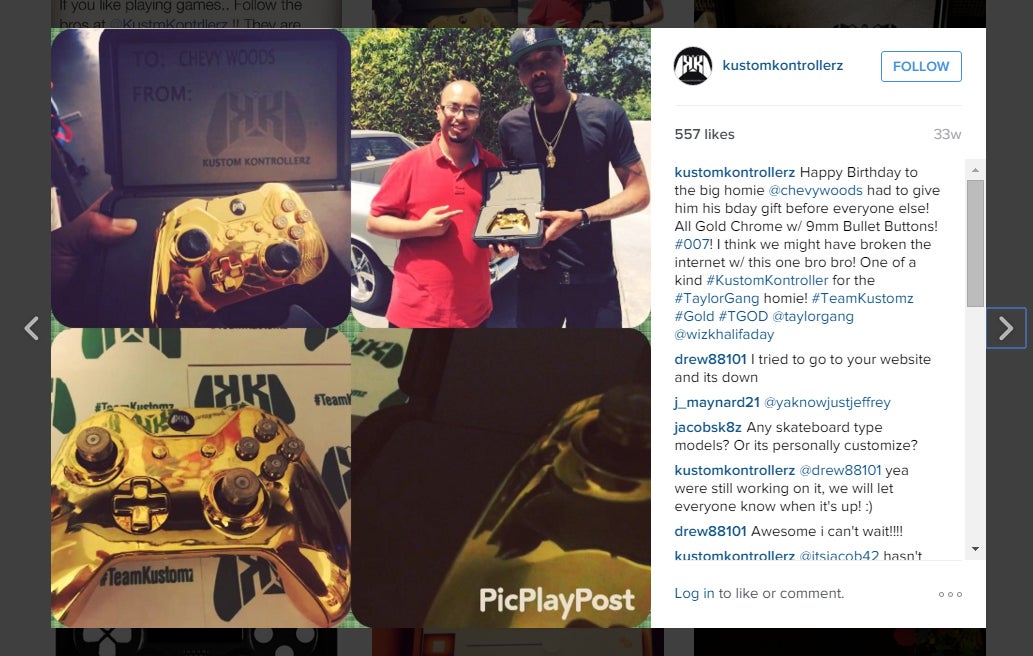 Chevy Woods has 245,000 Instagram followers, which is a good fame yardstick here, and he posed in a picture accepting his birthday present. Similar deal with Mayweather, although it was the boxer's house and cars in the picture rather than old money-gloves himself. Kustom Kontrollerz' Instagram is piddly by comparison (3295 followers) but the pictures with celebrities get thousands of likes.
The business is growing, and in 2016 he has partnerships signed - apparently - with even more popular rappers Chris Webby (80.7k followers) and, particularly, Chief Keef (2.3 million followers). These partnerships include lines of custom controllers for the rappers' fans. And on top of that he's made a controller for hip hop mogul Dr. Dre, and is going to talk to Dre's people courtesy of a friend in the biz.
And that's not all.
"I'm not gonna lie, I have been working on something a bit more pricey," he says. "The value I don't know yet but what my vision for it is a custom controller that's all blinged out that they can wear as a chain."
"Oh my god," I laugh as I reply. "Is it Flavor Flav?" And it's a joke, because Public Enemy frontman Flavor Flav is known for wearing clocks around his neck.
But Marcos says: "Exactly."
"Is it actually Flavor Flav?!" I'm serious now.
"Yes."
What a guess. "And he's asked for it?"
"No he hasn't asked for it but I know a lot of these rappers and celebrities love jewellery so why not make a controller that looks like jewellery that they'll use and wear around."
And he's putting diamonds on it.
They may be fake crystals if the price turns astronomical... because Marcos is paying for it. It's a promotional present that would probably set you or I back $1000-$2000, and something like that has to be worth at least a photo to Flavor Flav, doesn't it?
Kustom Kontrollerz is on the cusp. It's been up and running since 2011, plugging away, but after doing jobs for people like Ronnie 2K (494K Twitter followers), MLB player Justin Bour (light-up thumbsticks!) and rapper T-Pain (536K Instagram followers) his business is getting recognised.
How long until someone like Chief Keef features one of Kustom Kontrollerz' glitzy creations in a music video? These things are made to be shown off, and rappers love to show off. It's a perfect fit. And if that happens, and the hip hop world gets wind of bespoke gaming controllers - a younger generation who grew up with games, remember - then what? Mr Marcos could be working in diamonds for years to come.