CD Projekt warns against buying Cyberpunk 2077 E3 jackets on eBay after listings pop up for over $400
Mona Lisa Overpriced.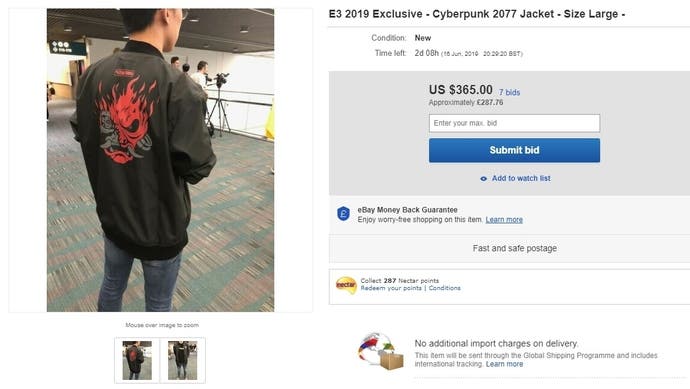 Ebay is no stranger to listings for promotional items handed out at E3. Each year sees an influx of E3 items up for sale - lanyards, figurines, exclusive Funko Pops, that sort of thing.
This year, eBay's hot new E3 item listing is a Cyberpunk jacket - and it's going for over £200.
Right now there are multiple listings for the reversible Cyberpunk 2077 Samurai jacket, which looks like it was meant for CD Projekt staff, VIPs and media. The price varies, but we're looking at shelling out at least £200 for one of these things, plus delivery fee. US listings were as high as $450.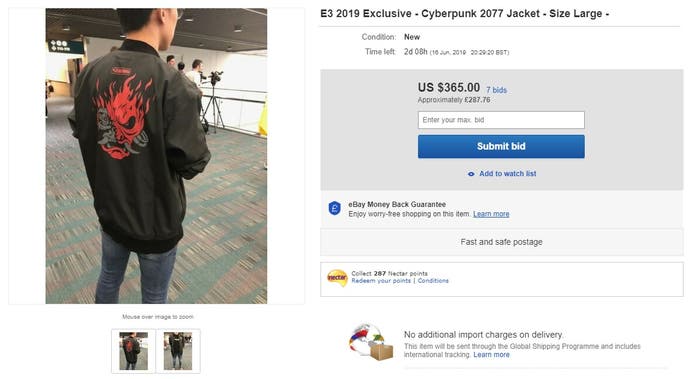 CD Projekt took notice, and business development chief Rafal Jaki took to Twitter to suggest people don't buy the jackets on eBay - and to reveal they'll be sold officially by the company for less.
How much, exactly? Jaki couldn't say, but less than $400.
We don't know but less than 400 ;)

— Rafal Jaki (@GwentBro) June 14, 2019
It comes as no surprise to find Cyberpunk 2077 items on eBay - it's one of the hottest games in the world right now and there's huge interest in merchandise (Cyberpunk E3 stickers are going for $12) - and opportunistic listings from those who buy video games and merch then sell them for a markup are a long-running phenomenon. But perhaps in the case of the Cyberpunk 2077 jacket, if you want one, you might want to wait.
Jaki's warning may be falling on deaf ears, however. I'm seeing plenty of bids for the jackets on eBay. Expect the sale price to rise as these auctions near their conclusion.
Wondering what else from E3 2019 has found its way onto eBay? How about an "Exclusive Watch Dogs: Legion - Winston Pig Mask"? That will set you back $40.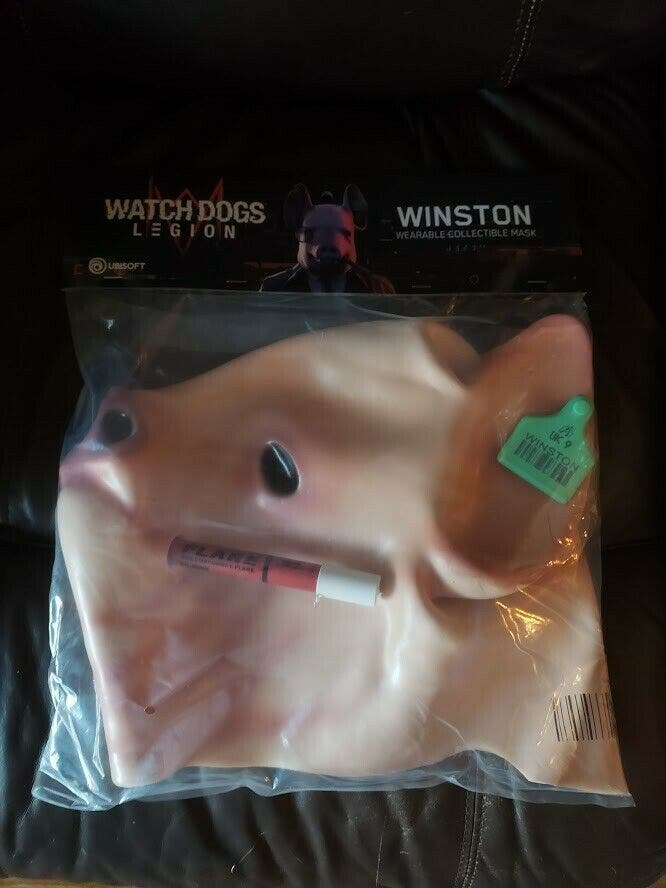 Or, perhaps "Borderlands 3 Swag - 6 posters, mask and tote bag" is of interest? That's $40, too.