BT is offering 25% off its 100Mb full fibre broadband package
Get a superfast connection for just £30 per month.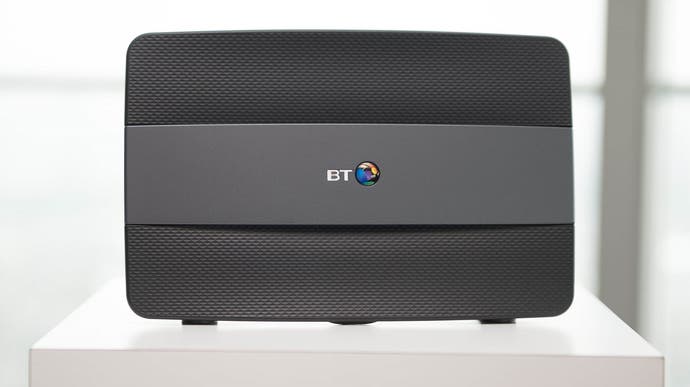 Modern gaming definitely has its perks, but there are countless stories of sessions rudely stalled by yet another surprise bajillion gigabyte update to our favourite games. And while it looks like we won't be free of these interruptions any time soon, they can at least be mitigated by a chunky full fibre broadband package.
Fortunately, then, in the latest BT Broadband sale, you can save £240 off two of its fastest Full Fibre broadband packages.
The best value of the pair is the Full Fibre 100 package, which offers download speeds of 100Mbs for £29.99 per month. That's a healthy saving of 25 per cent off the usual price of £39.99. The contract lasts for 24 months and you'll have to pay £9.99 postage and package for your new hub, but there are no other hidden fees or activation charges.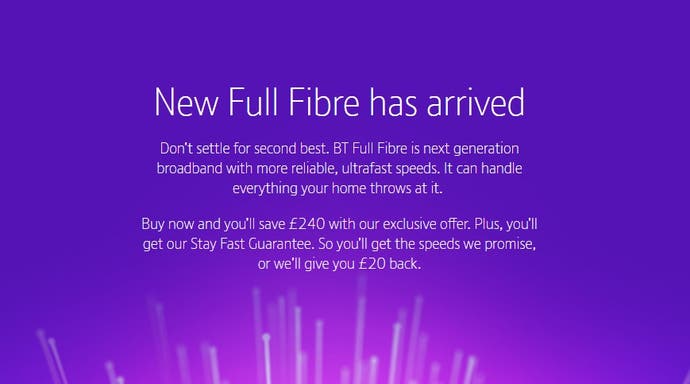 The one caveat is that this is a region-specific offer so do check if your postcode is within the Full Fibre network area on the BT site. You might know this if you already have 'fibre to the premises' in your home. Some areas (read: London) will actually get speeds faster than the advertised 100Mb as well. Perhaps one day we'll see better broadband parity across the UK. We can but dream.
For those of you who can't get full fibre but are still looking for a great broadband deal, definitely check out TalkTalk's latest offer. You can get average downloads speeds of 145Mb/s, plus TalkTalk TV and 12 months of Amazon Prime free for just £30 per month. Not bad for something that should be much more widely available.
Nevertheless, with many other broadband packages at a similar price offering download speeds around two-thirds as fast, either are terrific offers if you can get them. It'll make the next Warzone update a lot less intimidating and allow to to stream from multiple devices with ease. Just make sure you've got enough PS4 or Xbox One hard drive space free for it too!
If you want to go one step further, BT's Full Fibre 300 broadband package - which offers download speeds of up to 300Mbs - is also reduced by 20 per cent and down to £39.99.
Or, for a cheaper alternative, the best price on their standard Fibre 1 package is available until 17th July. The offer is BT Fibre 100 with 50Mbs download/10Mbps upload speed for £26.99 per month.
Speaking of BT, remember when they partnered with Google Stadia a few months ago to further promote cloud gaming? How's that been going? Well, for the good, our pals at Digital Foundry found the free Stadia service made some sense but still lacked finesse. The bad: a playable build of Ubisoft's Gods & Monsters was accidentally leaked on the service. A few ups and downs, then.