Blood & Truth once carried The Getaway name - now it's a PSVR system seller
It's a London thing.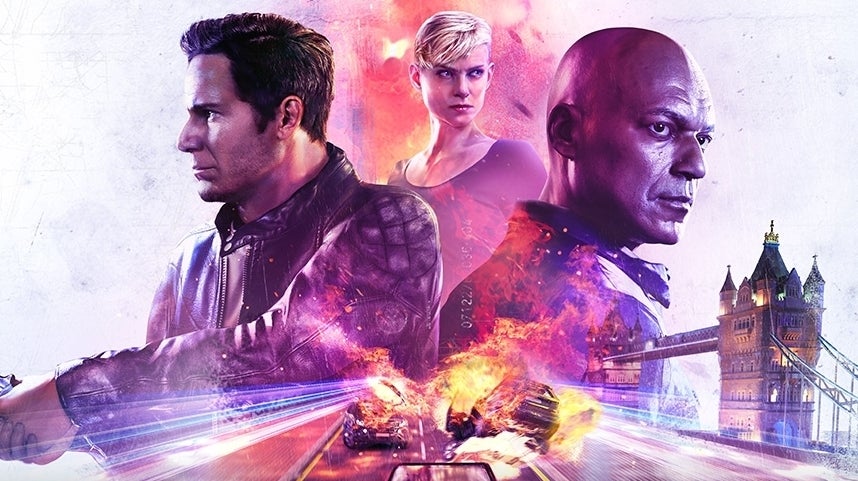 It's the small things that make all the difference. I'm near the end of the tutorial section of Blood & Truth, the new standalone PlayStation VR title from Sony's own London Studio, and between all the action and theatrics of a short run through the basics of this on-rails shooter it's been a struggle to catch my breath. Now I'm sitting in the passenger of a 4X4 alongside my newly liberated comrade, peering out the window to take potshots at bad lads on motorbikes - a standard video game set-piece, given new life by the wonder of VR - but that's not what makes it special. For that, strain your ears to hear beyond the gunshots and explosions to hear what's blasting out the radio: Tim Deluxe's 2002 banger It Just Won't Do.
It's an upbeat summer smile of a track, a number that every dance floor in the UK capital seemed to bounce to during the early 00s, and despite sitting in a jeep that's racing through an anonymous stretch of virtual desert it feels so very, very London. Maybe that shouldn't be a surprise, seeing what follows - a gangster-infested shooter that's steeped in the cinema of Guy Ritchie, taking place in a caricature of the capital that, despite its embellishments, feels authentic - or where Blood & Truth is being developed, in the heart of Soho.
Think back a little further to the history of this studio, and it all begins to make more sense. Back in 2002 - around about when It Just Won't Do was hitting the airwaves, in fact - this same developer was making its name with The Getaway, an open world action game cast firmly in the mold of Grand Theft Auto whose standout twist was its authentic depiction of London. The studio has charted an often fascinating course in the years since, working on EyeToy and SingStar, but my heart skipped a beat when I saw it had returned to its old stomping ground for The London Heist, perhaps the standout title in the VR Worlds collection that accompanied the launch of PlayStation VR.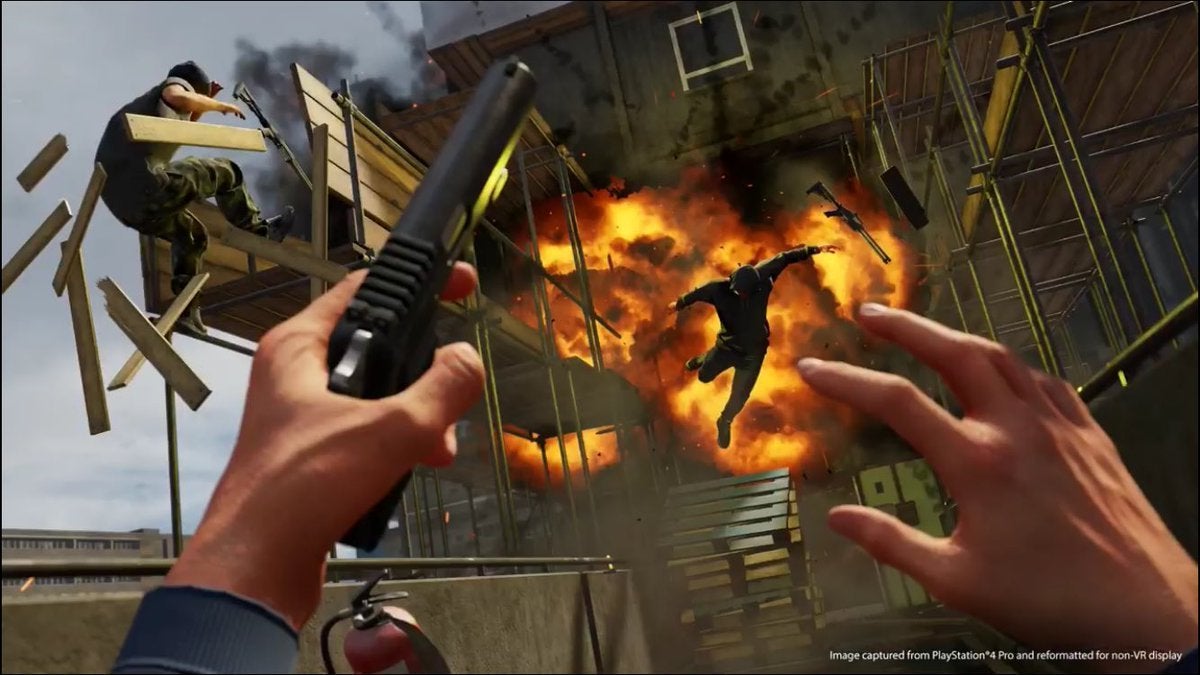 It was an experience that pushed towards the potential of VR, and pointed towards so much more - so it made sense that, of all those experiences, it was The London Heist that was chosen to be embellished upon with a fully-fledged, standalone title. It also makes sense that, at one point in its development, Blood & Truth carried The Getaway name - though eventually that wasn't to be. "You get people saying can't they do a new The Getaway," says Stuart Whyte, director of VR development at London Studio. "And I'm kind of thinking it depends what you want from The Getaway. If you're looking for an open world, then it's not an open world. But if you're looking for a rich narrative experience set in London that really puts you in that world, then yeah this definitely delivers on that."
It delivers a bit more besides. Blood & Truth is that relatively uncommon thing - a big, triple-A standalone VR experience, and exactly the kind of thing that could be a system-seller for PlayStation VR. Hell, if you've yet to convert to this magical new medium, then this should really do the trick too. Coming off the back of last year's wonderful Astro Bot Rescue Mission, it shows that Sony is willing and able to invest in serious development for VR (again, perhaps unsurprisingly so, seeing as it has its own VR hardware to shift).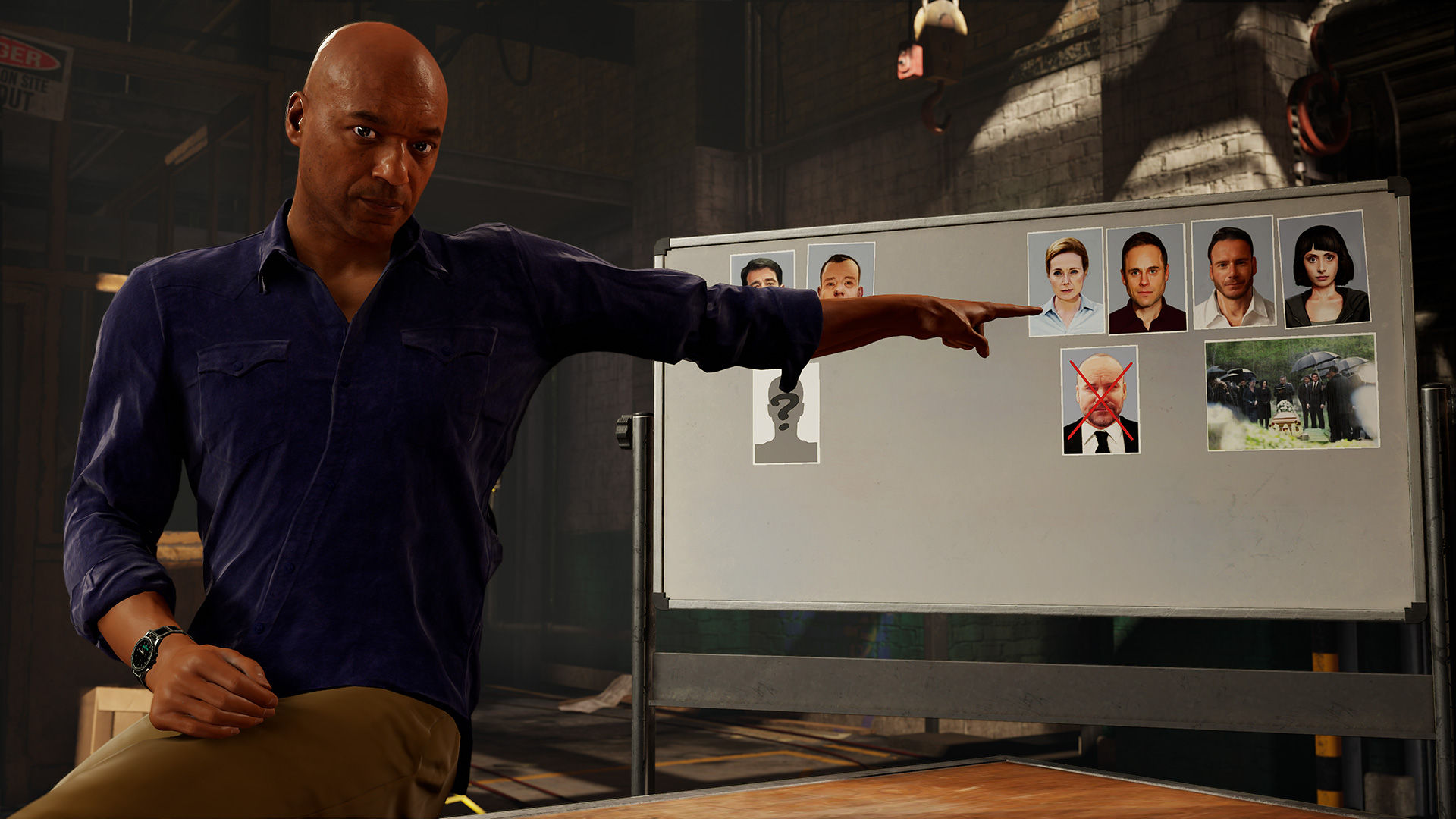 "It's hugely different," says Whyte, formerly of Lionhead, of what it's like to work in a VR-dedicated studio, in a medium that's still finding its feet. "It's a challenge, and it's refreshing as well - the way I look at it, from a design language point of view, you've got decades before we got to the point where we've worked out locomotion, representing your health, UI, cutscenes, all of that. The industry's really iterated and got to a certain point. And some of those elements work great in VR - but all of us as developers are exploring what works and what doesn't work. And that's refreshing - it's kind of like the transition from 2D to 3D."
Blood & Truth feels every bit like a second generation VR game, one that's more assured in its use of the medium. The opening scene, as you're strapped in a chair and briefed by a no-nonsense sort played by actor Colin Salmon, has an incredible sense of presence - it's the way that Salmon's eyes follow your movements, perhaps, or in the bits of business that allow you to tinker. It's how Salmon puts up a very professional demeanour by choosing to ignore the moment I pick up and fling a clipboard at his head before flipping the bird at him throughout the remainder of his animated talk.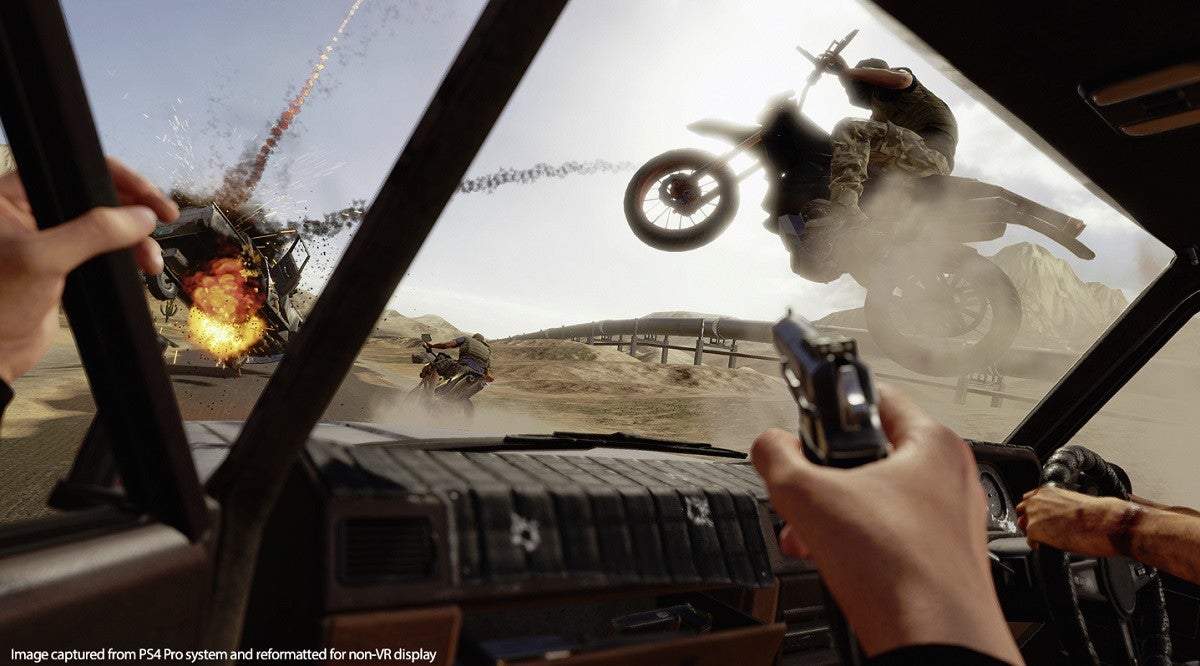 When you're out in the field, it's there in the smart ways Blood & Truth deals with potentially difficult problems. At its best, this is played with two Move controllers, allowing you to dual wield weapons at certain points, with node-based movement seeing you shift from point to point by looking in a direction and pressing a button. If you're left-handed, the game will adapt as you pull weapons from your arsenal via a swift in-game gesture, and from there you can aim down sights for an unerringly accurate take on gunplay - something a little like Silent Scope, with a different view being offered through the sights.
With Blood & Truth effectively an on-rails shooter, it might make you think it's a restrictive experience. From the small slice I've played, though, it's anything but, and while you are funnelled along a fairly narrow path you're still afforded a lot to do in that small space. Blood & Truth gets that VR is a performative medium, at its best when it has you truly embody the space, and as such it has plenty of tricks that help usher you into another world.
Press a button and you can balance your gun on your trigger finger, then duly spin it on the spot (other tricks are also available as you progress in the game). Have one hand that's free and you can cycle through gestures - and yes, you can flip the bird - while reloading is a pleasingly tactile gesture that you can embellish with your own flourishes. It's gun-fu, essentially, as recently popularised by the John Wick films, and in Blood & Truth it feels every bit as good as it looks on the big screen. It's a simple game, yes, but it's those small things that could make it very special indeed.