Blizzard announces Sombra, new Arcade mode, new maps, and a professional Overwatch League
Big night!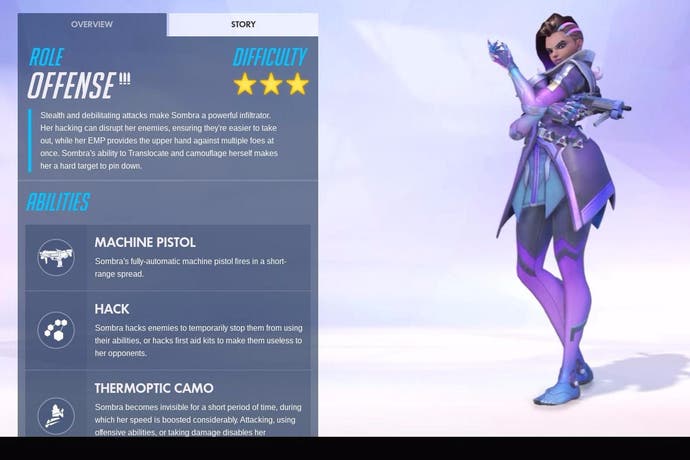 Blizzard has announced Sombra for Overwatch as well as an Oasis map, a new Arcade mode that will offer new game modes, rulesets and maps, and an entire professional eSports venture called Overwatch League.
Arcade mode will begin with 1v1 and 3v3 battles on a new map called Eco Point: Antarctica. That's where Overwatch hero Mei was posted as a researcher before something went wrong and she ended up cryogenically frozen for a decade. Cool! He made that joke too.
Sombra and the 3v3/1v1 game modes, as well as the Eco Point: Antarctica map, will be on the Public Test Realm next week. The Oasis map, which wasn't detailed, will be available to test in December.
Sombra announced herself by, cringe, hacking the BlizzCon opening ceremony stage show. The feed glitched and eventually morphed into a new Overwatch animated short called Infiltration.
The official Overwatch website has been updated with Sombra's abilities. She has a machine-pistol that fires a short-range spread; she can hack enemy abilities to stop them being used, or hack first aid kits to make them useless to enemies; she can enter stealth - become invisible - for a short time, with a movement speed buff, but this breaks if she attacks; she has a translocator beacon she can place and return to; and she has an EMP, presumably her ultimate, that destroys enemy barriers and shields and hacks all enemies caught in the radius of the blast.
She's considered a three-star difficulty offense hero.
The story of the animated short revolves around Reaper and Widowmaker using Sombra to hack a Volskaya research facility where mech robots are being made. They target a VIP and eventually Sombra is alone with the VIP, but doesn't take the shot...
Overwatch League will take to major cities to offer try-outs - called Combines - for aspiring players who will be offered professional contracts, baseline minimum salaries and benefits, among other things. Teams will be centered around those cities. The first Combine will happen next year.