BioShock Infinite explodes back on the scene with new trailer
Reaffirms February 2013 release date.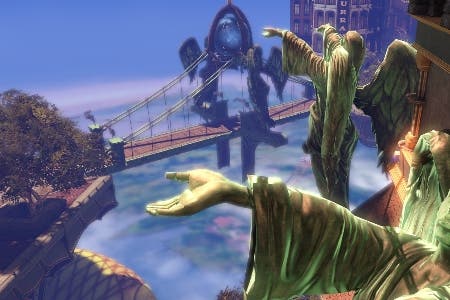 BioShock Infinite has returned with an explosive new trailer and confirmation that it will release in February 2013.
The eye-catching shooter had gone dark for the summer, skipping trade shows E3 and Gamescom amid reports of a troubled development and high-profile exits from developer Irrational Games.
Some had expressed concern that the game might miss its February 2013 release - it was initially due out this month. But the new trailer, called Beast of America, hammers home the 26th February 2013 release date.
So, what does the video, made using in-game footage, show us?
It begins with a nod to the first game. Protagonist Booker DeWitt is on a small boat, lighthouse in the background, running through a box of trinkets required for his mission: to seek out Elizabeth, a mysterious woman who lives on the fantastical floating city of Columbia.
DeWitt enters the city and we see, from a first-person perspective, the splendour of peace time in the city. We catch a glimpse of Monument Park, Battleship Bay and other areas before the civil war, which engulfs Columbia during the game, kicks off. In one clip The Handyman, one of BioShock Infinite's "Heavy Hitter" enemies, on stage for all to see at Bettermen's Autobodies.
Soon the action begins and we meet Elizabeth, who is DeWitt's AI companion during the game. In one firefight she throws the player a shotgun. There's a lot of falling and holding on to Elizabeth for dear life.
We also get a renewed look at the Sky-Hook, which allows DeWitt to travel across Columbia using the Skyline rail system. It's used for fast travel and exploration, but is also great in combat. The trailer shows the player descending onto an enemy, knocking them clean off a ledge. You can also hang from the skyline and fire a gun with your free arm.
And there's plenty of plasmid-esque action, too. In Infinite vigors and nostrums give Booker powers he can fire from his hands. We see BioShock's trademark electricity power and, later, burning hands that suggest fire powers.
All in all, it's an impressive video that goes some way to addressing concern about the health of Ken Levine's ambitious project.