Big Biomutant patch lets you shut the narrator up
Peace out.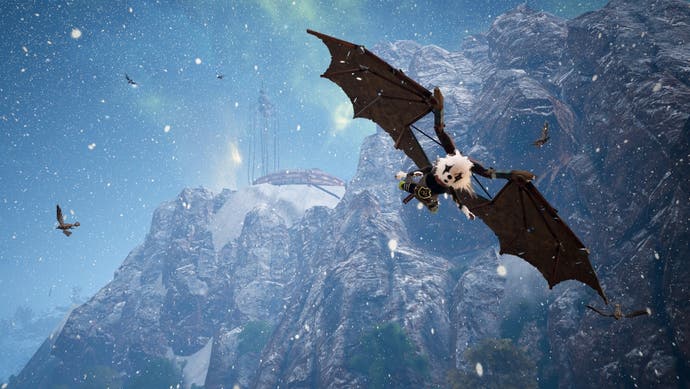 Biomutant developer Experiment 101 has, as promised, released an update for the game that makes significant changes.
Chief among them is the ability to shut the annoying narrator up. Biomutant's incorporeal narrator is certainly pretty chatty, commenting on pretty much everything you do and translating everything anyone says. Prior to the release of this patch, while you were able to tone the narrator down, you couldn't shut him up completely. Now you can.
Here are the relevant patch notes:
Dialogue & Narrator:
Reduced the amount of gibberish spoken before the Narrator starts translating.
Added dialogue setting toggles for "Gibberish" and "Narrator" allowing players to select if they want to hear the narrator, the gibberish or both when talking to NPCs.
Fixed narration and gibberish playing silently and producing an awkward pause when each corresponding volume setting is set to 0 instead of skipping the sound entirely.
Removed the text delay animation when either gibberish or narration is disabled.
Elsewhere, there are changes to the tutorial area: "In order to improve the pacing of the early parts of the game, we've edited dialogues to be shorter. We've also added more enemies and loot to these areas to better represent the experience later in the game."
The patch adds a new "extreme" difficulty setting, where enemy damage and attack rate is further increased. There's a motion blur slider added to the settings, a fix for the depth of field toggle not being applied in dialogues, and various tweaks to items and loot ("increased chances that items found have a level requirement closer to the player's actual level when found. Players will still be able to find items with higher level requirements, but player level is now taken into account"). The sound, too has been updated (melee sound effects, etc).
Biomutant's combat has come in for some criticism, and the patch makes a long list of changes here. For example, the patch disables the end-of-combat slow motion camera for short combat scenarios, adjusts valid angles for combat targets to reduce camera movement in combat, and adjusts sound and rumble effect for a successful parry to improve feedback.
There's a lot to this patch, which is out now on PC and on consoles soon. Biomutant may well be worth returning to if you bounced off it at launch.