Be a hole and swallow the world when physics puzzler Donut County launches next month
Coming to PS4, PC, and iOS.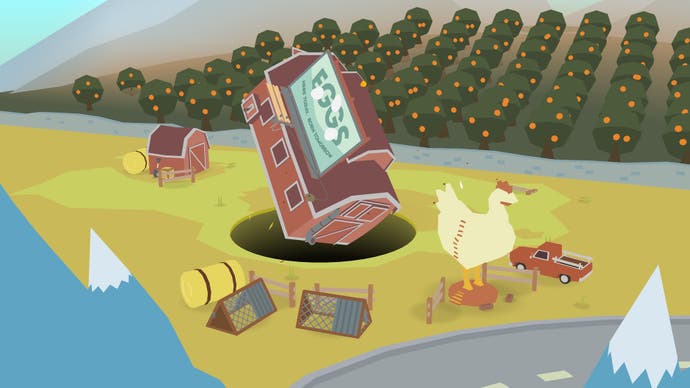 Annapurna Interactive, the publisher behind the stellar likes of What Remains of Edith Finch, Florence, and Gorogoa, has announced that gloriously off-beat physics puzzler Donut County will be coming to PS4, PC, and iOS on August 28th.
Developed by Ben Esposito, Donut Country is openly inspired by Keita Takahashi's classic video game oddity Katamari Damacy, evident in its vibrant low-poly art style and quirky ambience. Instead of attempting to engulf the world by rolling it into a ball however, Donut County casts you as a hole and tasks you with swallowing up everything you can.
Starting out as a tiny opening, barely big enough to consume a pebble, objects you swallow increase your size until you're able to engulf the likes of towering skyscrapers, and more.
It's not just a game of gulping though; as Esposito explained to Eurogamer last year, there's a strong puzzle element too, and you're able to use some of the objects that tumble into your pit to complete specific tasks - swallowing a fire to inflate a hot air balloon, for instance, or, as seen in the trailer above, shifting a pool of water to quench a bird's thirst.
Alongside gameplay, Donut County's new trailer also introduces the game's rather charming cast, who all live out their days in the depths of the hole, having been swallowed up at an earlier date. And who is guiding this insatiable chasm across the landscape? Why, an anthropomorphic, and clearly misguided, raccoon called BK, of course.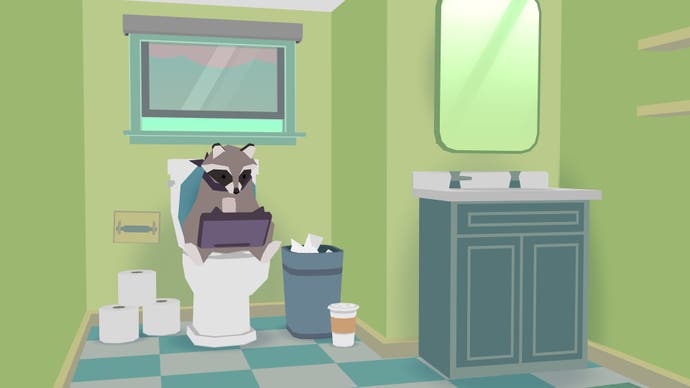 As Esposito revealed in a post to the PlayStation blog, "Before the town gets destroyed by holes, BK & Mira work together at a donut shop that turns out to be a front for the trash-stealing Raccoon Company. While Mira turns the other cheek, BK gets sucked into the job of opening up holes to steal his friends' houses. And that's just the beginning."
You play a hole, you must move around an environment making certain elements fall into correct targets at the right time.

— petermolydeux (@PeterMolydeux) January 5, 2012
Fittingly enough, the very peculiar Donut Country had rather unusual beginnings. Formally unveiled back in 2014, it was inspired by a pitch from Peter Molyneux parody Twitter account petermolydeux, which read "You play a hole, you must move around an environment making certain elements fall into correct targets at the right time." Donut County first took form as The Pits, which was built for a game jam themed around Molydeux's ideas.
Donut Country has come a long way since then though, and Esposito says he can't wait for people to try his "really funny and unique game about holes, donuts, and idiot raccoons" when it releases on PC, PS4, and iOS on August 28th.