Avengers: Infinity War's Thanos drops into Fortnite today
Run the gauntlet.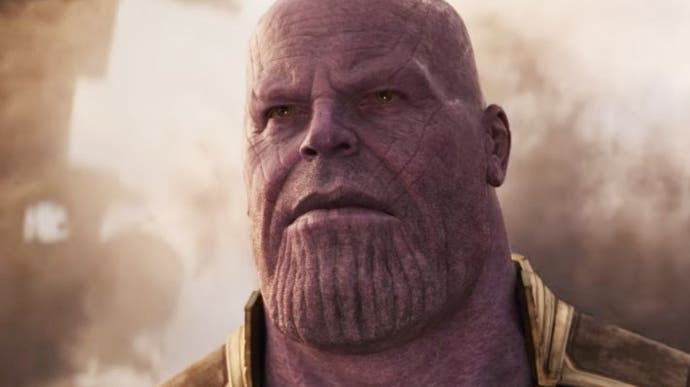 Thanos, the big purple baddie of Avengers: Infinity War, officially arrives in Fortnite today.
The official, Marvel-sponsored crossover between the biggest movie on the planet and the hottest game on the planet sees Thanos arrive as a playable character - if you find his Infinity Gauntlet.
The gauntlet will drop to the ground via a meteor (yes, another one) at the start of a match. Pick it up and you'll transform into Thanos and gain super powers.
You'll be able to punch to knock enemies back and destroy structures, pull off a devastating ground pound, fire a damage-over-time energy blast and super-jump to great heights. Additionally, Thanos has a regenerating shield and doesn't take fall damage.
The trade-off? You won't be able to build, use weapons or items such as launch pads. According to Epic's patch notes, Thanos "has no need for such petty human devices".
Should Thanos be killed, the Infinity Gauntlet will drop for someone else to pick up.
Speaking to Entertainment Weekly, both Marvel and Epic gushed about the crossover.
"Over the past few months, while we were editing Infinity War, we'd take breaks to hop on and get in a few games," Avengers co-director Joe Russo said. "And then we started thinking, how cool would it be to have some kind of Avengers-Fortnite mashup?"
Over to Epic Games:
"Out of the blue, I get this call from Joe," Epic's worldwide creative director Donald Mustard added. "And after a bit of geeking out over each other's work, we start brainstorming these crazy ideas. It was really important that whatever we did, it had to be super authentic to both Fortnite and the Avengers: Infinity War, and something that fans of both would be excited about. About an hour later, we had the bones of this awesome idea for a limited time gameplay mode, and almost immediately our team got started."