12 minutes of Call of Duty: Infinite Warfare gameplay
Guns! Guns! Guns!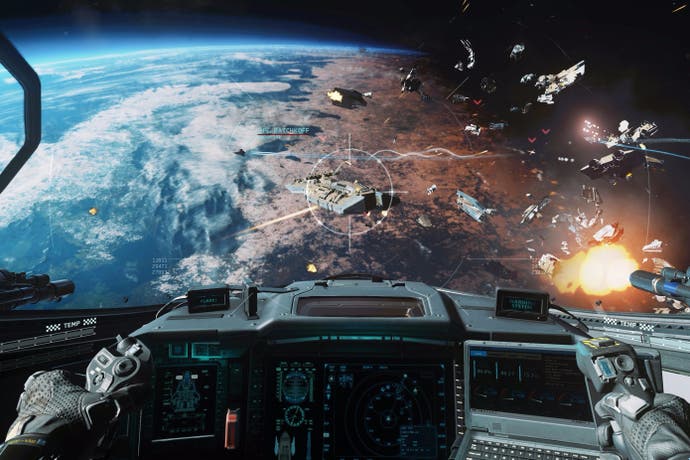 Activision's put out 12 minutes of Call of Duty: Infinite Warfare gameplay.
The video, below, expands upon the footage shown at E3 in June.
Infinite Warfare, from Modern Warfare developer Infinity Ward, is set in the future and expands the series' traditional boots on the ground combat into space.
It kicks off with a sneak attack on the UNSA fleet, which is crippled in the battle. You play Lt. Reyes, a pilot with the Special Combat Air Recon (SCARS) group. Controlling Reyes, you fight alongside some soldiers against SetDef forces on the streets of Geneva.
As the video shows, eventually you fight your way onto a hill, where it's all kicking off. Your Jackal, a futuristic fighter plane, lands in front of you and you leap into the cockpit. The scripted sequence sees you take off, while remaining in first person, then burst towards the upper atmosphere alongside friendly ships.
Eventually you breach the atmosphere and you're in space, where you see a massive Star Wars-style spaceship battle in the distance. It's here that you're given control over your Jackal, and the space dogfighting portion of Infinite Warfare kicks in.
Activision also put out a video showcasing the flight deck of the UNSA Retribution, your evolving home base throughout the Infinite Warfare campaign.
Meanwhile, at Comic-Con Infinity Ward announced that if you pre-order Infinite Warfare, you get the Terminal bonus map. This is a reimagined version of the Terminal map from Modern Warfare 2. A screenshot is below.
Remember that those who fork out for the more expensive versions of Infinite Warfare get Call of Duty: Modern Warfare Remastered - a publishing decision that continues to drive Call of Duty fans up the wall.