Xbox gamescom 2017 conference live report
The Xbox One X will come with a limited edition vertical stand. That, and little else, as it happened.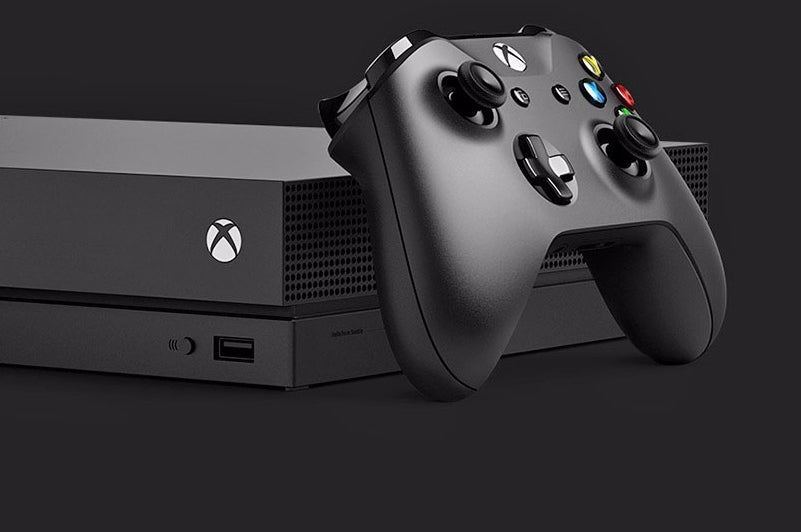 Well, that was 90 minutes! Microsoft held a live event ahead of this year's gamescom where it revealed the Xbox One X, which launches this November in a limited edition bundle that comes complete with a vertical console stand. There's more - but not much more - as it was also revealed that some 100 plus titles will be getting upgrades for the new console, and elsewhere Frontier announced the multi-platform and quite excellent looking Jurassic World Evolution, the gorgeous Cuphead gets a final release date and Microsoft puts its weight behind the phenomenon that is PlayerUnknown's Battlegrounds.
Our live coverage of this event has finished.
Coverage
G-Lord: @Robert: Geht sehr gut, freue mich auf die Konferenz ;)
Exactly!
GOOOOOOOD EVENING INTERNET.
Just over 30 minutes to go until showtime for Microsoft as they kick off this year's gamescom.
I'm quite excited, even when I should know better not to be.
None of us are actually in Germany just yet. Bertie's in Brighton, and I'm in Lewisham.
Kami: I'm just here for Martin's nipplewatch.
I shan't be posting any pics of my nipples tonight. There were complaints last time.
Well! There is the day-one 'Project Scorpio'-edition Xbox One X console, which, I don't know, may come with a live scorpion: http://www.eurogamer.net/articles/2017-08-18-xbox-one-x-will-launch-with-a-special-day-one-project-scorpio-edition-report
I once had a pork scratching that still had a nipple attached to it. It felt a bit like finding a four leaf clover.
It's not a conference as such so yes, it's worth keeping expectations in check. But! It's going to be about 90 minutes, I believe, and there will be announcements.
There's the cheapo ReCore Definitive Edition that no one asked for but maybe it will turn out OK after all: http://www.eurogamer.net/articles/2017-08-19-budget-xbox-one-x-enhanced-recore-definitive-edition-leaked
On top of that Xbox One X announce and the ReCore one which have leaked a little ahead of time, I'm hoping we'll have a firming up of Microsoft's plans for Q4 - so dates for some of the smaller titles away from the likes of Forza Motorsport 7 would be nice.
Imagine if they announce a Master Chief-shaped Xbox One X! This is why I'm not in charge. Anywhere.
Who's watching from where? And what are you drinking to get you through this?
ektoraskalderis: From Greece. Drinking ouzo....not good for my health :(
Not good for your tastebuds either, surely.
G-Lord: @Martin: Watching from Switzerland. I should drink beer, but I don't think that is a good idea...
I mean, it's socially acceptable right now, even if it is a school night. Go on, treat yourself.
A special edition Minecraft Xbox One S has just leaked via a Facebook video. Story will be up on the site shortly. What will be left for Microsoft to reveal?
10 minutes! I should really finish off this pizza I'm eating and get settled.
FIVE MINUTES! I am at home on my sofa, sounding a klaxon - much to the annoyance of my girlfriend.
A quick word on tonight's host - Phil Spencer is at his daughter's graduation so can't make it, and the wonderful Graeme Boyd is stepping up to front the show.
Though I'm quite suspicious that Location, Location, Location starts on Channel 4 at 8pm, which is maybe the real reason Phil Spencer can't be there.
young_nell: how long will this event last?
90 minutes!
Kurosawa's Rashomon, Lynch's Eraserhead and Bergman's Persona are all also 90 minutes.
I fully expect tonight's show to compare.
We've got ourselves a live show everyone. And it's rated 18!
Fully up for some swears and nudity tonight. It's been a slow Sunday so far.
Anthem, Forza, Shadow of War and Minecraft all lead in the sizzle reel.
They're some pretty games.
It's Graeme Boyd, Julia Hardy and Maxi Graeff are all on hosting duties. Them, and a nice white sofa and a full suite of Kallax shelving units.
It's an informal vibe, which sets the tone for what's to come.
Major Nelson is absent, though we're promised an appearance later.
Which reminds me of this
, one of my favourite ever pieces on Eurogamer. Major Nelson even makes a cameo in the comments there.
And nothing on Crackdown, sadly - having been recently delayed, it looks like they're going dark on that one for a short while.
*Please don't cancel it, please don't cancel it*
pelican_: @Martin I got a temp ban for trolling Nelson on Neogaf. One of my proudest moments.
Hero.
The first of those trailers, btw, is a CGI trailer of Assassin's Creed Oranges.
In a novel twist on slowed down cover versions of 80s classics, we're actually getting a Leonard Cohen song - one of his last - with this.
Genuinely a pleasant change.
Anyway, Assassin's in Egypt.
This trailer reveals nothing, really. Maybe that Ubisoft has a big marketing budget?
Oh man, it turns out Location, Location, Location isn't on tonight. It's just a repeat.
I was hoping to update you with some live Phil Spencer watch, but he's proving truly elusive tonight.
We've got a Player Unknown's Battlegrounds trailer everyone!
First-person mode, and maybe some more graphics that are coming down the line seeing as the game doesn't really look like that at the moment?
obidanshinobi: The exact same trailer from E3
Oh.
MrTomFTW: PLAYERWELLKNOWN
Well done have a biscuit.
ManFromAnotherPlace: Why am I having flashbacks to Network 7 & The Word?! Terry Christian will be on next!
All I really remember from The Word was a man licking someone's armpits after they'd been on an exercise bike. I don't want to see that.
I do wonder what happened to Terry Christian. Has anyone seen him lately?
I'm not overly concerned. Just curious, really.
Oh, btw - Microsoft is really putting its weight behind PlayerUnknown's Battlegrounds with a publishing deal, which is smart of them.
But does anyone have an update on Terry Christian?
Oh hang on, here's another exclusive trailer.
It's Jurassic Park Evolution - this is a game reveal people!
It's a dino-themed park simulator from the people behind Planet Coaster, which sounds like a wonderful thing indeed.
Coming next summer. Yes please.
ihnm_aims: ...er, wasnt this a mobile game a few years back? Jurassic Park Builder? Or is it a new game of the same thing?
That was decent! This is an all-new thing from Frontier.
Oooops - it's Jurassic *World* Evolution, not Jurassic Park Evolution. I'm showing my age there.
Halo 5 is getting a 4K update, as is Quantum Break.
I should slow down with the wine considering there's just over 60 minutes left.
HERE'S AN ANNOUNCEMENT EVERYONE!
It's the one that leaked. ReCore Definitive Edition.
spamdangled: Martin - white or red?
Red. Really cheap red.
I kind of liked ReCore. If they fixed the last half of the game I'd love to go back.
I think this is just more graphics though.
This is a free expansion - and it's out the week after next.
Some speculation that the expansion is just stuff that didn't make it to the final game (and that cut content is the reason it felt like such a grind). I hope they fix the main campaign as well as adding new stuff.
Anyway, Age of Empires! Because it wouldn't be Gamescom without mention of an RTS.
Disneyland Adventures in 4K! There's a surprise.
Super Lucky's Tale, the follow-up to a fairly unremarkable Oculus game, is coming on November 7th.
And now another RTS announce, because Germany - Halo Wars 2 is getting an expansion, with a new campaign and some multiplayer additions. And The Flood!
There are over 100 titles that'll be announced for Xbox One X.
That, I think, is the real headline - and the list you'll want to look over if you're considering diving in with Xbox One X.
Forza Motorsport 7 now, with what I *think* is the E3 trailer.
It has trucks in it! And the Porsche 919 leads the way, which breaks my heart a little bit given how Porsche is on its way out of the WEC.
We're going into detail on the PC version of Forza Motorsport 7.
Native 4K, unlocked frame rate.
I'm genuinely excited about trucks.
kantaroo3: The list Martin linked has Darksiders III in it. I must have missed the announcement.
It was revealed back in May!
MrSnakeCake: @martin Robinson only Toyota is still in the lmp 1 class of WEC, Audi and Porsche are out
I'd be surprised if they're still about, and Perrin just announced it's not doing its P1 for next year. Still! Ginetta will be there. Also I should save this chat for later.
Different peripherals are supported for Forza!
Which reminds me of the best way to play a driving game.
Which isn't with an expensive steering wheel, as much as I love mine.
If you've got a dance mat, hook it up and sit down on it. Set accelerate and brake to two buttons your feet can reach, and left and right to the pads your arse can touch.
We used to call this Groin Turismo.
It's amazing. It's how I play all driving games now.
Here's the E3 trailer for Xbox One X again, in case you need a refresh.
I'm going to the kitchen. Does anyone want anything?
abczyx: You can get me a Minecraft-themed Xbox One S. If it exists. *cough*
I've got a fresh one in the fridge.
Hang on here's an announcement.
There's a new mode coming to Xbox One, which makes the menus white instead of dark grey.
Right, sorry, where was I? So I've got one Cornetto, two scoops of Cornish ice cream a glass of orange juice and a KitKat. Hope I didn't forget anything.
I don't want to alarm anyone.
The Fast & Furious Tokyo Drift is on ITV2.
I just asked my girlfriend, who's a Fast & Furious fan, if it's any good - I haven't actually ever watched it (I'm a latecomer to the series).
'Not really, but it's better than this'.
'What the hell is this font' she's now asking of this World of Tanks trailer.
Asking the big questions.
Does anyone know what that font is though? It's really bad.
We're onto custom controllers, and I very much approve of Julia's choice of grey and orange. It's the same colour as my sideboard.
And now a trailer for different coloured controllers.
Now we're talking fonts, you know what - the font is all over the place in this trailer.
IronGiant: Put the kettle on, only 27 mins of this crap left.
I've only just got back from the kitchen... But okay.
9pm's quite late for a Sunday, isn't it?
I'm quite impressed with myself for being up this late really.
I'm impressed with you all. Well done everyone!
Jesus wept is that a thing? Please report back - what's it like? From the sounds of it I'd rather have a diseased dog shit in my mouth.
Right, sorry, some games.
In amidst this there's a new Techland game, Tacoma - which is out, but let's not forget it's console exclusive on Xbox One - and more.
spamdangled: Martin - it's actually not bad, though I'm not sure I'm going to have any teeth left by the time it's finished. They had coconut and raspberry flavour as well.
Thanks! I think it sounds better than coconut and raspberry, at least.
Oh? It's another E3 trailer.
Crossplay is a thing in Sea of Thieves, which is an announcement.
Krychek: I thought it was Windows 10/Xbox One cross-play from the start.
I kind of thought that too, but hey ho!
I don't want to widdle all over this, as it's lovely that Microsoft has elected to put on a show.
It would be lovely if they had some stuff to show though. the number of reheated E3 trailers is a bit of a smack in the chops.
I very much want to play Sea of Thieves, though. It still looks like it has the potential to be something very special indeed.
And you can be sick in a bucket and then throw that sick over someone else. I think that's news!
15 minutes to go! And now here's some Minecraft news.
I only started playing Minecraft properly earlier this year, and it turns out it's pretty good. Who knew?
And here's the Minecraft Xbox One S console that leaked earlier.
There's a creeper controller bundled in, and a pig one sold separately.
Sorry, I just drifted off looking up what cars are in that Fast & Furious film that's on ITV2 right now.
Here's that Lord of the Rings game, anyway.
It's got microtransactions in it, innit.
You lose a point for an erroneous hyphen I'm afraid MrSnakeCake, and you get extra points for originality MrTomFTW.
Looking as glorious as ever - and it's out September 29th.
I had no idea this was a run and gunner in the mould of Gunstar Heroes. Oh man I miss Treasure so much.
ihnm_aims: Girlfriend just handed me a kitkat, "Cheers Martin" I said. She looked confused and slowly stepped away from me. 11/10, would get Martin to bring me kitkats again.
This has made my day.
Now it looks like a super stylised Parodius/Gunstar mix-up and I want it more than ever.
For Surviving Mars, Paradox's simulation game that's coming in 2018.
And here's the climax - it's the Xbox One X Project Scorpio Edition you probably saw on the site yesterday.
It comes with a vertical stand.
Microsoft really needs to put its back into selling this thing a bit more, because I don't think a man in his 50s in an empty office block is making me reach for my wallet just yet.
Krychek: He was also doing rectal examinations after the video.
Iwata pulled those gloves off with style. But yes, this had more of that vibe.
It's a wonderful looking machine, with some great support from existing games. Cuphead looks amazing, and Forza will likely be great.
Conference or not, though, that was a bust.
When you're building towards a climax of a console stand, maybe it's best to just say nothing at all.
Anyway, pre-orders are open, and we're all going to go and buy one anyway.
It started 40 minutes ago I'm afraid. Can anyone let me know what happened in the first 35 minutes of Tokyo Drift?
Pre-orders are live on Amazon for the Project Scorpio Edition at a cool £449.99. Go knock yourselves out.
Because that's exactly what I'm going to do right now. Farewell, everyone, have a grand Sunday night and see you later this week for Gamescom!