Xbox E3 2019 conference live report
New Xbox launches next year, an all-new Blair Witch game and lots more besides - all the news as it happened.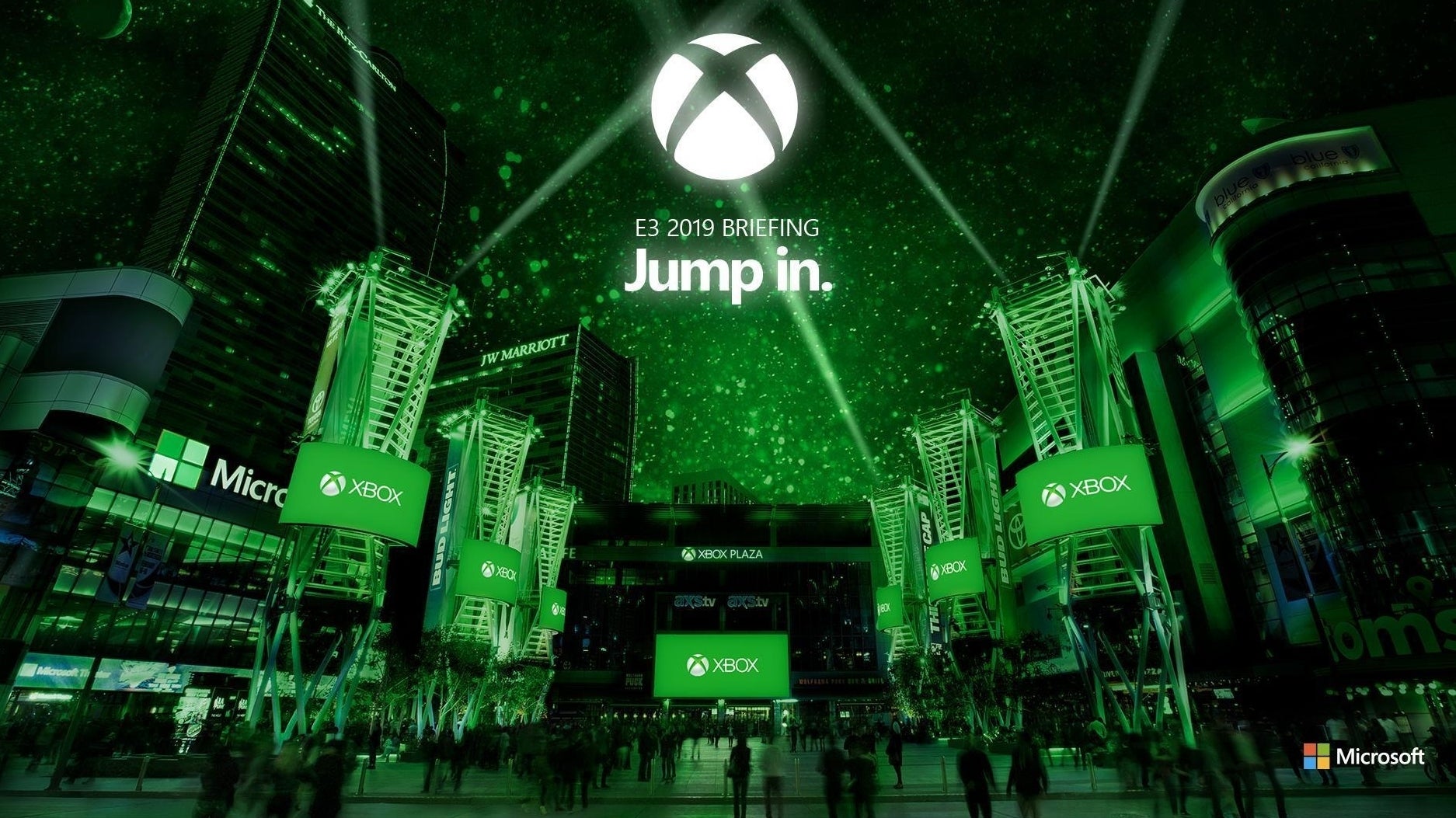 Well, that was a wrap. A strong showing from Microsoft as it sped through a litany of games before confirming that its new Xbox will be out next year. Still, would have been nice to see a bit of gameplay here and there...
Our live coverage of this event has finished.
Coverage
Just under an hour to go until the big show begins, and already there's all sorts of nonsense rumours flying around.
I love these moments before a big show when people start whispering all sorts of far-fetched stories to each other.
Today's lovely big rumour: Shigeru Miyamoto will be making an appearance at Microsoft's show.
Xbox Live for Switch? Nintendo games for Xbox? Or just the far-fetched dreams of those who've been queuing up for hours in the LA sun?
ALL WILL SOON BE REVEALED.
Tom Phillips, Emma Kent and Chris Tapsell are our away team at the show for us.
I, meanwhile, am in the Brighton office. Watching the Canadian GP wind down.
Right, well that's the Grand Prix done - which I won't spoil for you - but let's turn our attention to the Xbox conference.
I wouldn't want it any other way.
Scottoest: If I were in games media, I'd be thrilled to not have to fly to LA and do long-ass days at the E3 convention.
Also this.
That's the real way to E3.
I'm being an adult and sticking with the herbal tea - a cardamom rooibos, don't you know - before hitting the hard stuff.
Which I'll probably be doing about 30 seconds into the Xbox conference. But still!
Before the snark begins, though! Genuinely excited for what the next 90 or so minutes will bring.
What I'd like to see: Halo Infinite in all its glory, a glimpse of the new Fable, some all-new IP from Microsoft's internal studios, some absolute show-stealing megaton about a partnership with Nintendo.
Also what I'd like to see: Jamie Kennedy turning up half-cut to present the whole show, the biggest demo of the night to stall due to technical difficulties, the return of Mr. Caffeine.
Reports of grown adults in the auditorium making 'X' signs with their arms, a man standing up with an Xbox scarf held aloft for almost an hour now.
Video games are so weird.
Two minutes and counting. This is about to get real.
Please let it be. That or Wii Music 2 plz.
There's a car! A jetpack! A Gears of War! A Minecraft!
All of video games have come together tonight to witness this.
Not Outer Worlds, which has just come out and is quite a good time.
Those two games should really should have got together to have a chat and sorted things out befor ethey releawsed.
Anyway, Outer Wilds looks like a beautifully colourful, inventive slice of sci-fi RPG action. And it's out October 25th.
Ninja Theory - who are Xbox now, of course - take to the stage.
We're all Xbox now, of course.
Ninja Theory's new game - which was in development before the takeover - is Bleeding Edge.
It's a multiplayer combat thing - an odd choice of genre given Ninja Theory's affinity with single-player experiences - but it's one of several projects in development at the studio.
Character-based combat, wiht an alpha on June 27th.
Bleeding Edge! It's a video game alright.
Speaking of video games! Here's the new Ori.
It's as gorgeous as its predecessor, and it's out next February 11th.
Confirming that there will be video games in 2020.
An all-new Mojanb title now, which looks to lean on the Minecraft heritage moreso than things like Scrolls.
It's a third-person Diablo-esque action RPG with a very distinct Minecraft look.
It looks like positive revenue flow, basically.
Minecraft Dungeons! Another 2020 release, and a very pleasant surprise.
After that ten minute fluffing here comes Big Phil to deliver the big stuff.
I have no idea what his t-shirt signifies. It looks like a brain in a helmet. Ryze 2 please?
Phil just looks so comfortable with one of those wearable mics.
Him and Madonna, basically - both born to rock that look.
I'm told it's a Psychonauts t-shirt.
So I guess let's look forward to seeing more of Psychonauts 2 later on in the show.
The whole time I've been obsessing over Phil's t-shirt I've missed his spiel about games being for everyone.
60 games will be shown here tonight - 14 from Microsoft internal studios.
And a look at the new Xbox.
That's quite the slate of things to get through. Let's get to it.
It's Jedi Knight Fallen Order - which I've warmed to having seen yesterday's reveal again today - being shown again.
There's a bit more character in this quick edit fo highlights than we saw in the reveal. I'm optimistic that it's going to be an okay video game.
Although also at times it does look a bit Force Unleashed 3.
HERE'S AN ALL-NEW GAME PEOPLE.
I could be a new Silent Hill.
It could just be a game about a really nice dog.
Well, there's a surprise for you.
Can we get an official game of Mask next please?
The Cher one too, not the Jim Carrey one.
Here's some game from CD Projekt now anyway.
It's a lovely cinematic for Cyberpunk 2077.
But will we see any of the game itself in action?
Well, Keanu Reeves is in it.
Who needs gameplay or a release date when Keanu Reeves is there onstage to talk about Cyberpunk.
Good lord he's one of the best humans, and this is one of the all-time great E3 cameos.
What a catch for CD Projekt Red.
He basically just keeps saying Cyperpunk again and again and that's fine with me.
Money well spent from CD Projekt Red I'd say. I hope that's all he does in the game too.
Keanu is doing the release date.
Keanu should announce all the release dates.
Where does E3 go after you've had Keanu onstage?
It's out April 16th 2020.
An all-new, sumptuous looking 2D action game with sublime animation and art is up next.
I've got no idea what it is tho.
Got some kind of magical deer in it. Fill yer boots.
Spiritfarer, from Thunderlotus.
Thunderlotus being the developer behind Jotun.
And here's Battletoads, which doubles down on the cartoon vibe and looks a bit like the all-new Streets of Rage 4 in its own way.
And that was Battletoads - our first look at it in action, but no release date just yet.
The Legend of Wright now, which looks a bit like David Jaffe's Drawn to Death but no way near as awful as that.
Indie montage time. Star Renegades, Afterparty, The Good Life, CrossCode, loads more games that I can't type fast enough to mention.
These are all coming to Game Pass at launch.
I say 'these'. I mentioned like a fraction of them. Look, someone who's better/faster at typing than me will write a news story about it with all the details.
Please don't tell me you come here for detail. I'm just here to get drunk and get excited about video games.
Here are all the games coming to Game Pass that leaked earlier - Metro Exodus, Hollow Knight, Borderlands The Handsome Collection.
And Arkham Knight. That one too.
Game Pass for PC is a thing too - with Football Manager 2019, Imperator Rome and The Master Chief Collection. The beta for Game Pass for PC is out... TODAY.
splayer88: Someone doesn't know how to pronounce Imperator.
TBF I don't even know how to spell it, so...
It's $9.99 a month - and there's also Xbox Game Pass Ultimate, which bundles in Game Pass for Xbox and PC plus Xbox Live.
IT'S $1! For now that is - beyond this promotiion it's going to be more like £11 a month.
Something like that. Look, don't look to me for detail.
Also they've only gone and done it.
An all-new Flight Simulator. Hold me.
Simply called Flight Simulator, it's coming to PC and Xbox. I'll have some of that.
marvzilla: Finally you can feel the power of the cloud
*Applauds*
Wasteland 3 now because you asked for more games and good god they've got more games for you.
There's a nice PC slant to what they're showing off right now - as you'd expect as this comes hot on the tails of the PC Game Pass news.
There you go Wasteland 3, coming to Xbox and PC.
It's your Booty call everyone.
MATT GODDAMN BOOTY THAT IS.
Sorry he must get that all the time.
And actually I bet if you work for one of his studios getting a Booty call might be quite intimidating?
'cos he's the big boss and everything.
Anyway they've just bought Double Fine.
Which explains Phil Spencer's Psychonauts t-shirt, I guess.
Here's Tim Schafer, who's now considerably richer than last time we saw him.
An all-new trailer for Psychonauts 2 to mark the occasion.
traviscotty: Tim Schafer answered the booty call
*standing ovation*
And another premiere. It's a Star Wars game!
I think this is one that brings together all nine mainline movies.
Lego Star Wars: The Skywalker Saga - coming next year.
Goku makes his now annual appearance at the Xbox conference - I guess someone at Microsoft loves them some Dragonball.
Dragon Ball Z Karakot coming 2020.
IT'S ANOTHER WORLD PREMIERE PEOPLE.
This one - 12 Minutes - is published by Annapurna Interactive, which is as good a guarantee of quality as you can get right now.
replicant-: Oh this is weird
Weird is good.
It's a bleak timeloop thriller set in a single room and I can get behind this.
Billed as an interactive thriller. Looking forward to finding out more.
Way to the Woods now, another indie, this time with some lovely deer exploring what looks like an abandoned Japanese city.
There's a nice effort to highlight and showcase all-new games from smaller studios which I very much appreciate - it's not just the same old tat from bigger publishers.
Speaking of the same old tat, though, here's Gears of War 5.
I joke of course. But I also did have to try and remember what number the series had got to because Gears of War 4 was a but anonymous.
It's coming September 10th. And we're hopefully going to have a look at it in action.
There's a tech test - a beta, I guess? - coming on July 17th. Horde mode details coming at Gamescom.
Please give us a look now please thanks.
We're being granted a look at Escape mode.
After Rod Fergusson spontaneously combusts onstage?
In Escape you get to be... Born?
Soldiers emerging from cocoons. I blame Koj for all this.
Looks like they're going for character-based multiplayer with different abilities available.
I say that like it was my own observation. I just copied what Wes said out loud in the office. The prerendered video there made me glaze over a bit if I'm honest.
The Terminator is in Gears now.
So there you go. It's a character pack to coincide with Dark Fate, a Terminator film that's coming out and looks just as bad as every other Terminator film there's been since the second one.
Although that one where Matt Smith played the internet was at least so bad it was... Actually no, wait - it was just bad.
Here's a new Elite controller for the well-to-do out there.
And here's Dying Light 2 because there are so many games.
It's wonderful how everyone learnt a few years ago that you should just show games and not do much else.
But for aficionados of cringe, there's not much opportunity for truly awful moments to happen. Everyone's so bloody slick now.
Anyway, Dying Light 2 is out next spring.
HERE'S A CAR. TAKE A DRINK.
It's a Lego expansion for Forza Horizon 4.
Into this. Very into this.
It's kind of the logical next step after Forza Horizon 3's Hot Wheels expansion.
HerrProduk: Bizarre
No, this one's by Playground Games. Bizarre are no more sadly.
Oh and the expansion is out this week so have some of that.
And as we're in the WTF section of the show, here's a reminder that Funko Pops Gears of War wasn't some horrible nightmare you had and is a very real video game.
State of Decay 2 expansion now please.
Kiliko: Is this very underwhelming to anyone else or am I just miserable?
You're miserable! This has been fine so far!
It's got zombies with red eyes and some truly awful writing in it, going by this trailer.
in case you don't know - the localisation for this was announced years ago, then all went horribly quiet.
This is a very, very special day. Hold me.
And I hate to say it - but does this mean we can get Phantasy Star Online 2 on Switch as well please?
Actually delighted here. Might have a cry.
Crossfire X is here now - coming exclusively to Xbox.
I have no idea but it has an airplane and a man with a cap and a beard and I don't really know.
So, Smilegate is a Korean publisher, and Crossfire is their very successful FPS. I knew that, of course, and didn't just Google it.
I know how to gams jurnlist.
An all-new Tales game now, I believe.
Or Arise or whaterver, it's not as if that title makes any more sense.
Pacman8MyGhostkart: Every pre-order comes with a copy of what was on Randy's USB :)
Eeeeesh.
Borderlands 3. It's got guns in it.
Here's FromSoft's new joint.
A pairing of Miyazaki and George R.R Martin.
It's got a hairy hammer in it, and I don't know if we'll see much more than that.
So much pre-rendered stuff in this conference, which is a small shame.
Still, a nice cinematic for Elden Ring, which reveals absolutely nothing.
Cloud services being spoken now - and console streaming details.
Public demonstrations of Project xCloud are being shown on the floor.
From October, you can play your games wherever you are via xCloud.
And now let's see the new console.
'A console should be built and optimised for one thing and one thing only - gaming'.
Obviously a very different message to that which announced the Xbox One, though we knew as much already really.
HERE'S A SPIEL ABOUT THE NEW CONSOLE WHICH WILL REVEAL NOTHING.
I want to know how high quality the pixels are.
They're talking about erasing loading times - which I guess means SSD? We all SSD now.
Oh they're takling about chipsets and everything, I'll pop in the Digital Foundry Slack and copy whatever they're saying so I look like I know what I'm talking about.
It's all quiet in there. I think they're all having a moment together.
Project Scarlett, which we knew about beforehand. Apparently it eats monsters for breakfast?
Maybe you have to feed it monsters to get new games. A bold new business model from Microsoft.
Oh and the console is coming out towards the end of next year.
Holiday 2020, but I'm going on holiday next January so I don't think it's going to be then.
Halo Infinite is a launch title for the new Xbox.
And here's a new look at Halo Infinite and please don't be another prerendered cinematic please please please.
They're trying to show the emotional range and somne shit about families or whatever and I just want to see the big ring and some aliens and crazy guns please.
We switch to first-person for what *might* be our first look at Scarlett gameplay.
Or it could be another cineamtic IDK.
Well, there's another prerendered cinematic.
Stop with this cinematic nonsense.
Looks like it's wrapping. Did we get to see a game running at any point?
Well, there was some wonderful stuff there anyway. And a fair amount of hot air.
Not sure if this is just because the way my tastes lean, but Phantasy Star Online 2 being localised was the headline for me.
That and a new Xbox next year I suppose.
Hmm, with Sony presenting an open goal there's the slight sense here that Microsoft spooned it into Row Z there a bit.
We got Keanu, some cool new indies, an ACQUISITION, but some gameplay would really have gone down a treat - a lot of that felt like a bit of a backwards step.
I think I'm going to start drinking now.
Thanks for joining us for that - we'll be back at *ooooof* 1.30am BST for the Bethesda conference.
Do you plan on having any gameplay at your games conference?