WipEout Omega Collection, Sniper Elite 4 are August's PlayStation Plus games
The fast and the Führer-est.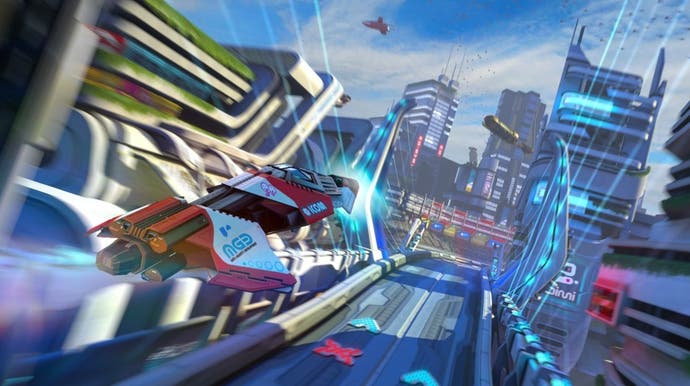 Sony has waggled its fingers and whipped back the velvet curtain obscuring August's PlayStation Plus offerings on PS4. But is that a gasp of delight or disdain from the audience when WipEout Omega Collection and Sniper Elite 4 are revealed?
WipEout Omega Collection, you might recall, first came to PS4 back in 2017, gathering up PlayStation 3's Wipeout HD (and its Wipeout HD Fury expansion), alongside Vita's Wipeout 2048 - with all included futuristic racing action being given the remaster treatment.
There's improved lighting and textures across the board, with the final experience offering 60fps at 1080p on PlayStation 4, and a boost to 60fps at 4K with HDR support on PS4 Pro. And as an additional treat, it works with PSVR too.
"This is a perfectly polished window onto a much-loved series, and to a formative time for video games as a whole," said Martin Robinson in his Recommended review of the Omega Collection. "When WipEout clicks - when the track falls away in perfect tandem with the bassline, sending your stomach turning as if a Mitsubishi Turbo has just spun into action as you take your first step onto the dance floor," wrote Martin, "there's nothing else like it, and given the premature demise of Studio Liverpool it's quite likely there'll never be anything like it again."
PlayStation Plus' second inclusion in August is Rebellion's Nazi felling tactical stealth shooter, Sniper Elite 4. This time, the campaign - playable with a co-op pal - shifts the action to the Italian peninsula, making stop-offs at the likes of Mediterranean coastal towns, ancient forests, and the odd Nazi stronghold. There's also a separate co-op Survival mode for up to 4 players.
"Schlocky, supple and slicker than what's gone before, Sniper Elite 4 is a riotously entertaining WW2 stealth adventure," said Martin in his Recommended review back in 2017. "Rebellion has folded in the essence of stealth greats such as Splinter Cell and Metal Gear while keeping the characterful flavour of Sniper Elite itself, and for the first time it's not necessary to make any excuses on its behalf. Sniper Elite 4 is a really good video game."
And that's your lot for this month. Subscribers can add PlayStation Plus' latest offerings to their library from 6th August, and July's titles - Detroit: Become Human and Horizon Chase Turbo - will remain available until 5th August.