What we've been playing
A few of the games that have us hooked at the moment.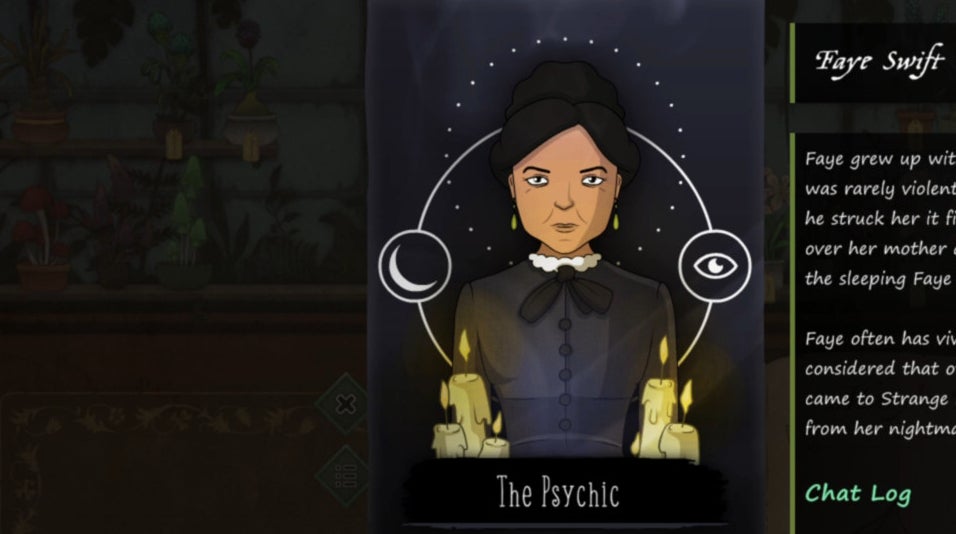 6th January 2023
Hello! Welcome back to our regular feature where we write a little bit about some of the games we've found ourselves playing over the last few days. This time: spooky Sardinia, worrying plants, and Claudia W.
If you fancy catching up on some of the older editions of What We've Been Playing, here's our archive.
Saturnalia, PC
Saturnalia, with its ghoulish pursuers, ancient rites and shifting midnight streets, may seem like an odd choice for a game to play over Christmas, but actually it fits perfectly.
That's because there's always been something spooky about the festive season. You can see it in books like The Box of Delights and The Dark is Rising - and it helps that The Dark is Rising got a lovely audio adaptation at the end of last year, with help from Robert MacFarlane.
So actually, Saturnalia's misty, sketchy environments and air of dread is perfect for the wintry end of a year like 2022. With the presents wrapped and the last work done, a haunted version of Sardinia beckoned - and it was brilliant.
Strange Horticulture, PC
Strange Horticulture.
Is this the most intoxicating, transporting game of 2022? It felt like it this Christmas. Strange Horticulture is a puzzle game that is hard to play as a puzzle game. You work in a plant shop and must slowly untangle the true nature of the plants on your shelves, understanding their properties and finding their real names. Meanwhile, you venture out into the world - and people also come to you in your shop - to find new plants and new puzzles.
That sounds pretty straightforward, but actually all the roads in Strange Horticulture lead outwards, away from playing the game as a simple Sudoku-ish logic challenge and towards something deeper, more ancient, more wyrd, more literary.
To say more would be to spoil one of the most surprise-filled games of the last few years. The cards! The bit with the doodad! The true charms of that wonderful map of the territory beyond your shop! Strange Horticulture is a game, and a series of stories, and also something more. It's a prompt to speculate, about the natural world and its uses and misuses. Give in. It's wonderful.
The Traitors
Does this count? It should. The Beeb's big Christmas winner was a riff on Among Us, amongst other things, but also a surprisingly deep rumination on the nature of games and how they can transform their players.
22 strangers meet in a Scottish castle and must complete a series of tasks to grow the prize pot. But among them are three traitors who whittle down the ranks with a murder every night. Will the faithful find the traitors and remove them? Or will the traitors make off with the money in the final episode?
God, this was a good bit of telly. The Traitors benefited from a truly brilliant cast and a pitch-perfect host, but it also surprised in the way it took a simple parlour game and made it as weird as possible, with masked congregations waiting in a local church, hooded villains who met in a turret, and a very weird fish shack in the woods.
What elevated it, though, was its deep understanding of the Among Us/Mafia/Werewolf formula and the web of interdependence it creates. Players were transformed by what they were playing even as they struggled to remember that it was actually a game. It was grim viewing at times, but always fascinating. They played a blinder.