UK Top 40: Modern Warfare 3 sales increase
Mario Kart 7 skids into 8th.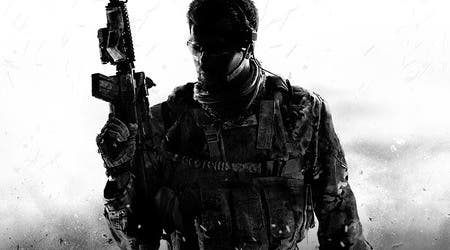 Call of Duty: Modern Warfare 3 continues to dominate the UK video games chart, its sales rising 2 per cent to secure a fourth week on top.
3DS game Mario Kart 7 was this week's sole newcomer, and finished eighth. That's higher than fellow 3DS exclusive Super Mario 3D Land managed three weeks ago, but it is much quieter now.
FIFA 12 sales improved to take the football game to second place. However, EA's game was still 55,000 sales short of rampant chart leader Call of Duty: Modern Warfare 3.
Assassin's Creed: Revelations was third, behind an ever-rising Just Dance 3 in fourth. Skyrim shuffled down to fifth, but Saints Row: The Third fell further, to sixth.
Nintendo puzzler Professor Layton and the Spectre's Call was seventh, ahead of Mario Kart 7 in eighth, Battlefield 3 in ninth and Super Mario 3D Land in 10th.
Outside the top 10, Mario & Sonic London 2012 Olympic Games rose to 11th - its third rise in three weeks.
Abba: You Can Dance and Zumba Fitness 2 both managed to enter the top 40 in this, their second week of release. They finished 30th and 34th, respectively.
Meanwhile, both Rayman: Origins and Lord of the Rings: War in North dropped out of the top 40, after disappointing starts for both last week.
The full chart lies below.
| This Week | Last Week | Title | Platform(s) |
| --- | --- | --- | --- |
| 1 | 1 | Call of Duty: Modern Warfare 3 | DS, PC, PS3, Wii, Xbox 360 |
| 2 | 5 | FIFA 12 | PS3, Xbox 360 |
| 3 | 2 | Assassin's Creed: Revelations | PC, PS3, Xbox 360 |
| 4 | 5 | Just Dance 3 | Wii, Xbox 360 |
| 5 | 4 | The Elder Scrolls 5: Skyrim | PC, PS3, Xbox 360 |
| 6 | 3 | Saints Row: The Third | PC, PS3, Xbox 360 |
| 7 | 7 | Professor Layton and the Spectre's Call | DS |
| 8 | New entry | Mario Kart 7 | 3DS |
| 9 | 9 | Battlefield 3 | PC, PS3, Xbox 360 |
| 10 | 10 | Super Mario 3D Land | 3DS |
| 11 | 13 | Mario & Sonic: London 2012 Olympic Games | Wii |
| 12 | 11 | Need for Speed: The Run | PC, PS3, Wii, Xbox 360 |
| 13 | 12 | Moshi Monsters: Moshling Zoo | DS |
| 14 | 6 | WWE '12 | PS3, Xbox 360 |
| 15 | 16 | Batman: Arkham City | PS3, Xbox 360 |
| 16 | 20 | Uncharted 3: Drake's Deception | PS3 |
| 17 | 15 | Skylanders: Spyro's Adventure | 3DS, PS3, Wii, Xbox 360 |
| 18 | 22 | Forza Motorsport 4 | Xbox 360 |
| 19 | 14 | Lego Harry Potter: Years 5-7 | PC, PS3, Wii, Xbox 360 |
| 20 | 18 | Zumba Fitness | Wii, PS3, Xbox 360 |
| 21 | 17 | Michael Jackson: The Experience | DS, PS3, Wii, Xbox 360 |
| 22 | 23 | Football Manager 2012 | PC |
| 23 | 27 | Mario Kart Wii | Wii |
| 24 | 32 | Rage | PC, PS3, Xbox 360 |
| 25 | 25 | Sonic Generations | PS3, Xbox 360 |
| 26 | 34 | Kinect Sports | Xbox 360 |
| 27 | 19 | The Legend of Zelda: Skyward Sword | Wii |
| 28 | 21 | Halo: Combat Evolved Anniversary | Xbox 360 |
| 29 | 26 | Cars 2 | DS, PC, PS3, Wii, Xbox 360 |
| 30 | New entry | Abba: You Can Dance | Wii |
| 31 | 28 | Lego Pirates of the Caribbean | 3DS, DS, PC, PS3, Wii, Xbox 360 |
| 32 | 24 | Tintin: Secret of the Unicorn | 3DS, PS3, Wii, Xbox 360 |
| 33 | Re-entry | Dance Central | Xbox 360 |
| 34 | New entry | Zumba Fitness 2 | Wii |
| 35 | 33 | F1 2011 | PC, PS3, Xbox 360 |
| 36 | 40 | PES 2012 | PS3, PC, Xbox 360 |
| 37 | 30 | Kinect Sports: Season 2 | Xbox 360 |
| 38 | Re-entry | Dead Island | PC, PS3, Xbox 360 |
| 39 | 36 | Nintendogs + Cats: Golden Retriever | 3DS |
| 40 | Re-entry | Gears of War 3 | Xbox 360 |