The legacy and potential of Nintendo's forgotten rhythm game, Band Brothers
The future of yesterday.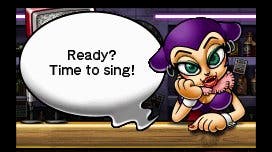 Let's talk about a Nintendo-published rhythm game that made its name on Nintendo DS and deserves a modern revival. You're probably thinking about Elite Beat Agents, but that's actually not the focus of today's discussion. However, it is important to our story, so let's begin there.
Osu! Tatakae! Ouendan is one of the more surprising success stories from a console that was a goldmine for under-appreciated and unique creative experiences. The game's wacky premise of a cheer squad helping strangers and fighting aliens in a rhythm game played using the touchscreen earned viral success as import websites and magazines touted the wonders of this bizarre iNiS-developed curio. Fast-forward a few years and Nintendo finally rewarded eager fans with a localized release, replacing the songs with Western hits and the cheer squad with spies. To this day, Elite Beat Agents remains one of the company's more bizarre published efforts of the last 20 years.
Yet this wasn't even Nintendo's only rhythm game success story on the Nintendo DS. As Elite Beat Agents grew in popularity, Daigasso! Band Brothers similarly gained online notoriety as a Japan-exclusive import gem. Unlike the wildness of Osu, however, this was a far more grounded and complex musical experience. Rather than wacky hijinks, this was all about you and the performance.
Band Brothers aimed to recreate the challenge of perfecting a real instrument. The d-pad and face buttons were used to represent the eight notes of an octave from A-G, with the L and R buttons being used to denote pitch and octave. The charts you performed were sheet music, replicating the act of playing a guitar or keyboard or whichever instrument you saw fit. There were even special modes for replicating the use of drum kits.
Think of it like a rock band. Just as a bass player, guitarist, drums and vocals perform together to make a complete song, so, too, do the different instruments in Band Brothers. It's a departure from typical rhythm games like Groove Coaster, where players perform a chart inspired by a song's collective sound, but performing a single instrument is effective in making you feel like you're performing on stage.
The game also features a complex creator mode that allows players to recreate popular songs or produce their own music. These could then be shared over wireless connections with friends. Band Brothers on DS essentially functioned as an in-depth suite of music creation tools with a loose game bringing it to life, rather than something like Guitar Hero where any semblance of playing a guitar is approximated.
Discussions of this Japan-only rhythm game duo dominated DS import lists, so it's perhaps no surprise that the reception of Elite Beat Agents convinced Nintendo to localize Band Brothers as Jam With The Band, based on the enhanced DX sequel released in 2008. Even with this online interest, however, the game's utilitarian approach compared to Elite Beat or Rhythm Heaven was always going to make it a harder sell. Jam With The Band sank without a trace, being sold in clearance sections within months.
Outside of Japan, the story of Jam With The Band and Elite Beat Agents ends here. Despite being popular, the sequel to Elite Beat went unlocalized with no further sequels put into production, and people were disinterested in Jam With The Band. Yet back in Japan, the franchise evolved in an interesting new direction.
Nintendo used Band Brothers as the company's first major experiment in the world of live services. Daigasso! Band Brothers P was a mostly-online sequel for Nintendo 3DS. The ability to create popular or original songs remained, but rather than offering a pre-installed list of songs, Band Brothers P included just four original songs at launch. Instead, a code to redeem 100 tomatoes (in-game currency) replaced the pre-installed song list, which could then be used to purchase new songs or Vocaloid voice banks (you could create your own Vocaloid, but additional voice banks including GUMI were released later for 15 tomatoes each).
This online service gave Band Brothers the personalized character the franchise once lacked. With an online store came an in-game radio network named All Night Suppon (a parody of Japanese radio network All Night Nippon) that played downloadable songs with auto-generated introduction. Nintendo even recorded radio shows hosted by real people, not just robots, creating their own virtual mascot years before the current boom of online VTubers. Between the game's launch in 2013 and 2017, Ayasaki Yu hosted dozens of episodes, occasionally with special guests. Additional special episodes were hosted in-game by popular Japanese celebrities such as idol group Momoiro Clover Z.
There was an ulterior motive: these radio shows were another method on top of in-game search and web databases to buy new songs. If players were engaged enough, maybe they'd even buy Akasaki Yu merchandise (or even buy her CD), or attend official real-world meetups for the game.
Yet what makes this online store interesting is that most songs were created by other players, not Nintendo. While Nintendo uploaded some official creations, through a partnership with Japanese music licensing body JASRAC, players could freely recreate and upload songs for others to download. If popular, Nintendo would reward these players with free tomatoes. Thanks to this, Band Brothers P offered a song list stretching into the thousands, the largest officially-licensed library of any rhythm game. Some original songs and remixes were also offered or incentivized through competitions, and even as online services have been discontinued, these original songs are (thankfully) archived on the All Night Suppon YouTube channel, showcasing impressive creativity.
With the ability to create music and share it online, Band Brothers transformed the series into an online community built upon the act of creating and sharing music. Yet Nintendo's experimentation with live services didn't end here. Band Brothers P was later reworked as a 200yen trial version and later free-to-play title, offering players a version of the game without the song creator that could later be expanded with tomatoes.
Much of the roots of Nintendo's modern online strategy can be traced back to Band Brothers P. Their experience with regular, free post-launch in the form of limited free and paid DLC packs and radio support was replicated by titles like Splatoon, Mario Maker (where Ayasaki Yu made a cameo) and, more recently, Mario Tennis and Mario Golf. With its trial version, it also served as one of Nintendo's earliest experiments with free-to-play release models, preceding their jump into mobile gaming.
Yet before the game was discontinued last year, no attempt was made to localize the title, and so far no sequel has been forthcoming on Nintendo's latest console.
Admittedly, even without a new Band Brothers, the Switch is hardly lacking for rhythm games. Ever since the console launched with RayArk's VOEZ, the system has become home to the likes of Taiko no Tatsujin, Groove Coaster, Fuser from Harmonix, Hatsune Miku and more. While stiff competition, Band Brothers stood apart on DS for its hardcore offerings amidst a whimsical sea of competitors, and no Switch rhythm game offers the same creative tools. Utilizing the online services of Band Brothers P, a worldwide revival would stand apart from the competition as a unique addition to the Switch library.
Still, that's easier said than done. Band Brothers P's expansive library existed thanks to its generous licensing arrangement, and an international release that allowed players to upload popular songs would require a similar agreement in the far more fragmented world of international music licensing. If even TikTok can struggle to keep record labels happy, how can Nintendo hope to do the same?
Yet these are hurdles worth overcoming. There's no rhythm game quite like Band Brothers, while in-person jam sessions between friends feels like something taken straight out of a Nintendo Switch promotional video! Even if it may seem unlikely, I can't think of a system more suited to a return of Band Brothers (and a second stab at international success) than Nintendo's hybrid console.