Target pulls Grand Theft Auto 5 from sale in Australia
UPDATE: Now Kmart is pulling it too.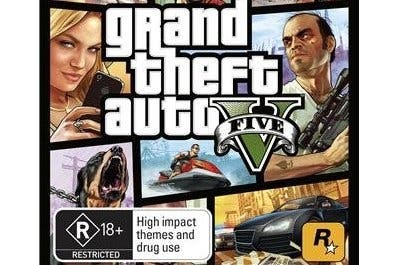 UPDATE 4/12/2014 7.20pm: Kmart has joined Target in its decision to not sell Grand Theft Auto 5 in Australia.
"Following a significant review of all content in Grand Theft Auto Games Kmart has taken the decision to remove this product immediately," the retailer said in a statement to Kotaku Australia. "Kmart apologises for not being closer to the content of this game."
Kmart is owned by Wesfarmers, the same retail group as Target, so perhaps this decision isn't that surprising.
ORIGINAL STORY 3/12/2014 1.07pm: Grand Theft Auto 5 has been removed from sale at Australian branches of Target following an online petition over the game's depiction of violence towards women.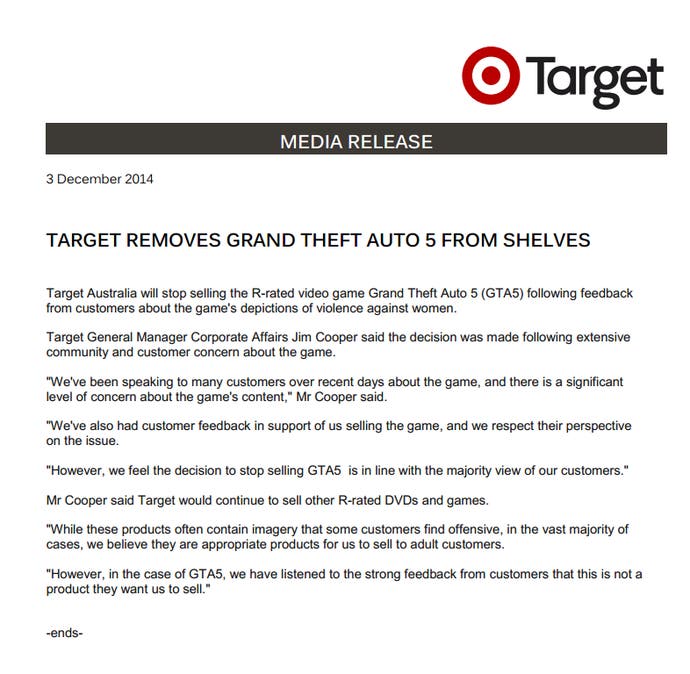 The campaign criticises GTA5's ability to let players harm and kill female sex workers. It was set up by three women who were once sex workers themselves.
More than 40,000 supporters have signed the petition since it was posted four days ago.
"Please Target - we appeal to you as women survivors of violence, including women who experienced violence in the sex industry, to immediately withdraw Grand Theft Auto 5 from sale," its text reads.
"One of many fan clips on YouTube shows the woman being run down, run over, set alight and, still screaming, repeatedly shot. This misogynistic GTA 5 literally makes a game of bashing, killing and horrific violence against women. It also links sexual arousal and violence.
"We have firsthand experience of this kind of sexual violence. It haunts us, and we've been trying to rebuild our lives ever since. Just knowing that women are being portrayed as deserving to be sexually used by men and potentially murdered for sport and pleasure - to see this violence that we lived through turned into a form of entertainment is sickening and causes us great pain and harm.
"Target, you pride yourself on being a family company, caring for local communities, and have a strong ethical sourcing policy. How can you do this while contributing to hostile and callous attitudes toward victims of violence and, more broadly, to all women?"
This morning, Target Australia announced that it had noted "extensive community and customer concern" about the game, and would therefore pull it from shop shelves.
"We've been speaking to many customers over recent days about the game, and there is a significant level of concern about the game's content," Target executive Jim Cooper stated.
The game will now be removed from sale in all of the retailer's branches with immediate effect.
But some have disagreed with the campaign, and a smaller counter protest has been launched aimed at keeping it on sale. Titled "Protect the artistic freedom of video game developers", its petition currently has 121 supporters.
"We've also had customer feedback in support of us selling the game, and we respect their perspective on the issue," Target's Cooper noted.
"However, we feel the decision to stop selling GTA5 is in line with the majority view of our customers."
The counter-petition notes that Rockstar's game does not specifically encourage players to murder sex workers as part of its main storyline - this is merely something GTA5 allows the option for.
"Nowhere in the game are you encouraged to murder women for entertainment, the game actually discourages you from killing random NPCs," petition founder Moromillas Radec argues.
"Video games are not about pushing an ideology or agenda onto impressionable people, they're not a training tool used to develop skills that would be used to harm others, nor are they intended to be a realistic depiction of modern society - they're a type of entertainment, an innocent hobby, where you have fun pushing pixels on a screen around."
Target currently operates over 300 stores across Australia and prides itself on its ethical and social policies.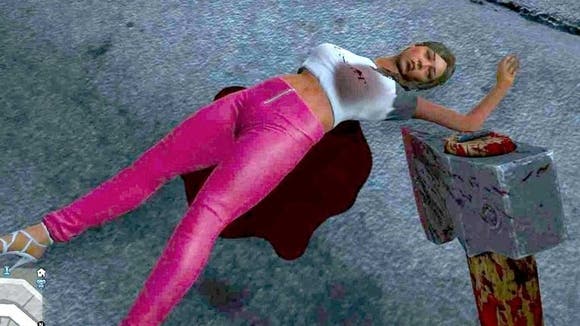 In an interview with News.com.au, one of the petition's founders - known only as 'Nicole' - stated that it had been specifically aimed at the retailer because of this fact, and due to its wide demographic of shoppers.
"[Banning the game] would be sending a really clear message that we're not going to tolerate violence against women," Nicole said, prior to Target's announcement.
"It would also be a way for them to show the women shopping there that we care about you."
The campaign was also inspired by The Warehouse, New Zealand's largest retailer, which last month decided to remove all R18-rated games and DVDs from shop shelves to better fit with the chain's family-orientated brand.
"They were willing to take the risk," Nicole continued. "The business has not collapsed. In fact, they have been praised for it. It could be a really uplifting thing for Target to do.
"I think they would be rewarded by their customers. It would be history-making."
But, unlike The Warehouse, Target will continue to sell all other adult-rated DVDs and games - just not GTA5.
"While these products often contain imagery that some customers find offensive, in the vast majority of cases, we believe they are appropriate products for us to sell to adult customers," Target concluded.
"However, in the case of GTA5, we have listened to the strong feedback from customers that this is not a product they want us to sell."
Australia launched its R18+ games classification back in January 2013, bringing its rating system for video games in line with that for film and TV. Before then, any games found to contain content too mature for the MA15+ category were listed as having been refused classification, effectively banning them from sale.
The R18+ classification allows for "elements such as sex scenes and drug use that are high in impact" and warns that "some material classified R18+ may be offensive to sections of the adult community".
Target Australia licenses its brand and logo from the US retail giant of the same name, but otherwise the companies are unrelated.