Sony website mentions Resident Evil Revelations 2 for Vita
Final Fantasy Type-0 HD, Uncharted 4, and maybe Final Fantasy 15.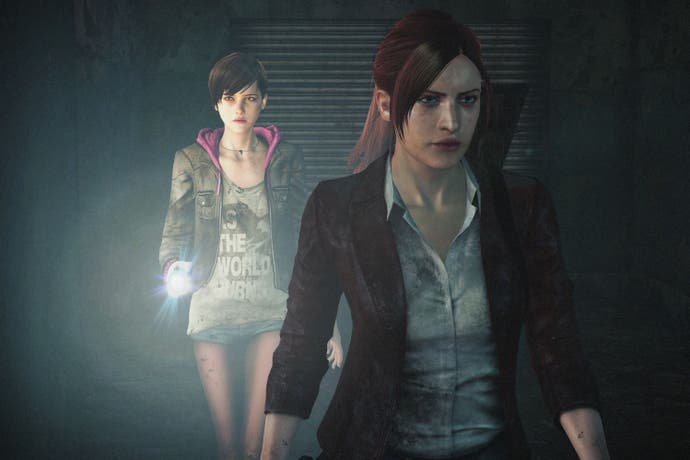 It appears Resident Evil Revelations 2 is also coming to PS Vita.
Earlier today NeoGAF user "zeromcd73" brought word that Japanese gamers had noticed reference to a number of unannounced games inside PlayStation Japan's Tokyo Game Show website.
The links no longer work, but the gist is we'll see Until Dawn, Uncharted 4 (subtitled The Pirate King and the Final Secret Treasure in Japan), Final Fantasy Type-0 HD and Grand Theft Auto 5 at the show, which kicks off this Thursday, 18th September.
However, there are also three unnamed games that are described as coming soon for PS4.
As for Vita, there's one unannounced Vita title as well as Resident Evil Revelations 2.
A Capcom spokesperson told Eurogamer: "Capcom is focused on developing Resident Evil Revelations 2 for PlayStation 4, PlayStation 3, Xbox One, Xbox 360 and PC. No other announcements have been made."
Revelations 2 was announced earlier this month for PC, PlayStation 3, PS4, Xbox 360 and Xbox One, and is due out early 2015.
Final Fantasy Type-0 is confirmed as coming to PS4 and Xbox One in HD form.
Current speculation suggests one of the mysterious PS4 games is Final Fantasy 15, which still does not have a release date. The last time we saw something new of Square Enix's fantasy role-player was at TGS last year, where a new trailer was released.
Final Fantasy 15, formerly PlayStation 3 exclusive Final Fantasy Versus 13, is due out on PlayStation 4 and Xbox One, and is in development at Square Enix's 1st Production Department.