SBK-07: Superbike World Championship 2007
Milestone gets back in the saddle.
The World Superbikes series may not be as familiar to gamers as MotoGP, but at times the production-based series has arguably been more popular, particularly in Britain with home-grown champions Carl Fogarty (1994, 1995, 1998, 1999), Neil Hodgson (2003) and James Toseland (2004), riding bikes based on those in showrooms, but with around 200mph top speeds, around 210bhp, and up-rated suspension, brakes and engine parts.
Veteran developer Milestone also has a legacy to live up to, having produced Superbike games for Electronic Arts from 1998-2001. And having produced the road-based Super-Bikes last year as a dry-run, it now has a five-year franchise for the World Superbike championship, with versions due for the PS2, PSP, PC, and Xbox 360.
The good news from the early preview code is that everything seems to be on track. Circuits already playable include classic bike venues Silverstone and Assen, with changes in gradient particular noticeable at hilly circuits like Brands Hatch. Each venue already includes detail such as control towers, buildings and pit trucks, and although it might not push the PS2 to the absolute limit, the level of detail doesn't interfere with the smoothness of the tracks, or the number of bikes on the grid.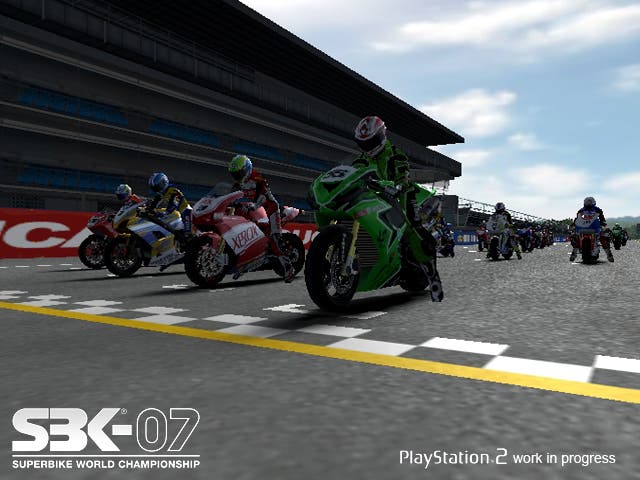 The riders themselves are nicely animated, as they crouch for speed on straights and place a knee on the tarmac as a guide around corners. You can choose to race as any rider, including reigning champion Troy Bayliss, or current title hopeful James Toseland, each with their distinctive helmet design. And all the teams should be totally up-to-date by the time the game launches in a couple of months.
Bikes are also accurately modelled, with individual sponsor logos on the fairings and exhausts, and a choice of third-person or on-bike views. There's a noticeable difference in handling between the four-cylinder Japanese machines and the Italian V-twin Ducatis, with the former perhaps easier to ride for beginners, and the latter coming with more low-down torque to pull out of corners and a distinctive throaty exhaust note. Although Ducati has dominated the championship for many years, it's easy to see why they are under threat in the past couple of seasons, as the four-cylinder bikes seem a little easier to ride from the start.
Game modes on offer include Quick Race, Time Attack, a full Race Weekend, a season-long Championship, a separate Challenges mode, and two-player split-screen multiplayer. The wise decision has been to focus totally on the race series, and this pays off with a game that seems more serious and dedicated in its approach to motorcycle racing.
Both the Race Weekend and Season modes give you the full World Superbike experience, with practice sessions, qualifying, and the top-16 Superpole shootout to decide the final grid positions for the two Superbike races which make up an event. Some of the teams and riders will be unlockable for good performances, as you learn your race craft.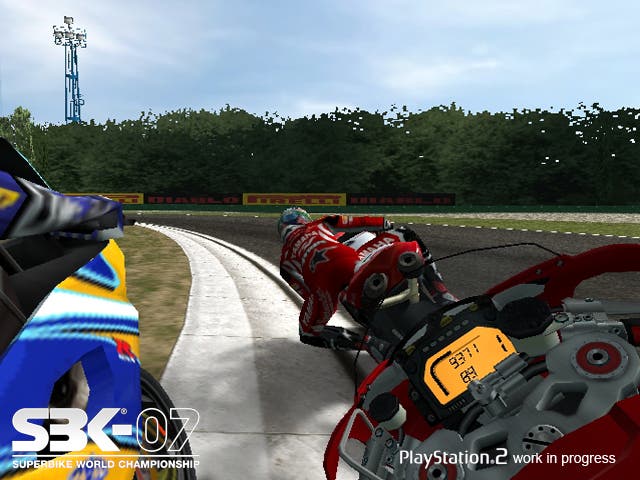 And depending on the difficulty level you select, you may need to spend some time practising. It's possible to jump in with an Arcade set-up giving you full traction control, no bike damage, and even rider help to slow you down and start turning. Alternatively, you can go for the full Simulation mode, or choose a Custom setting to allow you to mix and match the elements you want, such as false starts and real rules, but to turn off rider and bike health if you find yourself breaking man and machine without finishing a lap. It's certainly worth experimenting a little to find the right balance between realism and wrecking when you could be spending up to 40 or 50 minutes per race if you turn the length up to 100 per cent.
The good news is that the tweaking will be worth it for the effect it will have on your riding. Adopting a custom set of rules without much in the way of rider aids allows you to feel the accuracy of the handling, which will be familiar to anyone who has played Super-Bikes. Front and rear brakes work independently, allowing you to lock the rear wheel to turn in an emergency, with the resulting squeal warning you just before the rear end comes round and propels your rider into the air. Combine that with control over the riding position and you can easily amuse yourself performing wheelies and stoppies around the track, as well as spinning the rear tyre and sliding out of corners on full throttle.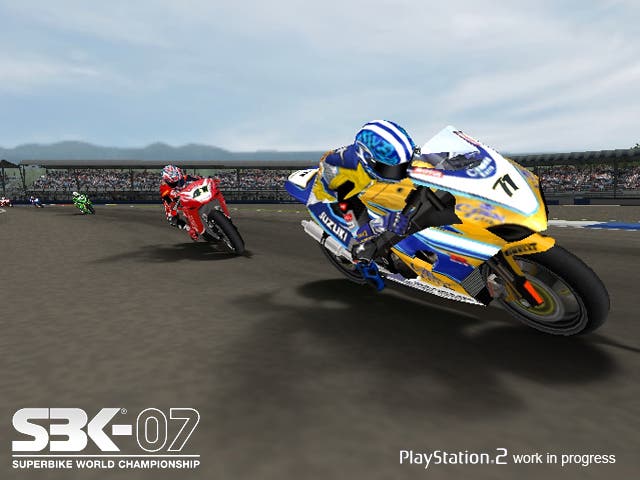 To make fast and safe progress on the more accurate settings will take a little time, as the bikes can be a little unforgiving. It's also worth turning up the brake pressure as the standard settings slow you with the speed of the Titanic, rather than a lightweight racing motorcycle, and sometimes the turning circle can seem a bit ponderous. But persevere for a couple of races, and you'll soon learn the braking points and speeds you'll need. Some interesting touches include the realistic way a bike will flop onto its side if you learn too far without maintaining acceleration, and although it adds to the difficulty, it also adds to the satisfaction of getting it right. And you can always turn it off if it proves too much to master at the beginning.
The only major niggle, and one that will hopefully be changed before release, is the control system. Although you can choose between four different set-ups, none really allows a comfortable way to control the front and rear brakes, plus the throttle, without your right hand adopted a claw shape which becomes pretty uncomfortable over the course of a race. Allowing both brakes to be mapped onto the two right shoulder buttons would cure this instantly, and allow a lot more control and comfort.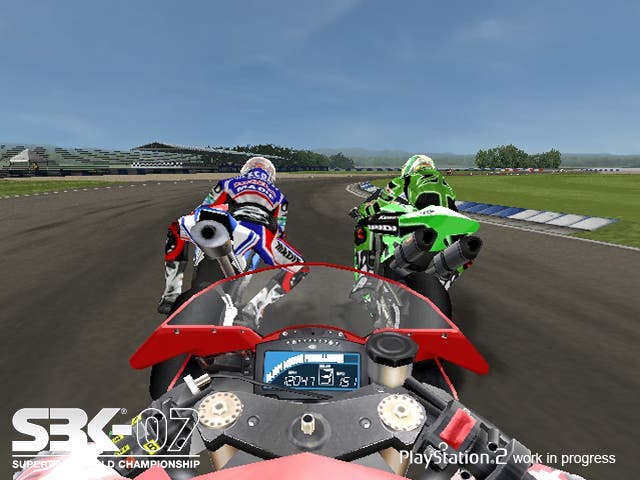 Anyway, it may have been six long years since Milestone last produced a bike racing game, but World Superbikes is already shaping up to be a real title challenger to the MotoGP series on the PS2. Both games focus closely on their respective race series, and both provide a healthy challenge, but because World Superbikes is based more on real world bike physics, it makes a lot more logical sense, and becomes instinctive a long time before its MotoGP rival. And with the attention to realism and detail, on the Xbox 360 it could become the two-wheeled Pro Evo Soccer to MotoGP '07s FIFA.