Russian MPs call for FIFA 17 ban over "gay propaganda"
Putin a bad mood.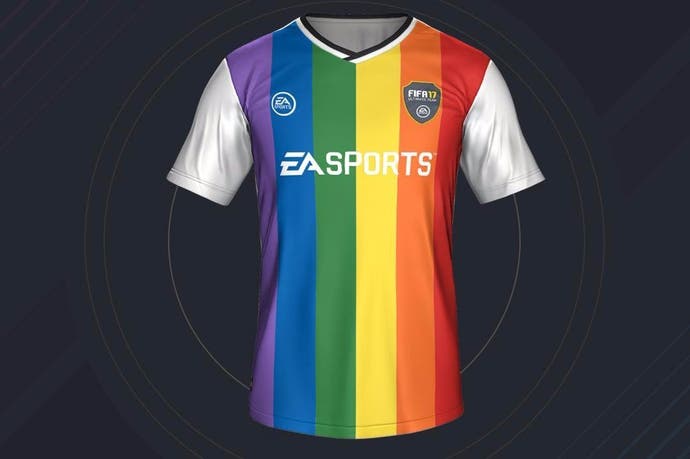 Russian MPs have labelled FIFA 17 "gay propaganda" for its support of the LGBTQ community - and have called for the game to be banned if it isn't changed.
In November, EA Sports offered FIFA 17 players a free Rainbow kit for use in FIFA Ultimate Team as part of Stonewall's Rainbow Laces campaign.
Russian MPs upset at the offer have now asked the state communications oversight agency to take action against FIFA 17 for violating the country's law against "gay propaganda", according to a report in The Guardian.
In a letter, the MPs said FIFA 17 "invites users to support the English football premier league's Rainbow Laces action, a massive campaign in support of LGBT".
The letter, published in the Izvestia newspaper, pointed to the 2013 law, which says propaganda of non-traditional sexual relations can cause "harm to children's health and development".
Russian MPs have suggested FIFA 17 should be banned in Russia if EA fails to change the game. Communist MP Valery Rashkin is quoted by Izvestia as saying that following an investigation, the authorities should order EA to "introduce changes to the programming code or the age classification of this information product, and if it refuses, adopt corresponding restrictive measures".
It's unlikely EA will bow to pressure from Russia (we've asked EA for comment), given its support of the LGBTQ community. The Human Rights Campaign recently named the mega publisher as one of the best places to work for LGBTQ people.
In the last two years, EA has included transgender components in two of its major titles. In Dragon Age Inquisition, EA created its first transgender character, Cremisius "Krem" Aclassi. (Krem is a lieutenant in the army who as a child grew up female, but later on in life discovered that his true gender identity is male.)
And in June, Maxis launched expanded gender customisation options in The Sims 4, allowing for gender neutral clothing, voice style and personality types.