Nintendo: Switch launch day "not be-all and end-all"
Fans "hoping there's a GameCube Virtual Console".
Nintendo of America boss Reggie Fils-Aime has defended Switch's meagre five game launch line-up by saying it was not the "be-all and the end-all" for the console.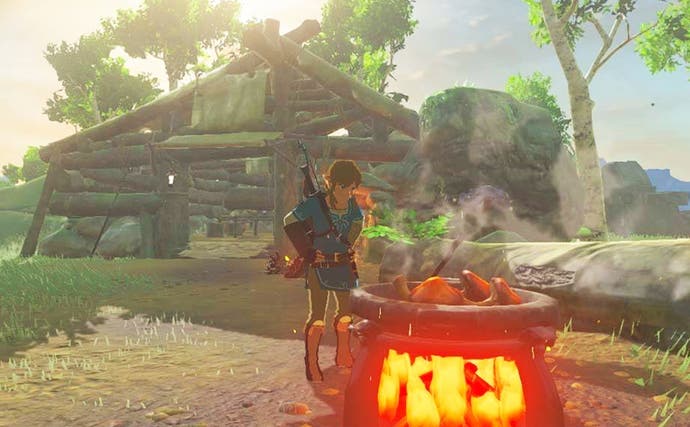 More important than the system's launch offering, Fils-Aime told CNET, was a continuous pipeline of new games throughout the rest of the year - which Nintendo has revealed at least some of already.
3rd March brings Zelda: Breath of the Wild, 1-2 Switch, Super Bomberman R, Skylanders Imaginators and Just Dance 2017.
These are joined later in March by Snipperclips, I Am Setsuna, Has-Been Heroes and Fast RMX, before Mario Kart 8 Deluxe on 28th April.
Later in 2017 we get Arms, Splatoon 2, Fire Emblem Warriors, Xenoblade Chronicles 2 and Super Mario Odyssey in time for Christmas.
"It really is the steady pacing of content that continually reinforces for the people who bought into the platform why they made a smart choice," Fils-Aime continued, "as well as what compels people who might be sitting on the sidelines to jump in."
Wii U was criticised for its sparse release schedule, and the delays faced by Pikmin 3 and Star Fox Zero.
Of course, there are other Switch games in development - Nintendo just doesn't want to talk about them quite yet.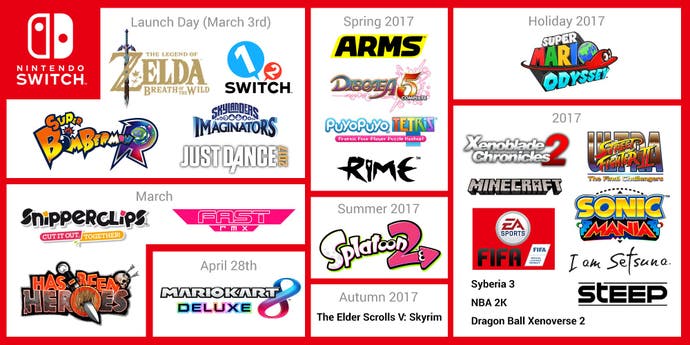 Nintendo has yet to share all its information on Switch - for example, it is still to talk in detail about its online plans and the Switch's Virtual Console service.
Fils-Aime mentioned Virtual Console briefly, in an interview with Time, when asked whether Wii U had been a necessary failure.
"I think it might have been Mr. Miyamoto, the last time he was here in New York, where he made the comment 'I hope consumers look back at Wii U as a necessary step, in order to get to Nintendo Switch'," Fils-Aime concluded.
"And it's interesting, as consumers think back, the fondness and the memories shift. I joined the company as GameCube was ending its life. And as we look at the install base of the platform, certainly it's not one of our higher install base platforms. And yet it seems the talk now is all about how consumers are hoping that there's a GameCube Virtual Console, which I just find interesting."