Out This Week - 11/11/11
Modern Warfare 3! Elder Scrolls 5: Skyrim!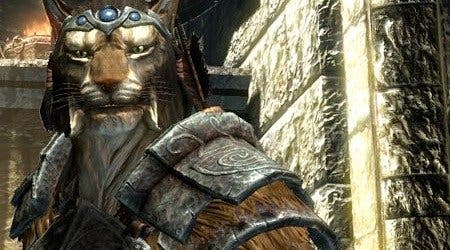 It's come round fast. The mythical-sounding 11/11/11 Skyrim release date Bethesda announced last year is soon to be upon us.
It has company, of course.
Releasing at midnight tonight, Activision deploys the latest iteration of its Call of Duty juggernaut, Modern Warfare 3. You can even watch the launch party live - we'll be there.
But behind the glitz and fanfare of these games' launches, how good are they? Eurogamer is poised to deliver its opinions, starting at 8.01am tomorrow morning for COD.
Never mind the law suits or the latest round of controversy. 2011 has seen EA set its Battlefield franchise on a direct collision course for COD's fanbase, while Activision has the unenviable task of trying to beat its own previous Call of Duty efforts for yet another year.
Will Modern Warfare 3 manage to do what previous CODs did and set the plaice of shooters for years to come? Or is it simply a chip off of the old shooter block? Eurogamer's verdict comes from Battlefield 3 reviewer Dan Whitehead, who should finally be able to put this year's biggest gaming rivalry to bed.
Skyrim, perhaps, has less to prove. Bethesda's fans know the developer has been beavering away at this latest chunk of fantasy fare for years.
Eurogamer's in-depth Skyrim review will arrive courtesy of John Bedford, last spotted a week ago after "only" 40 hours of gameplay. He'll surface this Thursday for our painstakingly full verdict, due to be published at 1pm.
Away from this week's big-hitters, a sprinkling of smaller gaming morsels to enjoy. Football fans needing another sim to start get Premier Manager 2012 on PSN this Wednesday. Fusion Genesis arrives then, too, but for Xbox Live Arcade; an intriguing sci-fi schmup from ex-Rare staffers Starfire Studios.
Nintendo 3DS fans should take note of the revamped Cave Story 3D, a dramatically updated version of the cult indie platformer, while PC gamers finally get to play L.A. Noire in its Complete Edition.
And finally, there's the Black Eyed Peas Experience, which we promise you we really did not just make up.
This Week in Shops!
Call of Duty: Modern Warfare 3
Developer: Infinity Ward, Sledgehammer, Raven, Treyarch
Publisher: Activision
Formats: DS, PC, PS3, Wii, Xbox 360
What is it? The biggest shooter - if not the biggest game - of the year. What does Eurogamer think? Our review goes live at 8.01am tomorrow morning. Edit - and here it is: Call of duty: Modern Warfare 3 review.
The Elder Scrolls 5: Skyrim
Developer: Bethesda
Publisher: Bethesda
Formats: PC, PS3, Xbox 360
What is it? Enormous new role-playing adventure from RPG masters Bethesda. What does Eurogamer think? Eurogamer's verdict will publish 1pm GMT on Thursday.
What Else?
Cave Story 3D (3DS)
Fighting Fantasy: The Warlock of Firetop Mountain (PS mini)
Freakyforms: Your Creations, Alive! (3DS Download)
Fusion: Genesis (XBLA)
L.A. Noire: Complete Edition (PC)
Michael Jackson: The Experience (3DS)
MotionSports Adrenaline (PS3)
Move Mind Benders (PS3)
Naruto Shippuden: Ultimate Ninja Impact (PSP)
Premier Manager 2012 (PSN)
The Black Eyed Peas Experience (Wii, Xbox 360 Kinect)
Your Shape Fitness Evolved 2012 (Xbox 360)
Chart Predictions!
Each week one of the Eurogamer's finest attempts to foresee the future - or rather, what next week's top five games will be in the UK all-formats chart. The following predictions are for the week beginning Friday 11th October, to be reported next Monday.
Martin Robinson, Features Editor, Eurogamer.net
"Has there ever been a more monumental week in video game releases? On one side there's the military might of Modern Warfare 3, while Bethesda counters with Skyrim, its long-overdue return to the fantasy realm of Elder Scrolls. Call of Duty's only real competition is itself, as Activision tries to outdo Black Ops as the most sellingest game of all time. As such, it's hard not to see Modern Warfare 3 on top of the pile while Skyrim slots in just behind, with Battlefield 3 and Uncharted 3 patiently filing behind in third and fourth slots. And it wouldn't be a UK chart without FIFA there somewhere, so I'd expect to see FIFA 12 in the last slot of a list that's home to 2012's five biggest titles."
Modern Warfare 3
Skyrim
Battlefield 3
Uncharted 3
FIFA 12
Last week, Eurogamer's acting Deputy Editor Oli Welsh gave us his predictions. Was he close?
| Position | The Truth | The Prediction | Result |
| --- | --- | --- | --- |
| 1 | Battlefield 3 | Uncharted 3 | NO! |
| 2 | Uncharted 3 | Battlefield 3 | NO! |
| 3 | FIFA 12 | Batman: Arkham City | NO! |
| 4 | Batman: Arkham City | FIFA 12 | NO! |
| 5 | Just Dance 3 | Just Dance 3 | REDEEMED! |
Your Chart Predictions!
Last week 56 per cent of you agreed with Oli that Nathan Drake would storm the top spot in this week's UK Top 40. Only 30 per cent forsaw his second place finish - well done to you.
Fingers on your mice for this week's conundrum. With next week's top two places a little too easy to call, where will the Black Eyed Peas pop up?