Nintendo E3 2018 conference live report
I hope you like Smash! All the news as it happened.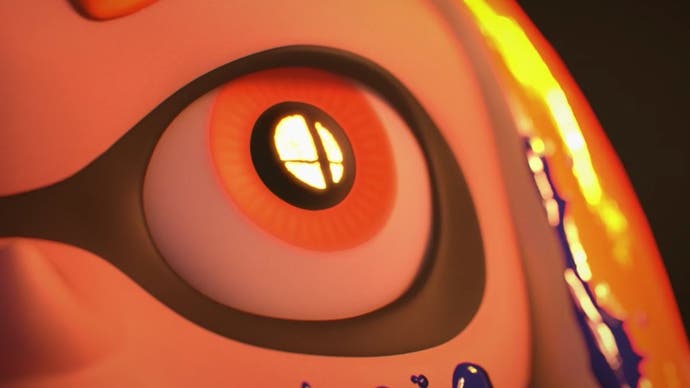 Smash, Smash and even more Smash. The big shows of this year's E3 wrapped with Nintendo giving a breakneck rundown of upcoming games - Fortnite! DragonBall FighterZ! Fire Emblem: Three Houses! - then lingering for what seemed like an eternity on Super Smash Bros. Ultimate, which collates everything ever in the Nintendo universe and then lets it all knock the crap out of itself. All the news, as it happened.
Our live coverage of this event has finished.
Hi, hello and how do you do.
I'm back in my shed in Lewisham for the last big show of E3, because if I had to listen to the theme tune to Wario Land on the Virtual Boy one more time I was about to kill someone in the office.
Just over half an hour to go, and I'm excited.
Well, I'm pretty much always excited, but I'm extra excited right now.
And I don't even like Smash.
Games_Should_Be_Fun: You mean to say you're not in LA, Martin?
If you mean LewishAm then yes, I am.
Even though I don't like Smash, I still buy them.
Mostly for the menus - Sakurai games have the best menus - but essentially for the music.
But also I buy them because I'm a Nintendo idiot.
That's pretty much why I still play - and enjoy - Smash games. They're wonderful interactive museums of Nintendo history.
With a so-so fighting game strapped to them.
So, what are we expecting beyond Smash?
There'll be a look at Monster Hunter Generations Ultimate, which I hope will be brief.
Not because I don't want to play it - I really do - but because I've been playing the Japanese version for a few months now and I don't think there's much they can tell us we don't already know.
We're due a Fire Emblem game this year, so surely that'll show up.
A few more Wii U ports maybe? New Super Mario Bros U, Pikmin 3, Tokyo Mirage Sessions perhaps.
I don't think Metroid Prime 4 is a 2018 game, so I'm doubtful we'll see it today. I could be wrong though.
Same goes for Starfox GP - Nintendo has Pokémon and Smash this Christmas and they won't want to put too much else up against those two behemoths.
A stealth drop for Dark Souls Remastered.
Diablo 3 Switch announced and dated.
A new OS for Switch which brings folders and video apps, and it's out NAAAOOOW.
And something - ANYTHING - with Birdo in it.
Oh, and one final thing. Arms amiibo.
Miyamotosan: So, are we all playing Fork Knife tonight?
Hell yes.
MatMan562: We'll get at least one Arms amiibo when they bring Spring Man and/ or Ribbon Girl to Smash
But I want Min-Min...
Less than ten minutes to go, I'm downing a pot of coffee so I could either just go off on one or wet myself out here in my shed.
It could go either way, but that's the thrill of E3. You never know what's coming next.
Will it? Have I fallen asleep and am now live texting E3 2019? I need to catch up - what have I missed?
Unless it's a Taylors or a nice ten year old tawny.
That was the worst joke ever. I'm sorry. I'm tired.
Kiliko: So are we thinking we're going to see Car Fox or?
I reckon not, but I'm often - actually, no, always - wrong.
Solaire in Smash please, Nintendo
It's not Gundam, by the looks of it. It does look awesome though, because mechs.
Could it be a Monolith joint of some sort?
And it's a 2019 game, so that promise of only 2018 games was broken quickly.
This, though, is definitely Xenoblade.
A proper big expansion, it seems.
Nope, it's Daemon X Machina from Marvelous Entertainment.
Kami: Daemon X Machina, Martin.
Thanks for the spot, have fixed!
Torna - The Golden Country, and it's coming to Xenoblade Chronicles 2 in September.
And we're back in Reggie's living room.
He sleeps right there in his living room, standing up.
November 16th for Let's Go, which I think we knew.
The ability to combine Switch consoles does look inspired.
Even if it is just another Mario Party.
Super Mario Party, coming October 5th.
AND THIS LOOKS LIKE FIRE EMBLEM.
My computer did all-caps of its own accord.
Fire Emblem Three Houses.
We haven't seen Fire Emblem on a home console for a long time.
And good god does it look *incredible*.
No, it's Advance Wars but you can get the tanks to bang and have little baby tanks.
And here's Fortnite on Switch.
It's out today. It's only 2GB. It's free. Go and play it now.
A lot of this stuff leaked already, but it's still all very welcome - Overcooked 2, for example.
A game that would have been perfect for the Switch first time around if only it was optimised a little better - here's hoping they've sorted that for the sequel.
Killer Queen Black - a modern indie arcade hit - is next.
And then there's Hollow Knight.
Oh that's a lot of stuff to play tonight when I collapse in a heap on the sofa after all this.
There's a new Octopatch Traveller demo coming on June 14th.
And you can transfer save data to the final thing when it's out on July 14th.
DragonBall FighterZ confirmed - with a nondescript 2018 date.
Paladins and Fallout Shelter, both out now - and Dark Souls Remastered makes an appearance with no firm date still, so that's not out as soon as I'd hoped.
Not that I'm wanting for things to play on the Switch tonight.
Shinya Takahashi is up next for an update from Kyoto.
And it's into Smash, which I imagine will take up the rest of today's presentation.
The ever youthful Masahiro Sakurai takes centre stage to run us through what looks like - as we expected - an updated version of the Wii U and 3DS versions of Smash.
My favourite Sakurai story, which no-one will care about but hey I know nothing about Smash so have nothing to add to what's going on on-screen at the moment.
Is when he was interviewed about his home AV set-up.
And gave some insight into how he goes about labelling and deciding on what console gets what HDMI input.
Xbox One in HDMI 1, which makes sense. Wii was in HDMI 2 - the two 'ii's was the reason it was there.
PS3 and PS4 speak for themselves really.
Because obviously V for Vita also equals 5 in roman numerals.
I don't know why I enjoy that so much.
It also just impresses me that he's got a TV with five HDMI inputs.
Kiliko: So is it a port or not? I genuinely can't tell.
It looks like it uses the Wii U version as a foundation and then layers on plenty on top.
Then he'd put his PlayStation Vita TV in HDMI 5!
vert1go: But how many graphics is it Martin?
Not quite all of them, but enough of them I think to make people happy about the graphics they are getting.
vert1go: Excellent, no need for a DF article now.
I'll tell Rich and co to take the day off.
I really think the big unanswered question after this info dump.
Is what HDMI input does Sakurai use for the Switch?
I'd be amazed if he's still got the Vita TV plugged in.
But on what grounds can you justify putting the Switch in slot five when the rest is so perfectly reasoned?
It throws everything out of whack.
Maybe he's like 'fuck it' and just never plays docked.
This is also a good theory.
I think we might have cracked it.
Is this Smash thing still going on?
I can't even use that as an excuse. This is me sober.
Inklings are new, though I think we knew that from the reveal a while back.
I'd take Sakurai's HDMI switcher as a character too.
All the Wii U and 3DS stages in.
This might be a bit too much detail though for a general Direct. Couldn't they have given this its own Direct?
On the plus side I think we can probably now review the game after this Direct showing.
As someone who's not super invested in Smash, this might be one of the worst Nintendo E3 shows since that time they brought out Wii Music.
We're ending with an announcement of a new fighter.
Did you know that Ridley is so called after someone associated with a famous sci-fi movie series?
I think it was after seeing The Force Awakens and really enjoying it Sakurai named her after Daisy Ridley.
Which also explains why Daisy is in this too.
Well, that was that. It's over.
I'm super excited about the new Fire Emblem. I'm looking forward to playing Fortnite in about 15 minutes.
But the rest wasn't so convincing. If you're a Smash fan, though, you must be in heaven.
Nintendo's 2018 looks a little light after that. Here's hoping they've got more up their sleeves.
A slightly downbeat end to what, I think, has been a pretty stellar few days of E3 conferences.
And of course the show hasn't even started yet.
Wes, Tom, Aoife and Johnny will be bringing you news and impressions from the showfloor of all the big games.
I, meanwhile, am collapsing in a heap and then heading to Le Mans to watch cars drive in circles for 24 hours because who needs sleep?
It's been lovely hanging out with you all the past few days. Let's do this again sometime, yeah?