Currys has some great Nintendo Switch bundles with Pokémon Legends: Arceus right now
Nintendo Switch Lite and Switch OLED bundles are also available.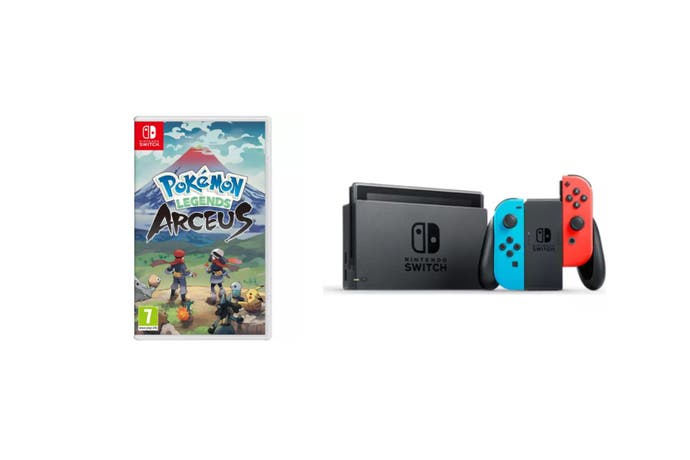 From time to time, the Nintendo Switch and Switch Lite have been somewhat difficult consoles to get your hands on- especially during the lockdown and holiday seasons. However since the launch of the Switch OLED in 2021, stock levels for its predecessors has been notably healthier. A price drop for the standard Switch has also allowed for better value bundles, making it more affordable to start building your Switch library.
If you've been holding off from getting a Nintendo Switch until a good deal comes around, or maybe the excitement around the new Pokemon Legends: Arceus game has given you a reason to buy one, you won't want to miss this fantastic Nintendo Switch bundle at Currys.
Right now, you can get a Nintendo Switch Neon or Grey console with Pokémon Legends: Arceus, and a 256GB MicroSD card all for just £319.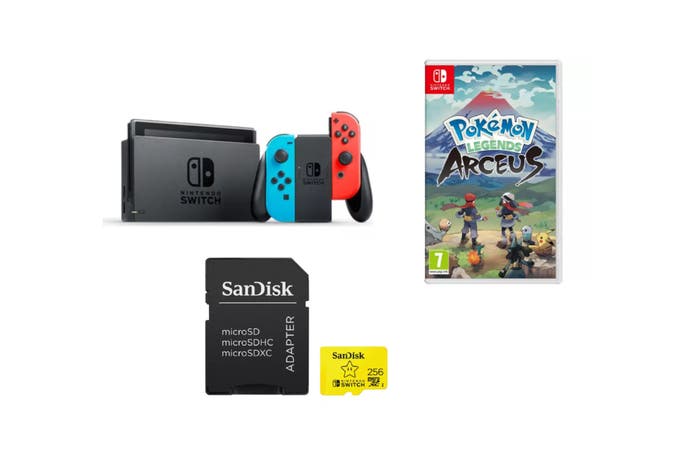 This version of the Switch is an improved version of the original and has a battery life of between 4.5 and 9 hours depending on which game you are playing. It can also be docked and connected to your TV or monitor via HDMI, and comes with two joy-con controllers.
Pokémon Legends: Arceus came out at the end of January and while the game shifted away from the standard Pokémon game formula, it has been really well received by fans and critics. It's a worthy addition to any Pokémon fan's game collection.
The 256GB Sandisk Class 10 microSDXC Memory Card has plenty of space for Pokémon Legends: Arceus and many more games, and has a 100 MB/s read speed so your games will load faster. If you bought all of these things separately, it would cost £340.98, so you'll be saving nearly £21 which can be used on something like a Switch Online membership.
Alternatively if you want to upgrade to the Switch OLED, you can pick up the same bundle for £40 more. The Switch OLED comes with all the same great features as the standard Switch console, except it boasts a larger, brighter OLED screen for more vivid colours and detailed contrast. It also features improved audio. Both the white and neon variants are available to choose from.
If you prefer to only play in handheld mode, this Nintendo Switch Lite bundle is the cheapest option. The Lite is a more traditional handheld, as it doesn't have detachable joy-cons and cannot be docked and connected to a TV, but you can play all Nintendo Switch games on it. The Lite has a battery life of 3-7 hours and is super lightweight and portable. You can get the Switch Lite with Pokémon Legends: Arceus and the 256GB MicroSD for £259.
If Pokemon Legends: Arceus isn't the game for you, you can find plenty more cheap Switch deals, bundles and discounted Switch games right here.
If you want to enjoy your Switch gaming sessions for longer while out and about, you should check out our guide to the best power bank for Nintendo Switch over on our Jelly Deals site. Finally, be sure to follow the Jelly Deals Twitter where we are always letting you know when Switch consoles and games are on sale.