Mothhead demo is creepy, beautiful, and worth 10 minutes of your time
At one point the protagonist had a raccoon penis - and we've got the pics to prove it.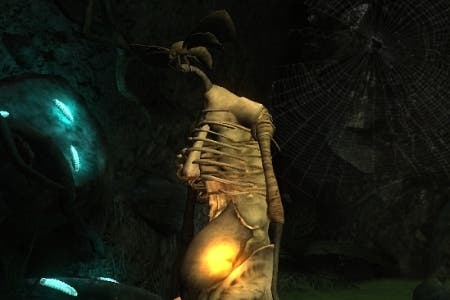 You've no doubt encountered the work of digital art collective Massive Black, even if you don't know its name. The San Francisco based company worked on concept art for such titles as Lord of the Rings: Online, inFamous 2, Silent Hill: Shattered Memories, and Transformers 3.
While Massive Black had previously only done art for other studios' games, it's recently branched out into developing its own and just debuted its PC and Mac "artistic demo" Mothhead to demonstrate how useful Unity can be for artists.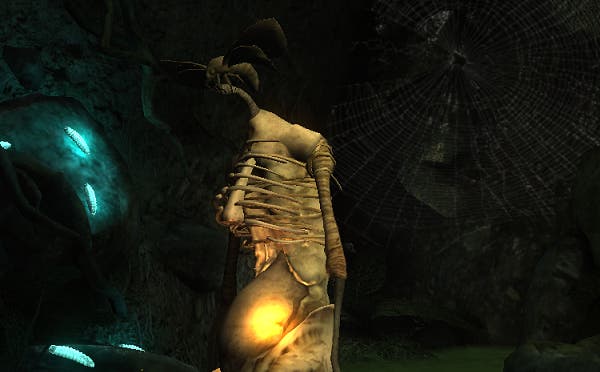 The third-person mini-puzzle game puts you in the role of the titular character based on on a sculpture by Peter König who provided art for Portal 2, Left 4 Dead 2, Halo 4, and worked on sculptures for numerous films over the years such as Jurassic Park and Starship Troopers.
Mothhead begins with you controlling a moth fluttering about a dank underground cavern until you merge with this headless creature that looks like a sewn together hodgepodge of twigs, bones, and shimmering insect skin. The puzzles are very obscure and simple and see you interacting with the environment until something happens - not unlike the similarly bug-oriented Botanicula.
Controls are a little loose, unfortunately, but you're never in enough danger that they're more than a mild frustration.
"Pete had somehow come across a raccoon penis bone, which is probably bigger than you might think, so decided to use that as Mothhead's phallus."

Chris Hatala, president, Massive Black
Mothhead was originally conceived as a full-length game and that's still in the pipeline, but Massive Black president Chris Hatala explained to Eurogamer that "working on a game full time doesn't generate any revenue, so we'd regularly abandon it in order to concentrate on client work and keeping our doors open, but we'd always come back to Mothhead in our free time."
"We actually have a complete story arc developed for his journey through that mysterious world, the relationships he establishes along the way, and ultimately the reason behind his existence in the first place - complete with tons of concept art, story boards, and 3D character models/animations. So it's definitely not cancelled."
He said that the studio had a lot of success developing for Unity, so it pitched the current demo to the company as a way to show off the engine. "They really liked the concept of Mothhead, so have supported us along the way. They are really great folks over there. That said, from the beginning, this demo was meant to be more of an artistic engine demo, and less of a game."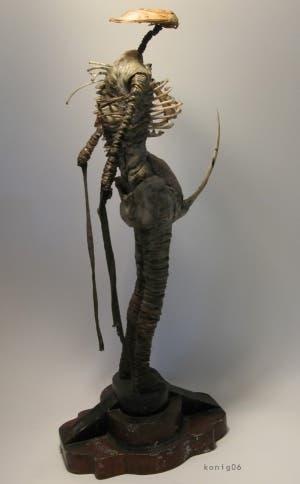 Interestingly, Mothhead's original design was a lot more... suggestive. He had a long, pointy, crescent-shaped phallus emanating from his groin. Hatala explained that "since the sculptures were made from mixed media, Peter [Konig] used a lot of found-backyard-real world items to construct them: rags, bird ribcage, an actual deceased moth, bits of metal, etc. Pete had somehow come across a raccoon penis bone, which is probably bigger than you might think, so decided to use that as Mothhead's phallus."
I'm not sure how one just "comes across" a raccoon penis bone, but perhaps it's better if we don't know.
"When we asked Unity about it they said, 'We would never ask you to lose the penis bone.' Even so, we would always get a poor response from people who played the demo since all they could focus on was that bone," Hatala lamented.
"We did a test, removed the bone, and the response was an overwhelming full 180 degrees, so we ultimately decided to lose it."
He further noted that it wasn't entirely lost, but rather tucked away in side the character model. "Maybe someday, if we have the opportunity to work on it further, through Mothhead's journey he will become a man and then… oh nevermind."
Go on and get your hands on the latest Ken doll version of Mothhead here.