Maker of machine learning cheat says "my intent was never to do anything illegal" after Activision clampdown
Good kill.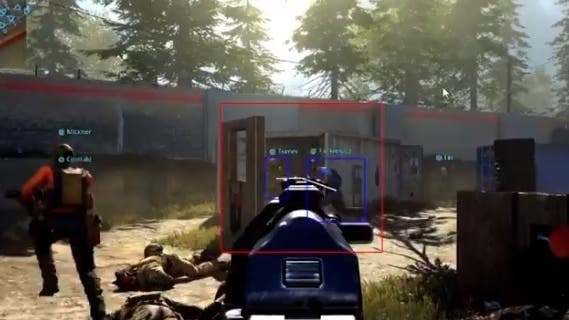 The maker of a machine learning cheat that hit the headlines last week has insisted "my intent was never to do anything illegal" after Activision stepped in to shut development down.
The creator of the cheat, who goes by the name "USER101", has slapped a statement on the website for User Vision Pro, which Activision took steps to scrub from the internet after console competitive multiplayer fans expressed concern about its potential to ruin games.
A new version of existing cheat User Vision Pro was set to use machine learning to analyse gameplay footage in real-time before sending inputs to a controller.
The platform agnostic cheat would have required hardware to use - that is, a PC and a capture card. The idea was the capture card would send your gameplay to a PC in realtime for the machine learning cheat to analyse and deliver input commands back to a controller in response.
This was not an aimbot or wallhack in the traditional sense. Rather, the cheat would have only reacted to what was shown on-screen, leaving the user to aim in the general direction of the enemy in order to benefit.
In Warzone, for example, typical aimbots see the cheater "snap" to targets hundreds of meters away, even those hidden behind cover or in the gas and therefore invisible to the naked eye.
Still, there was concern this cheat would have threatened the so far relatively secure competitive console landscape, with some in the Call of Duty community particularly worried because of the focus on Activision's shooter in promotional videos for User Vision Pro.
Ladies and gentlemen, I present you the next generation of cheating now available on console, and has been for a while but lately its been becoming more popular and more of a trend, consoles are no longer a safe space to play your games legit anymore pic.twitter.com/iEQzPVFf1h

— Anti-Cheat Police Department 🕵️ (@AntiCheatPD) July 5, 2021
Activision quickly stepped in to take down these promotional videos from YouTube. But it went one step further in contacting USER101 to insist development of the cheat be stopped. In response USER101 took the Discord for User Vision Pro offline, and confirmed they will no longer work on the cheat.
Here's the statement in full:
"Team,
"This statement was not required.
"However, at the request of Activision Publishing, Inc ('Activision'), I will no longer be developing or providing access to software that could be used to exploit their games. My intent was never to do anything illegal. At the end of the video that brought so much attention to this project, it stated 'coming soon'. The software was never published.
"This type of technology has other actual assistive benefits, for example, by pointing a webcam at yourself you could control movement without the use of limbs. Unfortunately, because of its potential negative impact I will not be developing it further.
"USER101"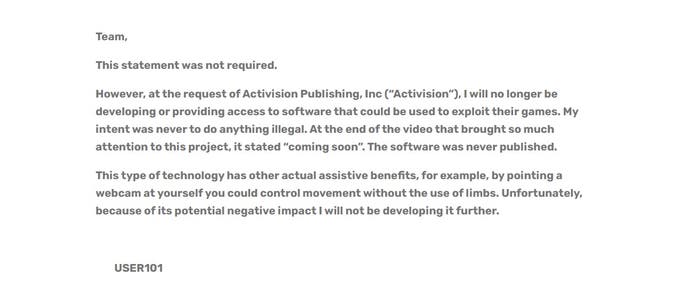 That's that for User Vision Pro, then, apart from a merch page on Amazon that includes a note from USER101: "User101 is an independent developer. These projects were created through the pursuit of knowledge. Purchasing these products help drive continued development. If you know what this is then your [sic] know I have worked on this project for years never asking for anything in return. There were times when I spent weeks working 12 hour days just to get updates out before the holidays and the support I have received from you guys in return has made every minute worth it. Thank you for your support!!!"
Although Activision is currently battling a wave of negative reaction to cheating within Warzone. Yesterday, Eurogamer reported on how Call of Duty: Warzone hackers were appearing to be boosting high-profile streamers to level 1000 and unlocking all their weapon camos.
There is now increasing pressure on Activision to address Warzone cheating and hacking with a public statement after a recent period of radio silence.