La-Mulana 1 and 2 two-game bundle gets March release date on consoles
Coming to Switch, Xbox One, and PS4.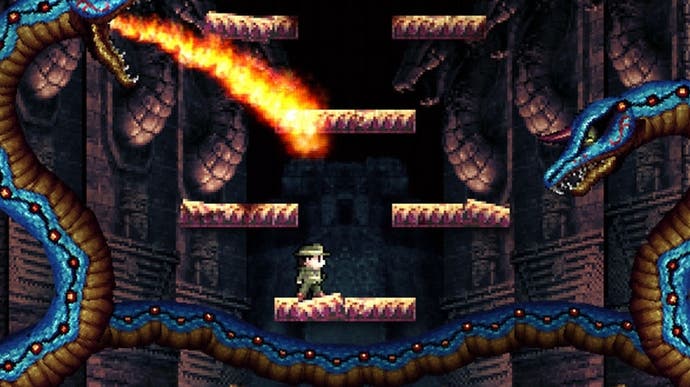 Acclaimed, if notoriously impenetrable, exploratory platformers La-Mulana 1 and 2 finally have a release date on consoles; they'll be coming to Xbox One, PS4, and Switch in March next year.
Both titles - or, more specifically, developer Nigoro's 16-bit-inspired makeover of its 2005 Japan-only original, plus its 2018's sequel - will come to consoles as a two-game bundle, with release dates wavering slightly depending on territory. The North American launch comes first on 17th March, followed by Europe on 20th March and Oceania on 27th March.
If you're unfamiliar with the La-Mulana series, the first game casts players as Lemeza Kosugi, an Indiana-Jones-esque professor of archaeology and whip-wielding adventurer, as he attempts to uncover the secrets hidden within the mysterious, trap-laden ruins of La-Mulana.
The resulting open-ended escapade, in which players are free to approach challenges in pretty much any order, blends exploration, platforming, puzzle-solving, and boss battling - and has developed a reputation over the years for being extremely tough and fiendishly impenetrable.
La-Mulana's 2018 sequel offers up more of the same wonderfully odd, and still somewhat unintuitive, action - this time charting the adventures of Lemeza's daughter, Lumisa, as she searches for her missing father among the ruins.
La-Mulana 1 and 2's two-game collection will be subtitled the Hidden Treasures Edition when it comes to Xbox One, PlayStation 4, and Switch in March next year.