Hands on with Dropchord, Double Fine's Leap motion-controlled rhythmic score-attack game
Jump for joy.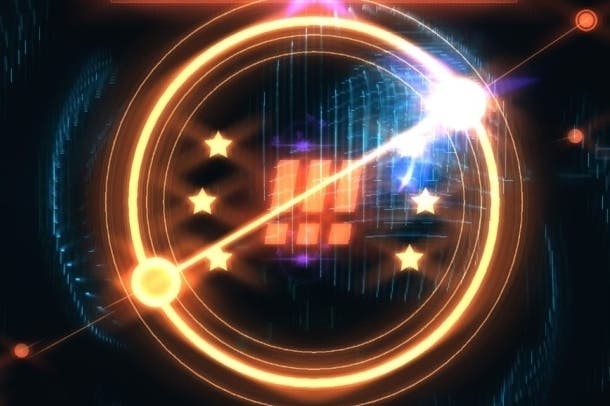 The team at Double Fine Studios who made Kinect Party has shifted its gears into experimenting with a new form of motion control with the Leap controlled music score-attack game Dropchord.
For those unfamiliar with Leap, it's a little Kinect-like sensor you place on a table under your hands and it tracks every movement of your digits through what I'm assured is some sort of voodoo witchcraft. Allegedly, it's 200 times more accurate than Kinect.
It's certainly impressive the first time you move your hands in range of the tiny camera (that's barely bigger than a thumb drive) and it tracks all 10 of your fingers. Controlling that many reticules sounds messy and confusing, though, so Dropchord sticks to a simple enough two-finger setup.
The way it works is you use your index fingers to control the edges of a bar that makes up the diameter of a circle. By moving your fingers you can rotate, raise and lower the bar. The goal is to collect a series of good notes (i.e. glowing blocks) and avoid hitting the bad X-shaped ones.
For the most part it controls really well with very precise controls recalling the futuristic cyberpolice UI in Minority Report. My one gripe is that it's too easy to lose range of the sensor. Rotate too aggressively and your finger may go too far afield, leaving your bar to spin around and hit some of the notes you were trying so desperately to avoid.
This could just be a rookie error. The staff who worked on the game were able to perform significantly better, but in my three attempts I'd always have at least a couple of moments where my bar would go haywire after a wayward finger moved too far away.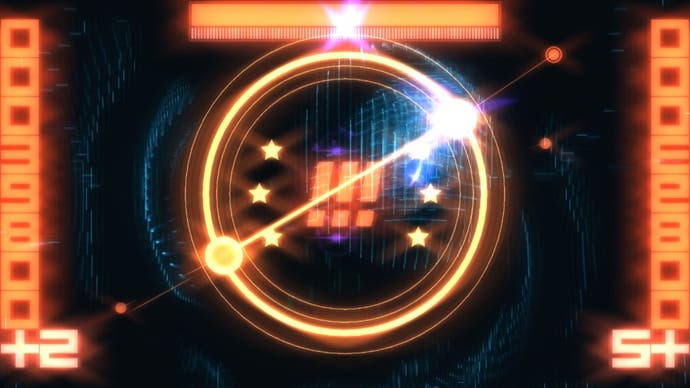 When I asked Double Fine PR man Greg Rice if this could be alleviated by placing the Leap lower he responded, "It can take a bit of getting used to, but you just gotta find the boundaries and you get used to it pretty quickly. The field of view is pretty large."
Co-designer Patrick Hackett noted that Dropchord would likely last less than an hour, putting it in the same scope as something like Rez. It's really only a test bed for the controller, and will be priced as such, even if a final price is yet to be determined.
Dropchord may be little more than a drop in the bucket in Double Fine's repertoire and contains none of the eccentric studios' trademark whimsical spirit, but it's still a pleasant sample of what the Leap can do. Now the question remains, what can it do next?