Halo 5's campaign lasts 8-12 hours - if played on normal
Multiplayer update out before the game.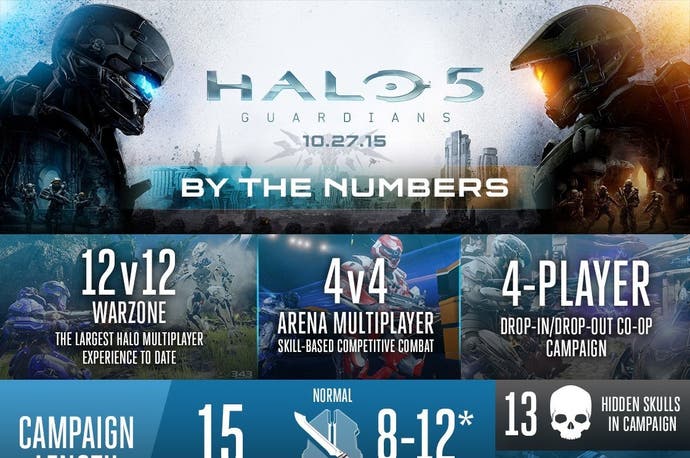 Most developers avoid telling us how long their game campaigns last. They prefer to speak of their stories in vague terms when asked about hours, for fear of putting off prospective customers who might have had an expectation that ends up wide of the mark.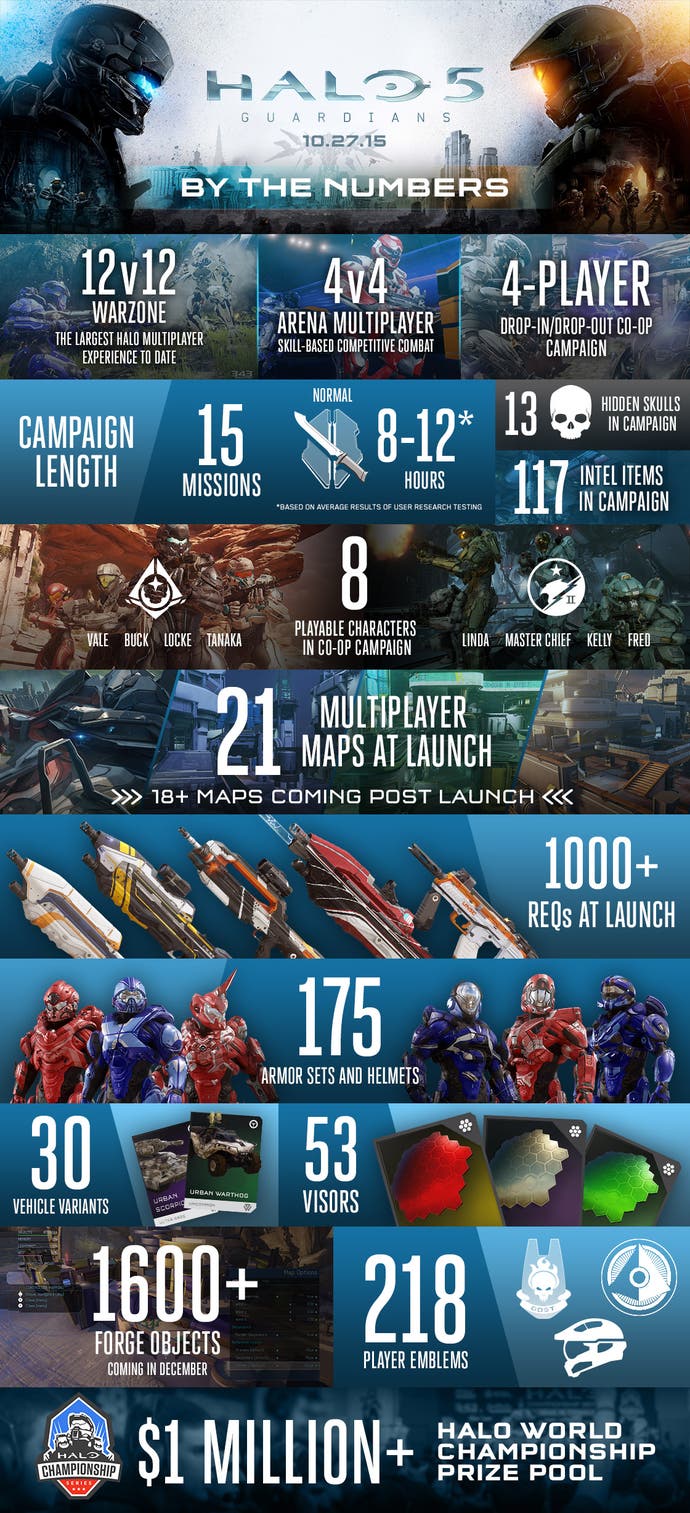 Not so Halo 5 developer 343 Industries.
Now that the Xbox One first-person shooter has gone gold - that is, it's ready to be put on a disc - 343 has published an infographic, right, with all sorts of facts and figures about the game.
We normally pass these infographics by when deciding what to cover on Eurogamer, as they rarely contain useful information. Most are meaningless marketing fluff. But the Halo 5 infographic caught my eye because it dared to list the length of the campaign.
Halo 5's four-player drop-in/drop-out co-op campaign includes 15 missions, and, according to user research, lasts 8-12 hours if played on the normal difficulty.
I played Halo 5's campaign recently on the Heroic difficulty - one step up from normal - and found it perfectly manageable (you can check out my impressions over at our Halo 5 campaign preview). I imagine most players will find normal easy going. Of course, playing on Legendary difficulty - one up from Heroic - the campaign will probably last longer because you'll probably die more often.
Meanwhile, the campaign has 13 hidden skulls, the infographic tells us, and 117 intel items. Both are trademark Halo collectibles. Perhaps the campaign will last a little longer if players take the time to explore every nook and cranny on the hunt for skulls.
Alongside the infographic, 343 studio head Josh Holmes posted on Halo Waypoint to confirm a multiplayer content update will be available before Halo 5 goes on sale on 27th October.
This adds map content for the Arena multiplayer mode as well as the 12v12 Warzone multiplayer mode.
If you have the Power Setting for your Xbox One set to "Instant On", you'll automatically download the update before the game comes out, so it's ready for launch.
If you buy the physical copy you'll download the multiplayer update automatically after you install the game on your Xbox One. The game will be available to pre-download next week.