Grand Theft Auto IV: The Ballad of Gay Tony
Top of the poppers.
Rockstar's second downloadable add-on for Grand Theft Auto IV may be known as The Ballad of Gay Tony, but anyone who goes in expecting a radical social message from the world's most controversial developer will be disappointed. If anything, the homosexuality angle is superfluous to Rockstar's agenda: the GTA games have always demonstrated that acting outside the law is the great equaliser, and The Ballad is yet another story of how crime begets crime no matter your class, creed or sexual preference.
While the first episode, The Lost and Damned, focused on Liberty City's biker gangs, The Ballad of Gay Tony is rooted in the glitzy party districts of Algonquin, where nightclub impresario Tony Prince and his business partner and player character Luis Lopez preside over a pair of night spots. Lopez is a typical GTA hero - surrounded by addicts and criminals whom he looks down upon despite being, on the evidence of your actions and his justifications, the worst of all of them.
His adventures crisscross the stories of Niko Bellic and Johnny Klebitz, and it's entertaining to watch Rockstar coax more depth out of its existing matrix of conflicting plot-lines, but the smartest trick here is to shift the focus away from you and onto the supporting cast. Prince is a whiny coke-and-pills addict, and Lopez is a philandering murderer, which turns out to be as much his fault as yours. Neither is particularly sympathetic, and - perhaps deliberately - neither is particularly funny.
Yusuf Amir, however, you can't help but like. Superbly voiced by British-Iranian actor Omid Djalili, he's the star of The Ballad: a drug-fuelled billionaire playboy who makes up for this by being completely shameless. At one point you find yourself in his apartment listening to him explain away a gold uzi, lines of white powder and a hooker to his conservative father, all the while he's strutting around in a tracksuit top and a pair of padded Y-fronts. His dialogue is also the most outrageous since Brucie Kibbutz. "I'm the executive flying cobra," he explains at the end of an elaborate snake metaphor about his new combat helicopter. "When I stick my tongue in you, you know you've been poisoned."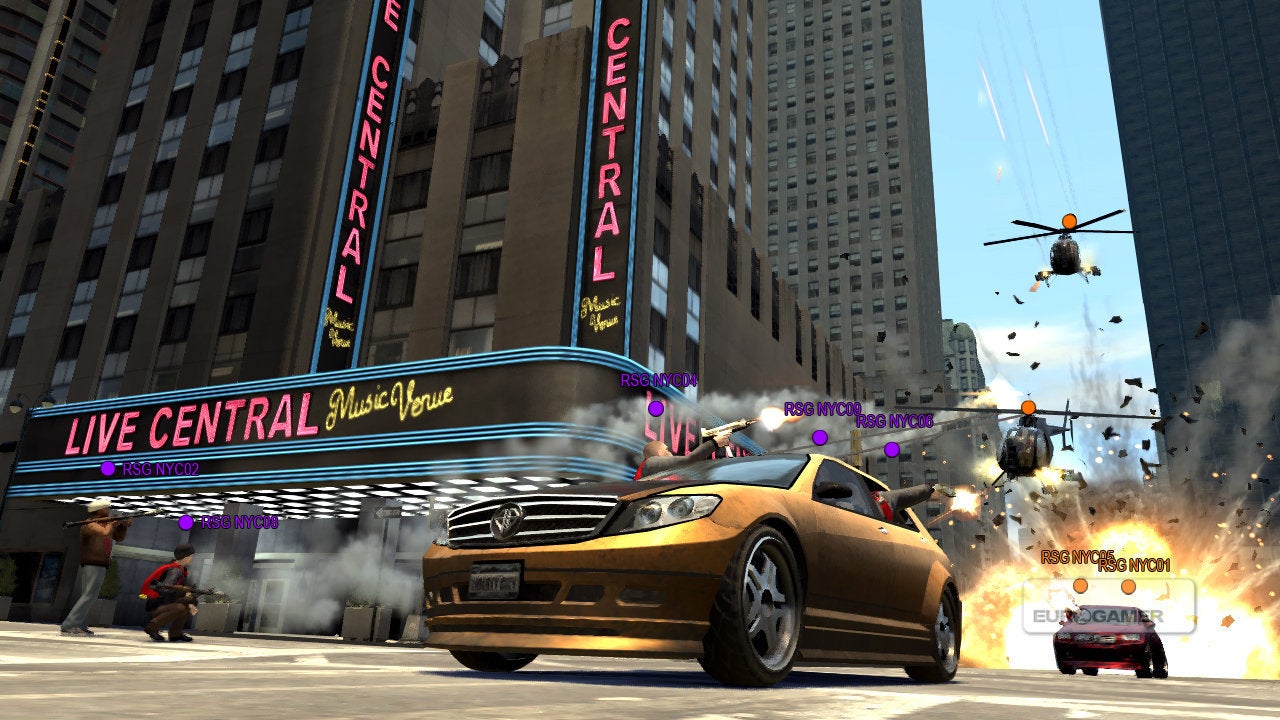 He's not the only great new character - Brucie's older, shorter brother Mori is also good value for his ludicrous missions - but the other stars of The Ballad are a renewed focus on helicopters, the introduction of a parachute and a new shotgun with explosive shells.
The helicopters aren't really that different to the ones in regular GTAIV (give or take a few weapon systems), but they are used more often, and Rockstar gets more out of them because it has also raised the ceiling on the gameworld, which is perfect fodder for the parachute. Deployed with the A button once you're in freefall, and easily manoeuvred, it's a scenic way of navigating Liberty City, and also the basis of a new side-mission type, base jumping. Whether from buildings or helicopters, it's a Pilotwings-style exercise in precision movement, built around economy of control and timing.
There's also a promising-sounding multiplayer mode to go with this, where players work together to complete nine base jumps spread around the city in the fastest overall time, positioning fast cars near drop points and collaborating in other novel ways to reduce the downtime between jumps. (Sadly we were unable to test this out with our review code, but will do so when we take a separate look at the Episodes From Liberty City bundle that also includes The Lost and Damned. Look for that next week.)