GameStick is a two inch Android-based games console that plugs into your TV
Update: Kickstarter goal reached after only a day.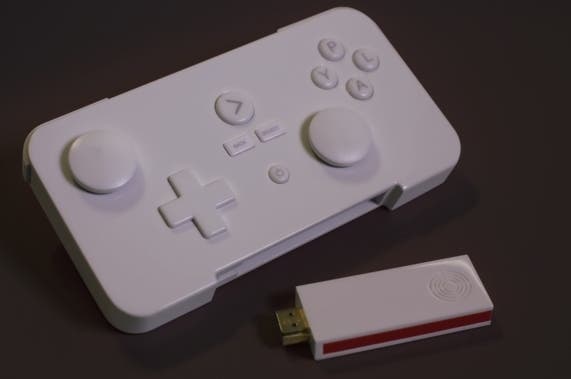 Update: GameStick has already met its $100,000 Kickstarter goal after just over a day. That was quick!
The current tally stands at $102,256.
Original story: Following in the footsteps of Ouya, creator of SmartTV PlayJam's GameStick is the next budget priced Android-based console to bring mobile gaming to the big screen.
Priced at an affordable $79, GameStick's most notably quality is its size: it's only two inches long! It's so small in fact that it fits inside its rectangular controller, so you can carry the whole thing around in a large pocket or small bag. You'll be able to simply plug the console into a TV's HDMI slot and instantly start playing via the wireless controller.
"We wanted to create a games console that helped further our overriding mission to bring affordable gaming to the big screen," said PlayJam CEO Jasper Smith. "Not only that, we wanted to push the boundaries of what has been achieved up to now by packing sufficient power into the most portable of devices, enabling users to carry that experience with them wherever they go."
So far PlayJam has acquired 200 titles for GameStick including Cannabalt, Shadowgun and Blue Toad Murder Files, but the company is working with its network of over 250 developers such as Madfinger, Hutch and Disney to expand its library. Since these are largely mobile titles, most of them will be either very cheap or free.
Like Ouya, GameStick will be a completely open platform and the developer tools, services and community will be available to manufacturers.
GameStick will be compatible with any Bluetooth controller supporting HID, such as the Greenthrottle Games controller.
As for the rest of the technical specs, GameStick will consist of:
Processor - Amlogic 8726-MX
Memory - 1GB DDR3 / 8GB FLASH
Content Download Manager w/ cloud storage for games
WiFi - 802.11 b/g/n
Bluetooth - LE 4.0
O/S - Android Jelly Bean
Controller - Bluetooth, 3 mode controller: gamepad, mouse and keyboard with support for up to four controllers
Fill 1080p HD video decoding
According to its Kickstarter campaign, GameStick is 90 per cent complete and PlayJam aims to bring the console to the market as early as April.
Backers who pledge $79 will get the console upon release along with a founding contributor credit in the UI and a special founder tag next to their username, while pledges of $115 will receive an additional controller, and pledges of $300 gain all that along with early beta access with a mark 2 prototype version of the console.
The current Kickstarter tally is up to $28,070 of its $100,000 goal with 29 days to go before the 1st February deadline.