Game of the Week: Mario Kart 7
Kart for kart's sake.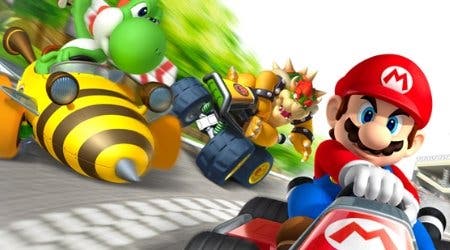 In terms of new releases, the home consoles have started their winter hibernation - but there's still a war to be fought in your hand this week. Two massive format exclusives step up to make their host platforms' case for taking a spot under your Christmas tree.
I'm sure Apple is a long way from regarding Infinity Blade 2 as a killer app - it began life as a way to sell middleware, not hardware, after all. But there's no doubt that Chair's fantasy action game is a standard-bearer for gaming on iOS and the processing power of iPad 2 and iPhone 4/4S. It's pretty persuasive, too.
"On the newest devices that are packing A5 chips especially, the game shines with gorgeous lighting that spills through stained glass windows and washes over open courtyards. Sharper textures add even more detail to a world rich in tiny charms and architectural flair," Mark wrote in our Infinity Blade 2 review.
"For all that's new and improved, Infinity Blade 2 is still a game about high stakes combat and bloody perseverance. Still a game about fast and smart fight scenes bolstered by a personalised assortment of weapons and shiny hats."
It's a good game, but it's also the App Store's first big-budget, bells-and-whistles annual mega-sequel. It's hard to dispel a sense of déjà vu - and for all its charms, our game of the week isn't helping.
Mario Kart 7
This time last year, more or less, it was Sony slipping in under the wire before we closed the books on 2010 to prop up the fortunes of one of its formats with a the rushed release of a racing game. What a difference 12 months makes.
Sony's not out of hot water yet - frankly, in these deeply uncertain times for gaming, no-one is. But now Nintendo's run out of smug side-steps and has been pitched in with the rest.
But this is Nintendo, with its legendary quality control - and if it hadn't confessed that Mario Kart 7 was rushed to market as an emergency measure to save the 3DS, you'd never have known. Where Gran Turismo 5 stuttered and coughed into life with a day-one patch and a hobbled online mode, turn Mario Kart 7's ignition and you get a smooth purr. It's even got Nintendo's best stab at proper online integration to date.
You can't compare them, of course. Or can you? Mario Kart 7 easily has the potential to match GT5's sales, and could be just as crucial to the future of its format, if not more. It's also a racing game every bit as encumbered by tradition and expectation, with just as singular a focus (albeit a less monomaniacal and exhaustively ambitious leading light - Shigeru Miyamoto didn't even fancy adding customisation to it).
"Mario Kart is a classic formula, so often aped and never bettered," Simon Parkin wrote in our Mario Kart 7 review. "It's the inscrutable concoction of genius.
"Nintendo knows that to mess with the recipe is to risk losing the magic, a lesson learned in Double Dash's shift of focus away from taut racing to whimsy. So while the gliding and new power-ups may seem like bold moves, in practical terms they are conservative additions, precision-slotted into a cast-iron framework."
It's not the most exciting of Nintendo's trio of big releases this season, but perhaps it is the most significant. While Zelda: Skyward Sword makes a belated case for motion control in a traditional gaming framework and Super Mario 3D Land explores the possibilities of 3D display with EAD's trademark invention and wit, Mario Kart 7 is getting on with the dirty business of giving players what they want, when they want it, and with all the features that they expect in this day and age. It's an XP bar short of being a textbook 2011 franchise update (and with the coins-for-parts upgrade system, it's very nearly there).
In short, it's Nintendo behaving like every other publisher in mainstream gaming. That comes as a huge relief. Is it also a little bit sad? Maybe, but we can't have it both ways - and neither can Nintendo any more.