Football fans question Mbappe's inclusion in FIFA 21's Team of the Year ahead of Messi and Neymar
Substitution.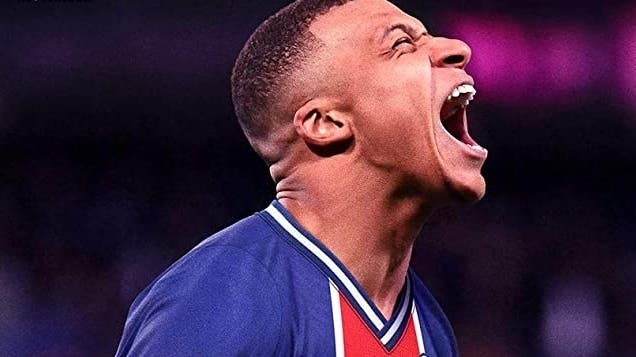 EA has announced the hotly-anticipated FIFA 21 Team of the Year - and there are already question marks over the lineup.
Here's the final Team of the Year 11:
Manuel Neur
Trent Alexander Arnold
Virgil Van Dijk
Sergio Ramos
Alphonso Davies
Kevin De Bruyne
Joshua Kimmich
Bruno Fernandes
Cristiano Ronaldo
Robert Lewandowski
Kylian Mbappe
It's hard to disagree with the majority of these picks. Sergio Ramos hasn't had a great time of it lately, but he did win La Liga in 2020. Manchester United fans will back Bruno Fernandes in midfield, although there are plenty of alternatives who had a more successful 2020 and perhaps deserve the slot. Liverpool fans may argue the case for Alisson Becker and Andy Robertson getting in ahead of Manuel Neur and Alphonso Davies, but it's six of one and half a dozen of the other in those positions.
In truth, the debate revolves around one selection in particular: FIFA 21 cover star Kylian Mbappé on the right of the front three.
With Bayern Munich striker Robert Lewandowski rightly in the striker role, and Juventus goal machine Cristiano Ronaldo rightly on the left, Paris Saint-Germain and France superstar Kylian Mbappé lines up on the right.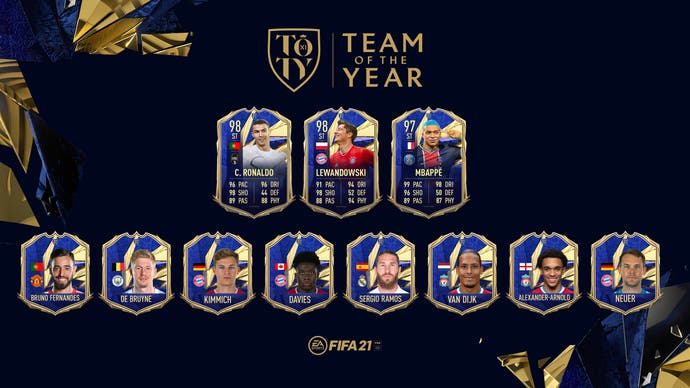 But for many football fans, Mbappé's inclusion here is not justified. While Mbappé is of course an immensely talented player, most agree there were better players in 2020 in this position. His teammate Neymar, for example, had a better 2020 and was more influential for his club as PSG won the league and made it to the Champions League final.
Should Mbappé be selected ahead of Lionel Messi? While the Barcelona star's 2020 wasn't up there with the best years of his career, he still managed to set records. He finished the 2019 / 2020 season as both the top-scorer and top assist provider in La Liga, with 25 goals and 21 assists respectively.
EA's tweet announcing the FIFA 21 TOTY has had some interesting replies, particularly from the Messi defence force. Here's a snippet:
EA ran a fan vote to determine the Team of the Year, and received over 10m votes from 185 countries. EA nominated 70 of the best players from the past 12 months for the voting. This list of nominees included Messi and Neymar, as you'd expect.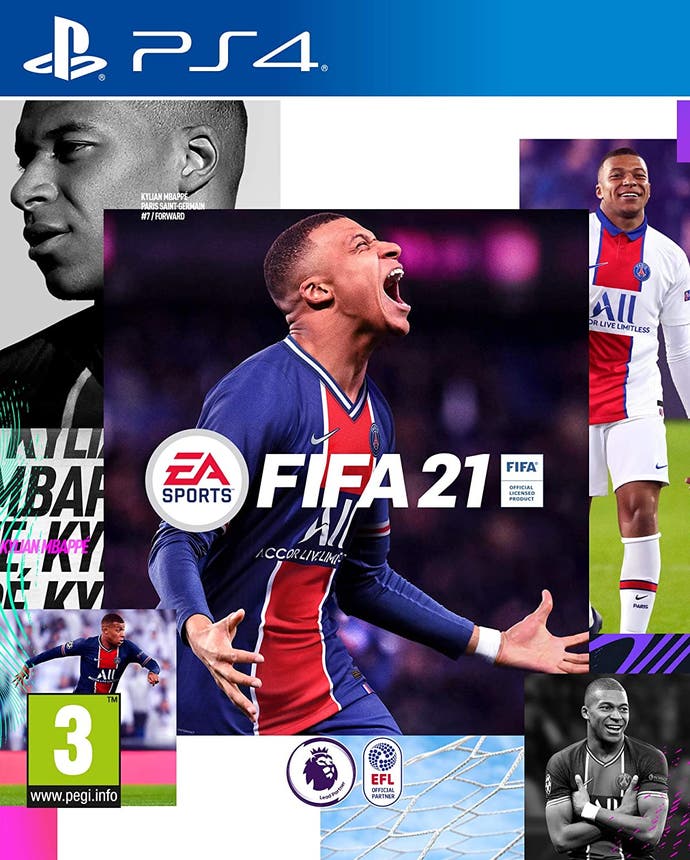 Was the final 11 determined solely by fan votes? EA's official blurb says "fans this year had the power to cast the vote for their favourites and influence one of the biggest moments in the FIFA calendar". EA has the final say, of course.
Already conspiracy theories have emerged over Mbappé's inclusion ahead of Neymar and Messi, with some pointing to Mbappé's FIFA 21 cover star status and heavy involvement in FIFA marketing as a potential influence.
Whatever the case, Mbappé is in and there's no going back. EA usually add a TOTY 12th player (last year it was Cristiano Ronaldo) for one player who just missed out on the ultimate 11. Perhaps Messi or Neymar will take the final spot. I doubt they'd be thrilled.