First Dragon Age 2 details hit
Updated with even more detail.
Update: The Dragon Age 2 website has been updated with an exciting bullet point list of new features. We've copied them.
Embark upon an all-new adventure that takes place across an entire decade and shapes itself around every decision you make.
Determine your rise to power from a destitute refugee to the revered champion of the land.
Think like a general and fight like a Spartan with dynamic new combat mechanics that put you right in the heart of battle whether you are a mage, rogue, or warrior.
Go deeper into the world of Dragon Age with an entirely new cinematic experience that grabs hold of you from the beginning and never lets go.
Discover a whole realm rendered in stunning detail with updated graphics and a new visual style.
The site tells us the first trailer will hit on 17th August, which coincides with German gameshow gamescom.
Original story: In BioWare's role-playing sequel Dragon Age 2 players will assume the role of "a new hero", US mag Game Informer has revealed.
It's set in a different part of the huge fantasy world Dragon Age calls home. Whether that means a different part of Ferelden or a new continent, we're not sure.
"Last year, BioWare and EA introduced gamers to a vast new fantasy world with Dragon Age: Origins," says the magazine's site.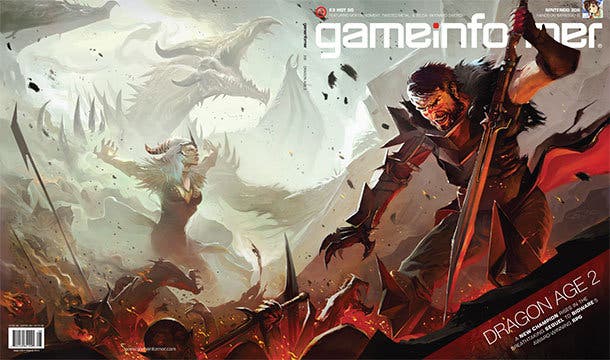 "Now, after an expansion and plenty of DLC, the renowned RPG developer is ready to unveil the next chapter in the Dragon Age saga. Dragon Age II is a full-fledged sequel, featuring a new hero, a different part of the world, and a ton of surprising improvements that will shed even more light on the lore of the Dragon Age universe."
Does "a new hero" mean you won't be able to import your Dragon Age 1 character into the game?
Release date and platform information is yet to be revealed, but back in March BioWare singled out 1st February 2011 as a significant date for the Dragon Age series. The numbers "02.01.2011" were printed on a leaflet inside the US Dragon Age: Origins - Awakening retail box, above a familiar blood-red dragon.
Dragon Age: Origins was a dark and bloody fantasy RPG in which you could have sex with almost everybody. The dragons, though, were off limits. Our game page has more on the original.