Fifteen minutes with Unravel 2, and creator Martin Sahlin
String me along.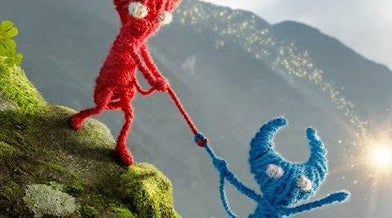 "People think it was because I was scared, or nervous," Martin Sahlin says. We're playing Unravel 2 together in a small room backstage at EA Play, just after his on-stage appearance to announce the game and its surprise release to the world. It's three years almost to the day since Sahlin made his E3 debut - when he introduced the original Unravel in a humble, grateful presentation which endeared himself and his creation to the world. "But it was actually just joy," Sahlin continues. "It was one of the happiest moments of my life."
Where the original Unravel starts brightly but culminates in a darker tone, Unravel 2 begins on a bleak note - the boat crash seen in the game's reveal trailer - to then become brighter. This change reflects Sahlin now being in a different place in his life, he says. Another big difference for Unravel 2 is, of course, the fact we're playing in co-op. "I noticed lots of people saying they played it together," Sahlin says. "So we knew we had to put co-op in." Co-op acts as a puzzle mechanic - controlling two Yarny characters to help each swing and launch the other flying skywards to higher platforms - and as a safety net. If one Yarny character falls, the other can simply climb back up the connecting string between them.
"They are actually called Red and Blue," Sahlin mentions. Yarny is a name which arose during the first game's development and stuck, but it came from the fact people were comparing the unfinished Unravel 1 to a 'yarn-filled Journey'. Hence: Yarny.
The co-op play and safety net idea are two ways Unravel 2 will be more forgiving than the first game, whose trickier later levels stopped some from seeing the game's ending. There's now a hint system, too, with three hint levels available to scroll through for any specific point - so you can get a subtle nudge in the right direction, a solid poke, or a full exploration of what to do next if you are ever completely stuck.
That's not to say the game has been made easier overall. There are now challenge rooms available, accessible within your hub area which you return to after various adventures. One puzzle room I played required the pushing of certain pipes to help a purple Yarny character who then could join you within the hub. Again, there's an overall narrative to keep you playing to the end, this time told through moving background animations, and sections where you need to escape evil flowing energy to progress. If you've played the first game, you'll recognise its blend of item pushing, rope-swinging puzzles immediately. It's still utterly charming, though, seeing the pair of Yarny characters high-five when you complete a puzzle, or when you're stuck on an answer and see one Yarny give a subtle point to the item of choice you need to progress.
So why announce Unravel 2 at E3 and release it simultaneously? Sahlin says it was actually a plan considered for the first game, before being dropped as it required more time. This time around, Unravel 2 is done - and Sahlin's colleagues want to capitalise on his latest turn in the spotlight. After 15 minutes of guiding me through puzzles and chatter about his work, I hope it's not his last.