FIFA loot boxes once again hit the mainstream headlines as teen blows £3000 on packs
"I was addicted to the buzz of chance..."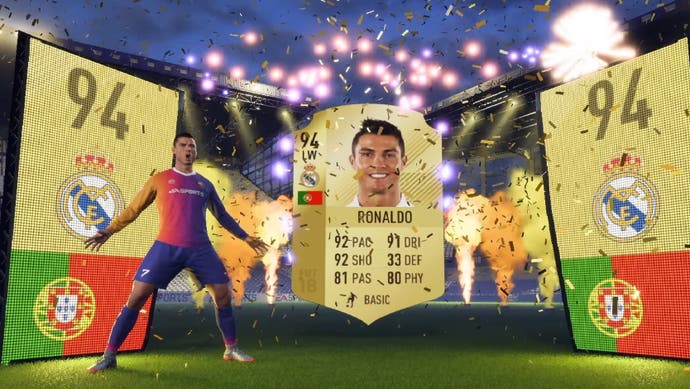 FIFA and the thorny issue of loot boxes have once again hit the mainstream headlines after a UK teen revealed he had blown £3000 on Ultimate Team packs.
The BBC 5 Live Investigations Unit today published an investigation into FIFA loot boxes based on the testimony of a 21-year-old Brit called Jonathan Peniket who, as a teenager, spent the savings his parents' had given to him for his future on packs.
FIFA lets you spend real world money on packs of virtual cards in a bid to create the ultimate team. While the mode, which brings in billions of dollars a year for publisher EA, shows the percentage odds of "packing" cards of each available rarity, customers do not know exactly what they will get for their money. Ultimate Team has been accused of being pay-to-win because of the availability of powerful cards in packs - cards that are then used to play competitively online.
"2017 was the year that changed everything in my life," Peniket told the BBC. "I was completing my last year of A-levels, with vague plans to go to university. In September my mum was diagnosed with cancer.
"Everything became about waiting until it would all just be a memory. Waiting until the day that my mum's treatment would be over, when I'd have finished my exams and we could all appreciate normal life again.
"I searched for any way to cope. The buzz of opening packs offered me an escape.
"Any rational sense of moderation and the value of money that my parents and grandparents had saved for my future began to subside. I felt like I needed the money now, to cope, and that in years to come my future self would somehow understand.
"I was spending £30 at a time, then £40, then £50. By the time my card began to block my transactions, I was throwing £80 into the game four or five times a night.
"A few weeks before my exams, after days of watching people open packs on YouTube whilst my parents thought I was upstairs revising, the moment came when the money ran out.
"Money that my parents and grandparents had worked for, that had been given to me as savings for my future. I had blown almost £3000.
"I accept responsibility for what happened. The decisions I made to spend that money were made by me. My parents were heartbroken when they found out and read through the bank statements."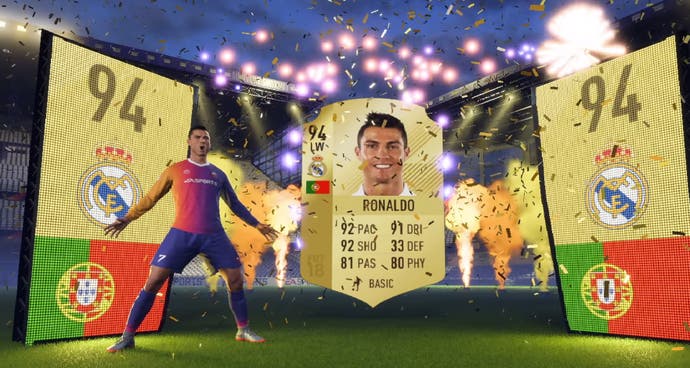 At a government level FIFA's loot boxes - and loot boxes in other games - are under increasing scrutiny over their link to gambling and potential effect on children. In early July, the House of Lords published a report recommending the UK Government reclassify loot boxes as gambling, arguing loot boxes should be considered "games of chance", which means they would fall under the Gambling Act of 2005 and be regulated by the Gambling Commission.
The BBC's coverage of this story also involved an extensive report on 5 Live radio this afternoon, which brought in various experts to offer their opinion on the matter. There was talk of the similarities between the testimony of FIFA Ultimate Team players who believe they have had a spending problem in the game, and those who are addicted to gambling, as well as the issue of responsibility when it comes to influencers who make a living out of FIFA pack opening videos on the likes of YouTube and Twitch. The report ended with a discussion about spending controls on consoles, and the issue of parental responsibility.
EA has declined to comment, but it has said in the past it does not believe loot boxes to be gambling, instead referring to them as "surprise mechanics".
Peniket clearly disagrees, saying: "I was addicted to the buzz of chance when I bought packs. I agree now with what my Dad said that so angered me back in 2012: video game packs and loot boxes are a form of gambling."
He's not the first FIFA player to have spent thousands on packs. In 2018, Eurogamer reported on one FIFA player who used GDPR to find out everything EA had on him - and in doing so realised he'd spent over $10,000 in two years on Ultimate Team. There are many other stories of players spending similar amounts over the years.
If the UK were to classify loot boxes as gambling, it wouldn't be the first country to do so. Belgium reclassified loot boxes as a form of gambling in September 2018, forcing companies to rethink or (in the case of FIFA) even fully suspend their microtransactions. Back in 2017, the UK Gambling Commission stated it could not classify loot boxes as gambling due to the inability to "cash out", and that it was up to parliament to change the law. Yet due to the recent recommendations, and statements made by the Children's Commissioner and the NHS Chief expressing concerns loot boxes are "setting kids up for addiction", there is a sense the tide is beginning to turn.
In response, the UK Government has called for evidence on loot boxes, specifically revolving around concern they train children to gamble. Meanwhile, the Government has this week responded to a petition calling for the Gambling Act to be extended to cover loot boxes. This petition, which has over 45,000 signatures, sparked a reply from Government as well as emails send out to signatories.
"The government stands ready to take action should the outcomes of the call for evidence support taking a new approach to ensure users, and particularly young people, are protected," the response from the Department for Digital, Culture, Media and Sport reads.