FIFA Football 2006
Hardly a balled new approach, but certainly entertaining.
Is it that time already? Yes. Electronic Arts is just about set to bring on another FIFA game, looking again to net huge sales when it's released this autumn.
Mind you, the characteristically bullish publisher has been bizarrely quiet with this year's iteration. Up until just now, that is, when a volley of information landed in our collective mitts. While this season's effort may not come as a surprise, the company seems to be adopting Spurs' ten-man midfield approach, with '06 appearing on the expected (deep breath) PlayStation 2, Xbox, GameCube, PC, DS, Game Boy Advance and PlayStation Portable, and Xbox 360 as well. A shrewd choice, should Microsoft's machine reach European soil for its estimated November 25th launch.
So, as the new football season dawns upon us with excitement from new signings and fresh hopes of glory (or in this Villa-supporting writer's case, a depressing scan of mediocre purchases and preparations of a mid-table battle), we gazed over the latest batch of improvements to see if it's a big man with a fine touch or an Everton transfer target.
It's bigger than that, Ron, it's large
Of course, there's the usual comprehensive line-up of official, licensed leagues from around the world of football [including European Champions Liverpool? - European-Champions-Liverpool-supporting Sub], including European Champions Liverpool [ah!], complete with its vast array of real clubs, kits, stadiums and staff. That's over 21 leagues, 10,000 players and up-to-date 05/06 season information. If anything, there's warm security in FIFA's steady predictability.
Should you want to make minute changes to the set-up, the customisation feature in the higher-end formats (presumably the home consoles and PC) should provide enough variables to keep at least the on-pitch personnel fresh. The Create-A-Player mode returns to allow your own player designs from scratch in typical EA style – appearance, body shape and abilities can all be tailored to recreate anyone from Pele in his prime to that chubby left-footed wonder who's always having a kickabout on your way to work.
Curiously, a revamped Manager mode is also being touted for the consoles and PC versions, letting you control club budgets, manage coaching staff, choose formations and tactics, and participate in a revised transfer market system that claims to be "fully functional". The PSP edition will compensate for the lack of this with a Challenges mode where you can play key matches chosen from the 04/05 season, unlock extras and indulge a new ball-juggling mini-game. The handheld will boast another nice extra in its built-in Pocket Trax player, for watching the music videos to the game soundtrack. It'd be a bit meaningless on a home console, but music videos on the train or bus? Makes sense.
Goodbye wires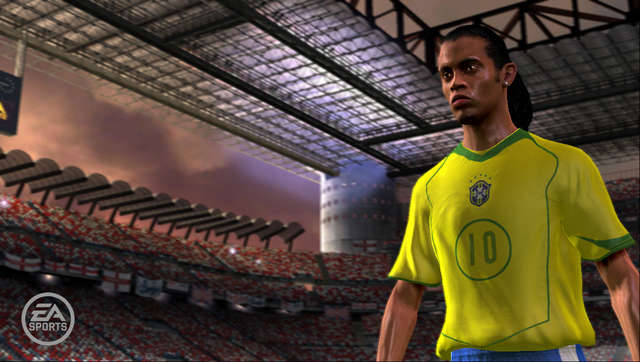 In terms of multiplayer features, PSP FIFA '06 provides a wireless two-player option, but the home console versions will come with the welcome shape of up to eight-player football offline, or two players online.
All of which means absolutely nothing should it all not come together in-game. But after having a demonstration match on the PlayStation 2 build and getting a feel for things, it may come as surprise to sceptics that FIFA '06 seems to be heading in the right direction. The promise of the 2005 version of EA's footballing progeny has proven a good base to keep working from, with elements that proved slightly frustrating already weeded out.
There's a definite sensation of more control over the players, with far fewer instances where the AI appears to have taken over while you take the credit. It certainly becomes more apparent in the penalty area, with a great range of instant responses to attacking crosses, which you perform and, more importantly, you feel you've earned. The button-to-screen mechanics are far more responsive especially when partnered with the nice pace of the game. It results in some wonderfully electric, spontaneous and less 'pre-programmed' football.
Show off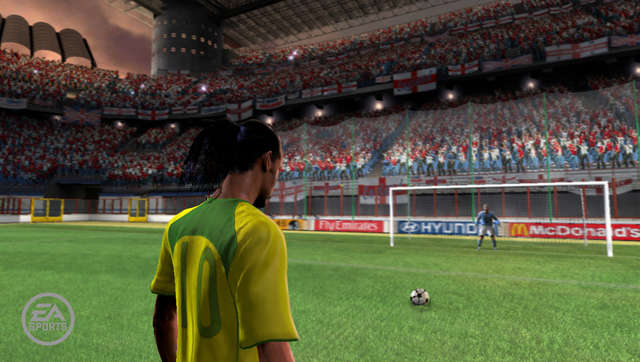 In '06 you can use the second analogue stick to perform a few tricks. According to EA, there will be a selection of show-off manoeuvres as well as practical feints, ball-shielding and such that will be accessible from this and naturally other controller combinations. The potential is certainly there to at least create some talking points.
Visually it was easy to tell the game was still in development, but still it managed to throw in (sorry) a good show. The teams we played with - Aston Villa [cheers!] and Liverpool [booos!] - already had surprisingly up-to-date players from all the latest transfers, which obviously bodes well for the promise of the freshest statistics being used by the time of release. As usual, some players looked rather... unfamiliar, compared to their real life counterparts, but most of them carried a close enough resemblance to keep fans happy, and the animation was sharp, without too much jarring between frames when chopping and changing moves on the pitch.
The 360 version promises some startling detail; players should have a wider range of expressions and mannerisms, and manager's emotions and reactions should be clearly evident as the match progresses. Whether the stylised camera angles of this May's E3 build will stay or not is conjuncture at the moment, but we're sure the development team knows they're not trying to recreate Shaolin Soccer. At least, we hope.
With any luck, the net result will be a good football game. Right now it's certainly promising, but as with anything we'll have to kick it around for a bit longer before leaping to any conclusions. We'll have plenty more on it closer to kick off in a few months.