Excellent Viking-themed RTS Northgard coming to consoles later this year
On PS4, Xbox One, and Switch.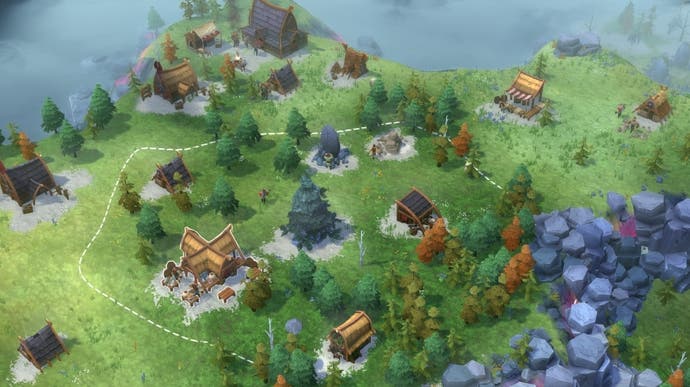 Developer Shiro Games' excellent Viking-themed real-time strategy, Northgard, will be setting forth for PlayStation 4, Xbox One, and Switch later this year.
Northgard, if you've not yet had the pleasure on PC, plays a little like the classic Settlers series, tasking players with establishing a Viking settlement and slowly expanding it - both in terms of physical size and military dominance - though exploration, resource management, and land acquisition.
Where it sets itself apart is in its deliberate restrictions, and the interesting choices that result. Zones, for instance, must be conquered before they can be claimed, and even then, only a small number of workers and buildings can occupy each one. That means your settlement is never likely to enjoy a life of excess, and you're constantly forced to make tough decisions about how you deploy your limited workforce and utilise your space to ensure survival against the desolate winters and the marauding mythological beasts.
Northgard on consoles will feature all content from the PC version, including the base game - with its single-player campaign, and cooperative and competitive online play - as well as its significant Ragnarok and Relics updates. That amounts to six playable clans, a variety of maps, including the post-apocalyptic Ragnarok, and more. Shiro Games also promises a "completely revamped" UI, intended to ensure that using a controller "will be effortless".
Hopefully we'll get a firmer console release date soon.