Everything announced in the Nintendo Direct
Earthbound! Mario Kart 8 DLC! Xenoblade Chronicles 3! More!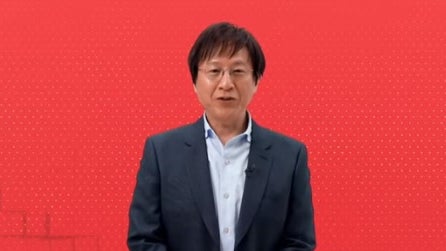 The Nintendo Direct is finished! In case you missed it, here's every game shown during the broadcast alongside their trailers.
(Sadly, The Legend of Zelda: Breath of the Wild 2 failed to make an appearance, as did Metroid Prime 4. Perhaps we'll get to see those titles later in the year.)
First up, Nintendo revealed Fire Emblem Warriors: Three Hopes, a Fire Emblem Musou game set in the Three Houses universe. It's due out on Switch on 24th June.
Next, Nintendo offered a fresh look at Advance Wars 1+2: Re-Boot Camp, which launches 8th April. It's got voiced characters, a reset turn feature, fast forward and new modes.
Here's a surprise: No Man's Sky is coming to Nintendo Switch. Hello Games' space epic launches on Switch this summer.
Next up was another brand new title: Mario Strikers Battle League, due out 10th June. The Nintendo football game has 5v5 competitive matches with items and special moves. Expect a gear system that impacts stats, with online clubs for up to 20 players, and rankings.
As expected, Nintendo Switch exclusive Splatoon 3 got a new trailer, below. It's due out in the summer.
Here's another surprise: Nintendo announced a Front Mission 1st remake, due out in the summer. A sequel is due out at some point in the future.
Next we had Disney Speedstorm, a free-to-play, cross-platform Disney/Pixar racer with online modes. This one is out this summer.
Sticking with Disney, Nintendo announced a Switch port of the Wii version of Star Wars: The Force Unleashed. It's due out 20th April.
Continuing the ports, Nintendo confirmed Assassin's Creed: The Ezio Collection, which is due out 17th February. It includes HD rumble and touchscreen control.
SD Gundam Battle Alliance is due out on Nintendo Switch at some point this year.
This one's exciting: Chrono Cross The Radical Dreamers Edition was revealed, and is coming to Switch on 7th April. You can turn off enemy encounters, and there's an enhanced soundtrack.
As you'd expect, Nintendo spent some time showing off Kirby and the Forgotten Land, which is due out 25th March. Nintendo revealed the new Mouthful Mode, which lets Kirby inhale a car, a cone, a vending machine and more for new transformations.
Nintendo pushed the recently-revealed MLB the Show 22, which is due out on Nintendo Switch for the first time.
Next! The pricey Kingdom Hearts Integrum Masterpiece, which is due out on Switch in cloud form (check out what Digital Foundry thinks about that).
Klonoa 1 and 2 are coming to Switch on 8th July as the Phantasy Reverie Series.
Another surprise! Portal: Companion Collection, which includes Portal 1 and 2, hits Switch this year.
There's a Live A Live remake, due out 22nd July.
And here's Nintendo Switch Sports - the next game in the incredibly popular Wii Sports series. Volleyball is a brand new sport for the series. It's due out 29th April. There's an online playtest due out before launch only for those with an active Nintendo Switch Online subscription. It runs 18-20th February.
Next up was Taiko no Tatsujin: Rhythm Festival, which is coming to Switch this year.
Triangle Strategy got a moment during the Direct. There's a new demo out now.
Here's Cuphead: The Delicious Last Course, which hits Switch 30th June.
A free update is out now for Metroid Dread, which adds the Dread mode one-hit difficulty, and the new rookie difficulty, which makes things easy. A separate upcoming new mode due out in April adds boss rush battle.
Surprise! Earthbound and Earthbound Beginnings are out now via a Nintendo Switch Online subscription!
Perhaps the biggest announcement of the Nintendo Direct was paid DLC courses for Mario Kart 8 Deluxe. The Booster Course pack includes some courses from past Mario Kart games. Eight courses will be released at a time over six waves, ending in 2023. That's a total of 48 new courses. The first launches 18th March. Those who have a paid Nintendo Switch Online + Expansion Pack membership get the DLC at no extra cost.
The Nintendo Direct ended with the announcement of Xenoblade Chronicles 3, due out this September.
That's your lot! There were a few games that were rumoured for this Nintendo Direct that didn't show up. Internet rumblings had suggested Mario Kart 9 would make an appearance, but clearly Nintendo's going down the Mario Kart 8 DLC route instead for the next couple of years at least.
Unfortunately we didn't get a glimpse at The Legend of Zelda Breath of the Wild 2, which is still slated for release in 2022. Nor did we see the long in development Metroid Prime 4, which, let's remember, was announced in 2017. Apart from Earthbound and Earthbound Beginnings, there was no mention of additional games for the SNES/NES/N64/Sega service, either.
And no, there was no new F-Zero. That one's still in the shop.
What did you think of the Nintendo Direct? Anything take your fancy?