Double Eleven bringing Pixel Junk Monsters Ultimate HD to Vita
LittleBigPlanet Vita studio working towards own IP in the near future.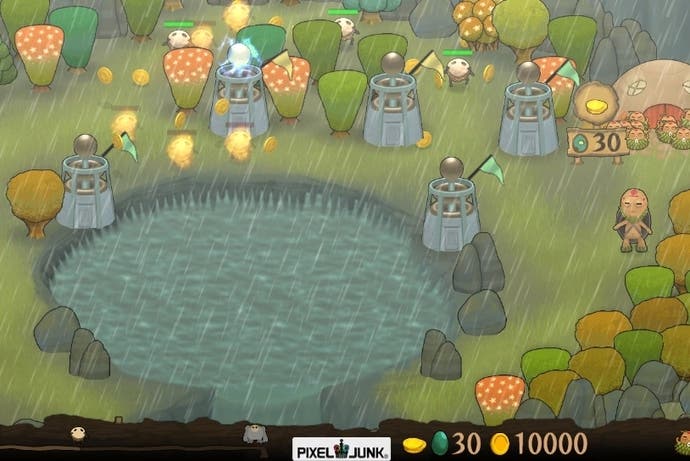 Double Eleven, the Durham studio that's worked on some of the Vita's most critically acclaimed titles such as LittleBigPlanet and Limbo, is working with Q-Games on a new enhanced version of Pixel Junk Monsters for Sony's handheld, with PC and Mac versions to follow shortly after.
Pixel Junk Monsters Ultimate HD brings the warmly received 2008 PSN original to the Vita, compiling all of the additions and amendments that have been brought to Q-Games' tower defence title while making improvements of its own. Add-ons such as the encore level pack are included, and touch controls have been implemented as well as a suite of unique PS Vita trophies.
Double Eleven's latest sees the studio continue to work towards creating its own IP. Founded by Lee Hutchinson after a stint at Rockstar Leeds where he oversaw the development of Beaterator as well as Grand Theft Auto: Chinatown Wars' iOS ports, it soon found itself at the heart of Sony's XDev team.
"We were working on a very popular game on mobile phone that never came out that didn't come out because of political issues, and the good job we did on that led to the idea of LittleBigPlanet 2 coming to Vita," Hutchinson told Eurogamer. The project soon escalated into something else, fast becoming a new, standalone series entry developed alongside Tarsier and a handful of other studios. "We ran all the coding, the UI and the controls and they made the levels. We had loads of other people like Supermassive, Sumo and Fireproof, and we were basically the hub, we took in stuff from everyone else and put it together."
LittleBigPlanet Vita was a critical success, but it left the rapidly expanded Double Eleven in a predicament. "It saw us spiral out of control," said Hutchinson of a team that had risen in number to just under 50. "We knew we had to go to 20 people, but the game scope got bigger and bigger and bigger we got bigger and bigger and bigger, and in the end we had this really specialist team that was only really built to make another LittleBigPlanet game. Because of that we had to make some hard decisions and make a few redundancies, and push the business around to a different direction. The difference now is that when we was with XDev they'd bring projects to us."
While the split with XDev was only made public last week, Double Eleven's worked away from Sony's internal technical team for some time, working on a Vita port of Limbo that released earlier this month. Pixel Junk Monsters Ultimate HD marks the start of a partnership with Q-Games that's set to run through a number of different games, while elsewhere Double Eleven is collaborating with Mode 7 to create Frozen Synapse: Tactics, a new version of the PC strategy hit that will be retooling the aesthetic as well as the gameplay to fit on console.
The partnerships are all part of a move towards sustainability and, eventually, a new IP from Double Eleven. "We want to do what we want to do, and we don't want to be in a situation again where we're forced to ramp up," said Hutchinson. "It's our goal to be fully self-funded by royalties from previous titles, not having to take work where more desks means more profits and that's the only way to make money. We want to do our own IP, but that's on a very slow burn as we don't want to do anything that would break the company."
Pixel Junk Monsters Ultimate HD will eventually head to PC and Mac, but is launching on an underperforming platform like the Vita putting Double Eleven in an unnecessarily precarious situation?
"Look at the Gematsu game chart," answers Hutchinson. "Games that have been out a while that are still taking 5 or 6000 a week just in Japan. If we were to do that in all three territories that would be a massive success for us. Essentially we will build Monsters as we go along."
There are also incentives working alongside Sony. "We work with Shahid [Ahmad, forefront of SCE's indie push] in London, and to a certain extent if we go to Vita first we can get funding from Sony. We've got the code base so it's easy for us to get the game running on it. Sony get a small exclusive window on it, so they're happy, we get funded, so we're happy. The exclusive window is only ever implied, and it's never contractual. It's always shorter than you could get another version out anyway."
There's no clear timeline for when Double Eleven can start working on its own IP in earnest, but the internal resources are slowly being built to help make it happen. "For me I'm a safe player and I'd rather have the entire studio making enough money to back this kind of thing going on indefinitely rather than having a set amount of money that's taken down to zero," said Hutchinson. "I'd like to bet on surer things. If I was to set a release date on something I'd have to be pretty damn sure it's going to work."
Pixel Junk Monsters Ultimate HD, with the lack of tower defence competition, seems like something Double Eleven can bank on. It's set for release late summer on the Vita, with PC and Mac versions coming soon after.