Tech Comparison: Bionic Commando
The PC version ripped apart in both senses.
Bionic Commando is a great little game, well worth the 7/10 score it received in Eurogamer, but as discussed at length in both Face-Off Round 20 and this more in-depth Digital Foundry article the console versions are something of a mixed bag technically, with varying graphical effects and uneven performance on each platform.
That being the case, the PC version looks like being a potentially better bet, especially considering that both PS3 and Xbox 360 versions don't even run at full 720p HD resolution, clocking in at a disappointing 1120x640. Even a bottom-end, enthusiast-level graphics card (think: Radeon HD4830 or NVIDIA 9600GT) has more than enough horsepower to outquaff either of the console GPUs, while today's bottom-end dual-core Intel CPUs offer relatively huge amounts of processing power. So it all comes down to the quality of the conversion work.
Does GRIN's PC rendition of its Diesel engine cut the mustard? It's surprisingly difficult to tell. But to get some idea of the game running at the top-end of HDTV performance, check out this 1080p PC screenshot gallery and this triple-format selection of shots showing the new version up against the existing console builds. As you can see, the overall result is a curious mash-up of both console versions, although the unique PS3 lighting remains one-of-a-kind. The HDR lighting from the Sony game, omitted from the 360 build, has made its way in, however, even though the v-sync (amazingly) hasn't.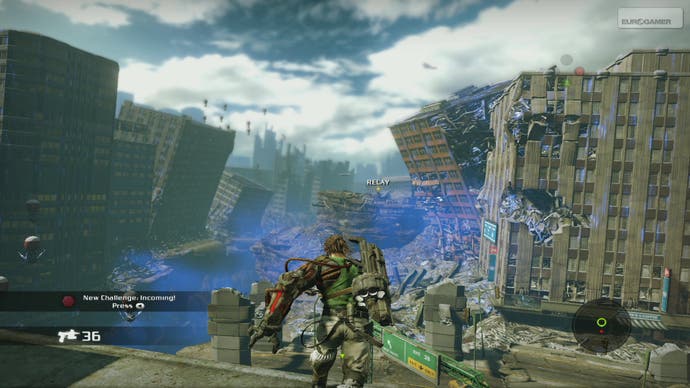 Right off the bat, probably the most surprising thing about Bionic Commando on PC is that there are barely any graphics tech options to tweak. There are actually more HUD customisation features to fiddle with than there are GPU selectables. Capcom originally sent us "final reviewable code" that had this threadbare selection of options and I was very uncomfortable reviewing it, owing to the fact that it looked like the most basic of console ports without any of the PC "bling" we would expect in a release that took months to appear. It looked unfinished, closer to preview code, and after a bit of to-ing and fro-ing, we decided to hold back from reviewing it and await a promised boxed copy. However, aside from the addition of DRM, the full retail code is to all intents and purposes the same. Final reviewable code it was then, and a week wasted.
So, what do you get to play with then? Essentially you can adjust resolution settings, refresh rate, aspect ratio, gamma and, um... that's it. It suggests that either GRIN is dynamically tweaking the game under the hood to provide the best experience for your hardware (and really, if that is the case, the choices should be down to the gamer) or else there's a one-size-fits-all policy in place that suggests some PC owners out there are going to be disappointed. Perhaps disappointingly, the latter appears to be true.
As it happens, even if you're running on a high-end PC, it's not all plain sailing. On a Core i7 unit clocked at 3.33GHz, backed up by the world's fastest graphics card (NVIDIA GTX 295), the game cannot sustain 1080p at 60 frames-per-second, and there is noticeable screen-tearing. The tearing is reduced significantly at 1600x900, and completely absent at 1360x768, whereupon we finally get the image consistency and frame-rate we would want. There really is no v-sync option, and you actually need to dig into your GPU's control panel in order to force it on if that's what you want. More than that, some users have reported slowdown issues on SLI PCs, and have resorted to their own GPU tweaks in order to solve the problem.
Downclocking the CPU and swapping in a more consumer-friendly graphics card (in this case a sub-£70 Sapphire 512MB Radeon HD 4830) shows an obvious decrease in performance but it still runs at around 30FPS in 1080p mode, albeit with a lot of tearing. It seems pretty obvious that the game's one-size-fits-all performance profile is tailored towards the more modest GPU, and from a business perspective that's probably a smart move.
Were it not for the fact that Bionic Commando is a bloody good game, I would have serious issues recommending this. The fact is that while the conversion is just about good enough, no love has gone into the PC version at all that can justify the staggered release from the console versions. Yes, we can play at higher resolutions using, er, non-16:9 screens if that's what we want. But there's no ability to dial up or down individual settings to get desired performance, and while mid-level performance is acceptable, there's not much support at all for the hardcore enthusiast with top-end kit. Even the graphical basics on PC have been neglected - there is no support whatsoever for any kind of anti-aliasing or selectable texture quality and there's no implementation of soft-shadows either. Despite mention to the contrary on the box, there is no DirectX 10 mode in this game either. More than that, on one of PCs I tried the game on, the resolution-selector didn't actually work, locking the game to the desktop resolution.
Compare and contrast with Capcom's usual PC support in its Japan-developed releases, which feature comprehensive benchmarking tools and tons of GPU selectables that work well in tailoring the game to work well on pretty much any gaming PC of any budget. It's become a company house-style for its Framework MT games (Resident Evil 5, Devil May Cry 4 etc.) which was even extended to games made outside of that development environment (Street Fighter IV), and it would have been massively more preferable if GRIN was compelled to match that style. It wasn't.
Overall then, despite the many disappointments, Bionic Commando is still a lovely game and the opportunity to play it in proper high-definition is hugely welcome. But regardless, GRIN has let down PC owners here with a game that really should have been far superior to its console variants, failing to embrace some of the most very basic features of the technology on offer.