One of the best gaming phones is down to £600
The Asus ROG Phone 6 comes with 512GB of storage, a 165Hz screen and plenty of power.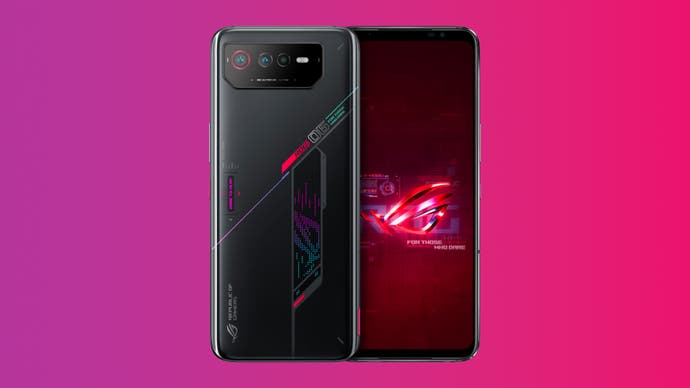 Phones may not be my usual forte, but slap the word 'gaming' in front of it, and it becomes a little more appealing. Yes, even in 2023, you can still grab gaming phones, and they've grown up a bit since the heady days of the Nokia N-Gage. A good example of this is the Asus ROG Phone 6, which, in its 16GB/512GB configuration, is available from Scan for £600 - that knocks a substantial £100 off its usual retail price.
It comes powered by a snappy (if you'll pardon the pun) Qualcomm Snapdragon 8 Gen 1 processor, complete with Asus' clever GameCool 6 cooling system that keeps things cool. The Snapdragon 8 Gen 1 is a chip that can run pretty hot, but through Asus' repositioning of the chip to the middle of the phone, away from the edges of the metal frame, and underneath the additional fan you can attach, it keeps things running at a reasonable temperature. Combined with this, 16GB of RAM gives you enough headroom for multi-tasking and playing games, while 512GB of storage is a decent capacity for apps, games, and even some music or films. I still yearn for the return of MicroSD card slots, but it isn't to be here.
The ROG Phone 6's screen isn't exactly small either, with a 6.78 inch curved Samsung AMOLED panel, complete with vibrant colours and excellent brightness. There are also dedicated viewing modes, as well as custom colour profiles to suit your eyes. The 2448x1080 resolution is lower than similarly priced generalist devices, but as most games are displayed at 1920x1080, the ROG Phone 6 deals with it well, complete with a 165Hz refresh rate for buttery smooth output. You also get a decent selection of rear cameras, with a 50MP f/1.9 main snapper, as well as a 13MP f/2.2 ultrawide sensor, and a 5MP f/2 macro lens, and there's also support for up to 8K/30fps video, or more logically 4K/60fps.
You also get a massive 6000mAh battery here, giving you solid endurance, with support for quick charging. Unfortunately, wireless charging isn't supported. The ROG Phone 6 also looks the part, with a mean black chassis, complete with the ROG logo on the back. There is also a second screen contained on the phone's reverse, which is more vanity than anything, but it can display everything from battery percentage while charging to notifications.
You're certainly getting a lot of phone for the money here, and if you want a fantastic gaming phone, this Asus ROG Phone 6 deal from Scan is definitely worth a look.