AMD Radeon RX 5600 XT review: reference and OC models compared
Last-minute upgrades allow overclocked models to face RTX 2060.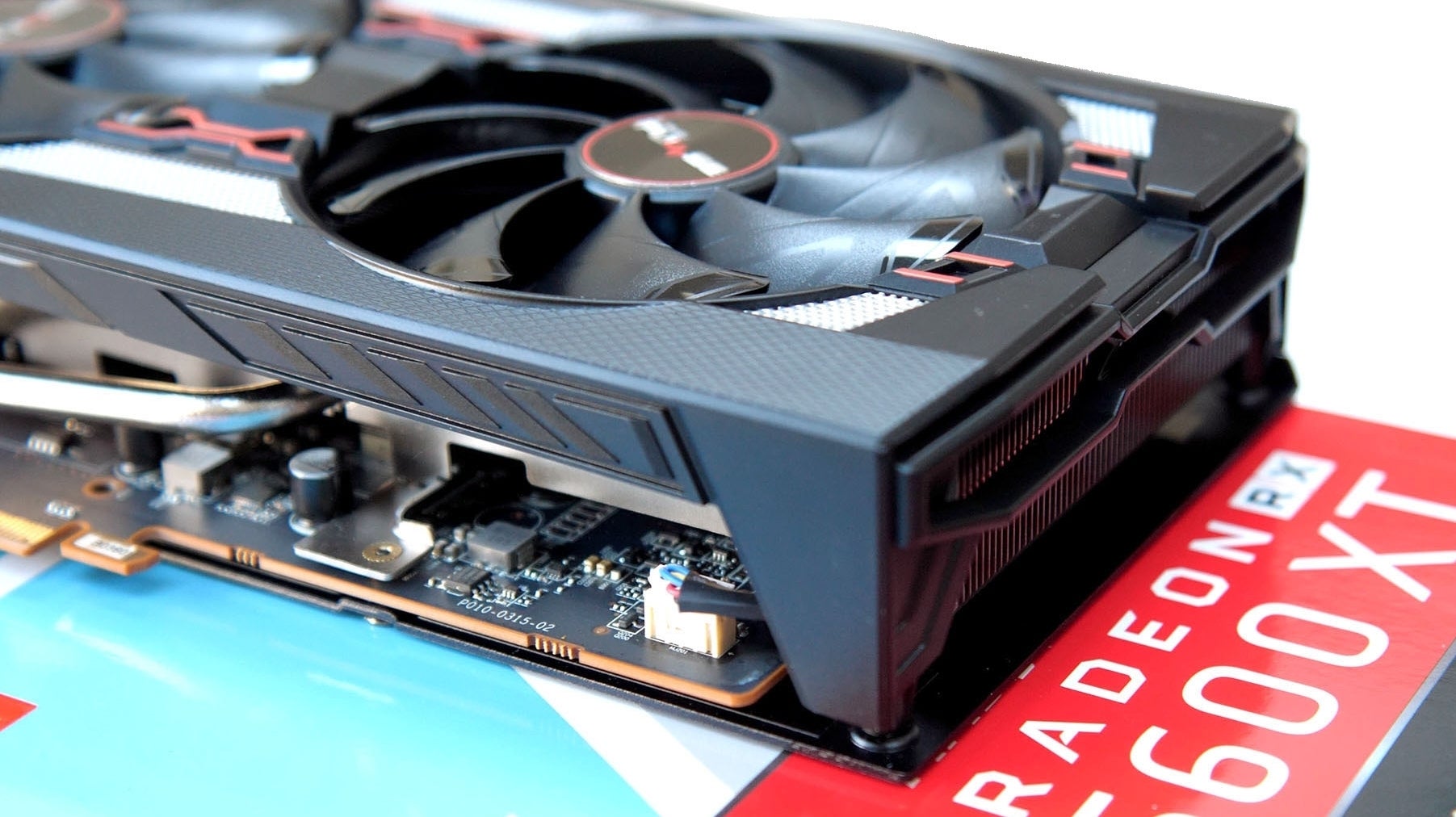 AMD continues its focus on the entry-level space with the release of the Radeon RX 5600 XT, a graphics card intended to sit between the RX 5500 XT and RX 5700 with strong 1080p performance at $279. Like so many recent graphics card launches though, the run-up to launch has been far from quiet, with both AMD and Nvidia repositioning their graphics cards to try and take a decisive advantage in the important sub-$300 price category.
AMD originally announced the 5600 XT as a competitor to the GTX 1660 Ti, offering higher frame-rates at the same price. In response, Nvidia has dropped prices on the next graphics card up, the RTX 2060, bringing their entry-level ray tracing GPU to $299. Now we're seeing the counterplay from AMD - and rather than dropping prices themselves to retain their value leadership, Team Red has chosen to boost performance instead.
This takes the form of a new BIOS update available for some overclocked RX 5600 XT models, which features significantly higher core clock and memory clocks at the expense of a nominally higher TDP. As you can see in the table below, these upgrades go far beyond what we'd normally expect to see from an overclocked card, with the projected performance gain placing the RX 5600 XT OC in nearly the same ballpark as the $349 RX 5700.
| | Old BIOS | New BIOS |
| --- | --- | --- |
| Game Clock | 1560MHz | 1615MHz |
| Boost Clock | 1620MHz | 1750MHz |
| Memory Clock | 1500MHz (12Gbps) | 1750MHz (14Gbps) |
| TDP | 150W | 160W |
The new BIOS will be available on "select" overclocked models from a range of manufacturers, including the Sapphire Pulse unit we were sent for review. However, it's not yet clear precisely which other RX 5600 XT models will get the new BIOS, nor how this will actually be communicated to customers. At the moment, the best bet seems to be checking each card's official specifications on its manufacturer's website, where a 1750MHz boost clock, 14Gbps memory speed and 160W TDP indicate an upgraded card. If a new BIOS is available, you'll need to download and flash it using the AMDVbFlash tool - thankfully, a pretty straightforward process that involves selecting the BIOS file you've downloaded, clicking the program button, waiting for the flash to complete and then restarting your computer. Be sure to save your card's current BIOS file to your computer before you start, and double-check that the BIOS file you're flashing is intended for your particular model before you begin.
The BIOS changes make testing the RX 5600 XT a little difficult - should we be reviewing the reference specification that will actually be available for the quoted $279 price point, or the upgraded 'performance' spec that shows what this card can do when pushed to the limit? Given the scope and scale of the changes between these two extremes, it makes more sense to consider them as two separate graphics cards - so that's exactly what we'll do in this review. The results marked 'RX 5600 XT' are based on the reference 'silent' BIOS, while those marked 'RX 5600 XT OC' used the overclocked 'performance' BIOS.
Before we get into the benchmark results, which incorporate a range of recent and legacy titles from 1080p to 1440p and 4K, let's show off exactly what we're testing.
This is the $289/£255 Sapphire Pulse card, which opts for a fairly standard 2.3-slot design with two large axial fans in a black, white and red colour scheme. I/O is the usual modern loadout: three DisplayPort 1.4 and one HDMI 2.0, so users of older and/or entry-level DVI-D monitors will need to source an adapter. On the rear side, a metal back-plate is included. You can switch between the silent and performance BIOSes using a switch on the top of the card, near the I/O. However, as mentioned above, buyers of this card may need to installed the updated BIOS versions manually. Finally, an eight-pin power input is needed to satisfy that 160W TDP, as only 75W can be provided from the PCIe slot alone.
| | RX 5500 XT | RX 5600 XT | RX 5700 | RX 5700 XT |
| --- | --- | --- | --- | --- |
| Compute Units | 22 | 36 | 36 | 40 |
| Stream Processors | 1408 | 2304 | 2304 | 2560 |
| TFLOPs | 5.2 | 7.2 | 7.95 | 9.75 |
| Game Clock | 1717MHz | 1375MHz | 1625MHz | 1755MHz |
| Boost Clock | 1845MHz | 1560MHz | 1725MHz | 1905MHz |
| Memory | 4GB/8GB GDDR6 | 6GB GDDR6 | 8GB GDDR6 | 8GB GDDR6 |
| Memory interface | 128-bit | 192-bit | 256-bit | 256-bit |
| TDP | 130W | 150W | 180W | 225W |
| RRP | $169/$199 | $279 | $349 | $399 |
As with its predecessors, the RX 5600 XT faces a stern challenge from Nvidia. While AMD claim its card has enough grunt to see off the similarly-priced GTX 1660 Super and GTX 1660 Ti, the newly discounted RTX 2060 should offer slightly better performance at just $20 more. The RTX 2060 also sports hardware-accelerated ray tracing, which is expected to appear in a greater proportion of games over the next few years due to the arrival of ray tracing-capable consoles from both Microsoft and Sony at the tail end of 2020.
However, far be it from us to call this race over before it's started. The new BIOS upgrade should give the RX 5600 XT a much better chance, so let's see how both variants of the card perform against their nearest competitors from both teams.
AMD Radeon RX 5600 XT Analysis
Will you support the Digital Foundry team?
Digital Foundry specialises in technical analysis of gaming hardware and software, using state-of-the-art capture systems and bespoke software to show you how well games and hardware run, visualising precisely what they're capable of. In order to show you what 4K gaming actually looks like we needed to build our own platform to supply high quality 4K video for offline viewing. So we did.
Our videos are multi-gigabyte files and we've chosen a high quality provider to ensure fast downloads. However, that bandwidth isn't free and so we charge a small monthly subscription fee of £4.50. We think it's a small price to pay for unlimited access to top-tier quality encodes of our content. Thank you.
Support Digital Foundry